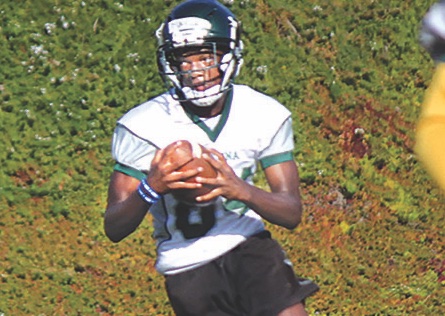 By Joe Snyder
Last year, Gardena High's football team spent most of the season starting as many as 17 freshmen and sophomores en route to a 3-6 season, including 1-3 in the Marine League.
That was due to a rash of injuries that left the Panthers with just 15 remaining players by the end of the season, forcing them to cancel their Marine League finale against Wilmington Banning and missing the CIF-Los Angeles City Section Division II playoffs.
Many of those injuries came in Gardena's third game of the 2021 season against Compton Centennial where it lost six players, five of those for the remainder of the season, in its third non-league game at home against Compton Centennial.
As a junior, all-purpose player Maurice Henderson was one of those that had to help carry the load for the Panthers as the shorthanded and very young squad had to just do the best it could.
Henderson was a key player in the Panthers' first on-field Marine League victory in six years over host Narbonne in mid-October where he scored one of Gardena's two touchdowns in its 12-6 victory.
He is not only an outstanding wide receiver, but has excelled as a kickoff and punt returner and was named to first team all-Marine League as a wide receiver. He has good speed.
In 2021, Henderson led Gardena in scoring with seven touch- downs, five of those as a wide receiver and two others on special teams (one on a kickoff and other a punt return). On defense as a cornerback, he had three interceptions.
Henderson, 18, played football since he was five years old, mostly with the Carson Colts Pop Warner squad.
This year, Henderson is one of just four seniors on the Panthers still very young squad, who, according to head coach Monty Gil- breath, will be starting a sophomore quarterback in Isaiah Kim, a transfer from North Torrance High, where he was the starting quarterback for the Saxons' freshman football team.
"He's a good all-around player," Gilbreath said of Henderson. "He's very fast."
Henderson only ran on Gardena High's track and field team as a freshman and sophomore in the 2020 (early ending due to the start of the great COVID-19 pandemic) and 2021 seasons. He did not run last season but Gilbreath feels he would run around 11.0 in the 100 meters.
Henderson hopes he can help the Panthers to a much better season and go far in the CIF-L.A. City Section and, possibly, the CIF-State (if Gardena can capture the section championship) playoffs.
"We're seeking big improvement," Henderson said. "I would love to go 16-0."
He feels that Gardena is even capable of knocking off powers Banning, Carson and San Pedro.
Henderson is seeking a good college scholarship and playing in the National Football League in the future.
"My main goal is to get good grades and get a good (college) scholarship," Henderson said. "I want us to win the division championship."
According to Gilbreath, it is hard to see where the Panthers will play if they reach the playoffs. Three years ago, Gardena captured the Division III championship with a 14-8 win over Marquez High of Huntington Park. The Panthers went on to top host Francis Parker in San Diego for the Southern California Division VIIA title before losing the state final to host San Francisco Lincoln High. It appears that Gardena will play in Division II.
Henderson and Gardena begin the 2022 season at Maya Angelou High in South L.A. on Aug. 19 at 7:30 p.m.