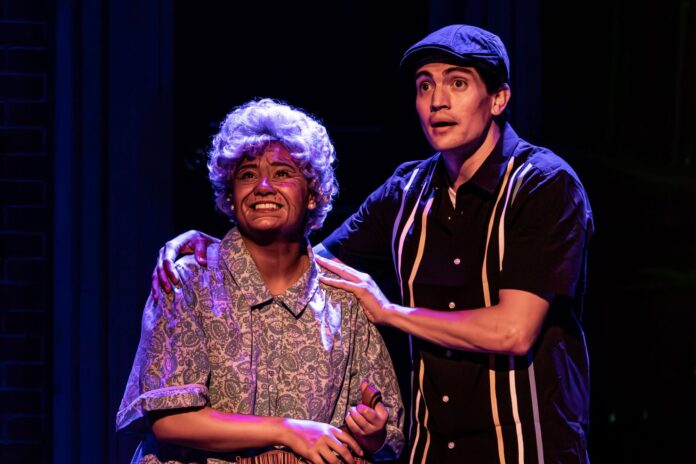 By Shari Barrett
IN THE HEIGHTS with concept, music, and lyrics by Lin-Manuel Miranda and book by Quiara Alegria Hudes, made a splash on Broadway, scoring the 2008 Tony Award for Best Musical and winning over audiences with its fresh-faced charm and vibrant music. The contemporary Latin-flavored score accompanies an exhilarating journey into the lives of the residents of the Dominican-American neighborhood of Washington Heights in New York City, a place where everyone knows your business and ultimately has your back. And much like the much-loved musical Fiddler on the Roof, In the Heights focuses on family love and traditions being challenged by the beliefs of the next generation.  
The current production of In the Heights at Santa Monica's Morgan-Wixson Theatre through July 30 on Friday and Saturday evenings at 8 pm and Sundays at 2 pm, is directed to perfection by Ariella Salinas Fiore, with exciting choreography by Leonel Ayala and music direction by Jenny Chaney. The high energy musical rocks the house with the spirited cast singing and dancing up a storm in this sung-through extravaganza about following your dreams no matter the obstacles thrown in your way. 
Shining stars of the production include Gabriel Ramirez as Usnavi, a young man who owns a small coffee shop/deli where the neighborhood congregates to gossip and hopefully buy a winning lottery ticket. When his elderly neighbor Abuela Claudia (Bianca Flores) actually wins, she decides to share the healthy sum with Usnavi who dreams of returning to his parents' island home where he can now afford to buy a restaurant on the beach and live the kind of life he has always dreamed could be his. But will he really decide to leave the neighborhood as it slowly degenerates or decide to stay and help revitalize it? And what about his developing relationship with Vanessa, the hottest young woman in the neighborhood?
Another shop on the block is the limo service run by Camila, exemplified by Samantha Barrios as she channels Camila's deep-seated anger at having to play second fiddle to her conservative husband Kevin (Adrian Ayala) during her emotional solo "Enough." The two have saved their whole lives to send their only child Nina (Natalie Chavez) to Stanford, but instead she finds comfort in the arms of her parents' trusted employee Benny (Deonte Allen), who they feel is not the right match due to his lack of education and the color of his skin. After spending the night together, Nina and Benny share their characters' Romeo and Juliet balcony love scene at "Sunrise" as a new day brings new hope for the entire community mingling in the street below them. It's the perfect moment expertly performed by Chavez and Allen.
The third shop is the beauty salon where Vanessa (sexy and sensual Olivia Leyva) works, a young woman searching for a new apartment she cannot really afford on her salon salary. Known for dating around the neighborhood, her current sights have turned to Usnavi. Her two co-workers Daniela (Joyce Blackman) and Carla (Stephanie Jauregui) are an incredibly entertaining duo representing women attempting to succeed in a neighborhood where most shops are owned and operated by men. But as the neighborhood gentrifies and rents increase, the two decide to close up shop and move to the Bronx. But until they do, their joyful spirits infuse each ensemble number with youthful joy focused on achieving their dreams.
Local color is added by the vocal talents of Rubén Gabriel Hernandez as Piragua Man, the push cart seller whose crushed ice drinks cool off the neighborhood during the summer heat wave, and Jenna Small as Graffiti Pete. Usnavi's employee Sonny (Eadric Einbinder) dislikes working and pines for Vanessa's love, which we get a glimpse of in their trio "It Won't Be Long Now." But when push comes to shove, it is Sonny who gives Usnavi a reason to stay and keep the vibrant neighborhood together.
Ultimately, it's an uplifting story about love and how important it is to overcome any obstacles in the way of accomplishing your dreams. Times may be tough in Washington Heights, but you would never know it given all the positive energy let loose by the entire talented cast in this thoroughly modern musical, directed with skill and cultural insight by Ariella Salinas Fiore, who selected her outstanding cast from among 800 online submissions.
In the Heights is produced by Melodie S. Rivers and Philip McBride, with technical wizardry provided by Costume Designer Samantha Jo Jaffray, Lighting Designer Antonio Cruz, Properties by Nicole German, Set Designer and Technical Director William Wilday, and Scenic Designer and Artist Melodie S. Rivers. Performances continue at the Morgan-Wixson Theatre, 2627 Pico Blvd, Santa Monica 90405, through July 30 on Fridays and Saturdays at 8 p.m., Sundays at 2 p.m. Reserved seat tickets are selling out quickly, so order yours ASAP at www.morgan-wixson.org, by phone at 310-828-7519, or by email to boxoffice@morgan-wixson.org. Adults $25, Seniors and Military $23, Students $20. Free parking is available a block west of the theater and in the surrounding neighborhood or at local street meters. Read parking and meter signs carefully for operating hours.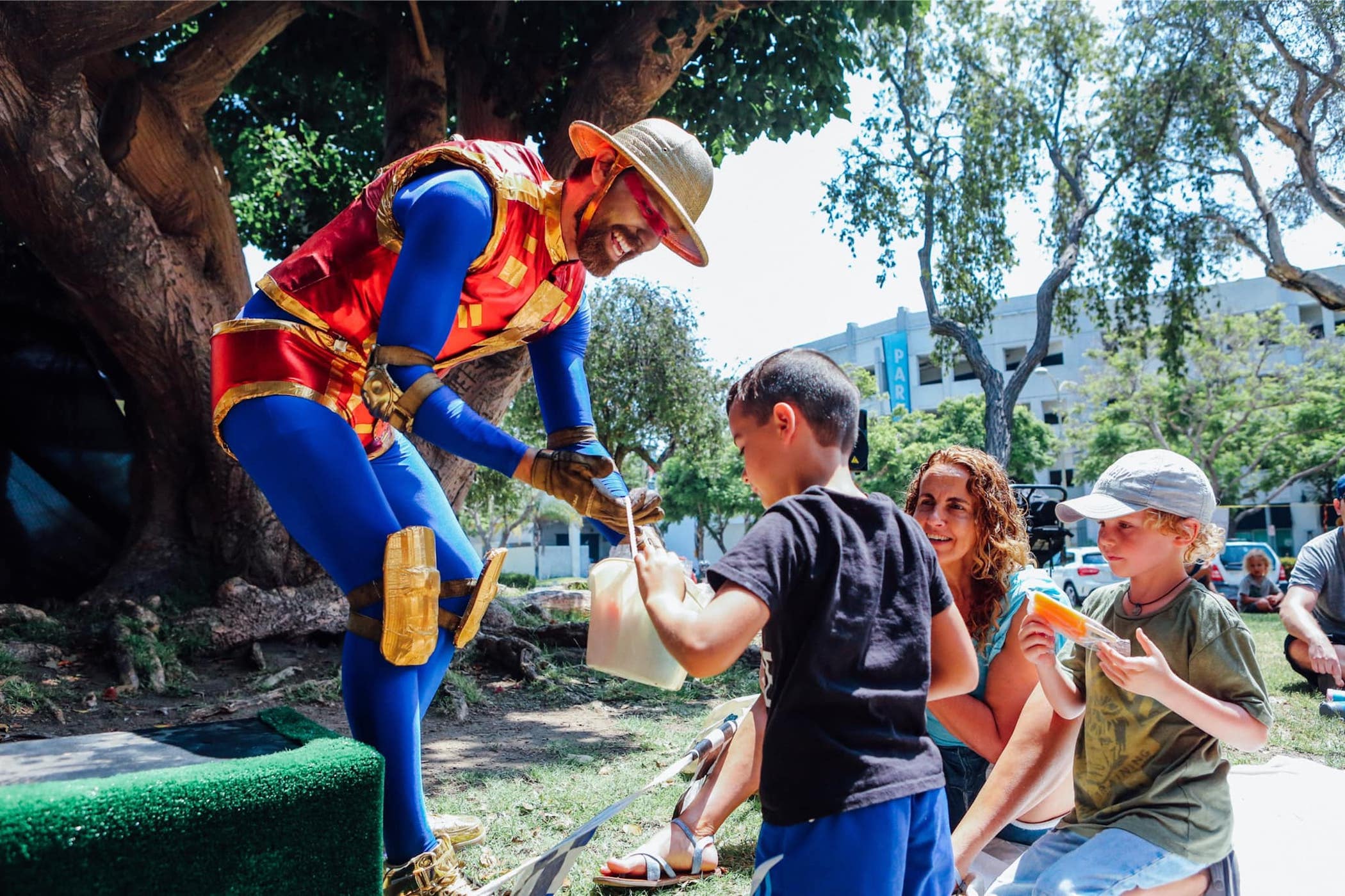 Since 2006, The Actors' Gang has connected new and younger audiences to Shakespeare by pairing his stories with popular characters. In August, The Actors' Gang mashes up Shakespeare and Winnie the Pooh by presenting MUCH ADO ABOUT POOH, written by Rynn Vogel, directed by Adam J. Jefferis, which tells the comedic Much Ado About Nothing through the lovable characters of Winnie the Pooh. But instead of Shakespeare's tale of romantic trickery, this is a story about forging friendships and finding forgiveness when Christopher Robin, Pooh, Tigger, and Eeyore pay a visit to Lord Owl's estate in the Hundred Acre Wood, where they meet Piglet, Roo, Rabbit and more! This is the perfect summer show for families with free admission for each 45-minute performance every Saturday and Sunday at 11 a.m. from August 5-27 in Media Park, located at 9070 W. Venice Blvd., Culver City 90232. Reservations are recommended at theactorsgang.com or by calling 310-838-4264. Please arrive at least 15 minutes early and check-in under the Gazebo at the West end of Media Park. With or without reservations, please feel free to bring low chairs and blankets for a cozy viewing experience. Metered street parking is available, or in the Trader Joe's lot across Culver Blvd. from the park.
Culver City Public Theatre is presenting two more free performances of THE ENCHANTED BOOKSHOP by Todd Wallinger, directed by Trace Oakley, this weekend on Saturday, July 29 and Sunday, July 30 at noon, outdoors in Dr. Paul Carlson Memorial Park, 10400 Braddock Drive, Culver City 90232. The play takes place in a bookstore with a secret – at night, the characters inside the books come alive including Dorothy Gale, Robin Hood, Pollyanna, Sherlock Holmes, Heidi, and Tom Sawyer who want to help Margie, the scatterbrained owner, save her struggling store. No reservations are required to attend, with open seating on the grass. Bring blankets, lawn chairs, and food (popcorn, snacks and drinks are available for purchase at the concession stand) and enjoy the summer outdoors in the park with free theater. Please arrive at least 15 minutes early for best seating. If you have any questions, visit www.ccpt.org or email ccptheatre@hotmail.com