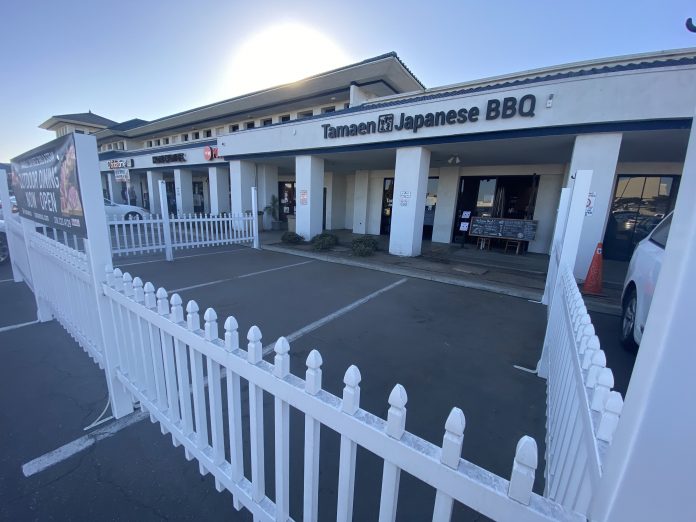 By Ronald Penh
Wagyu beef is a tender and luxurious steak that only comes from a specific breed of cows in Japan. It is best enjoyed after it is freshly cooked in the form of in-person dining — an option that has been restricted due to the COVID-19 pandemic. 
On Wednesday, Nov. 25, a three-week restriction was placed on outdoor dining at restaurants in response to a rapid rise in COVID-19 cases, according to LA Public Health.
While it lasted, outdoor dining was Taemen Japanese BBQ's main source of income, and the only opportunity they had to offer fresh wagyu beef during the time of COVID.
"Our meat quality is really good, you can cook it at home and it's still good, but when you cook and eat right away it's really good, so that's what we focus on — dine-in," Shingo Fujishima, general manager of Tamaen Japanese BBQ, said. 
It was a difficult transition, but the restaurant managed to make in-person BBQ available in the form of outdoor dining.
Six tables sat outside the Taemen restaurant to serve those who craved Japanese BBQ, each table equipped with its own BBQ grill.
Outdoor dining was not the only adjustment the restaurant made in response to the pandemic.
With the restaurant primarily offering wagyu beef which is cooked in-person, takeout was not offered. It wasn't until the lockdown in March that Taemen had to come up with new ways to make money.
The restaurant introduced bento boxes as a takeout option, which was a big step out of the restaurant's comfort zone, Fujishima shared.
The restaurant plans an online service that would sell Japanese wagyu beef for individuals to cook at home. It could start as early as December, Fujishima shared.
Fujishima anticipates the restriction on outdoor dining to last longer than three weeks and has a request for people to counter the spread of COVID-19.
"Once the pandemic (ends), I want everyone to try our beef," Fujishima said. "But first thing is, I want everyone to be safe and stay at home."
The restaurant is located at the Tozai Plaza in Gardena.