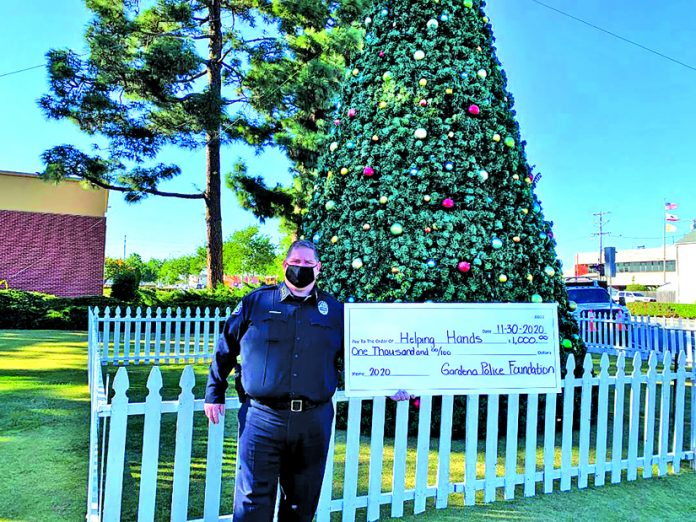 GPF gives $1,000 to lead all donors; Nissan adds $500
By Gary Kohatsu
Thanksgiving week proved bountiful as the Helping Hands holiday food and toy drive took in $2,700, including $1,000 from the Gardena Police Foundation.
Gardena Nissan delivered a check for $500 to help brighten the holiday food drive.
Individual donations finally saw activity this past week. Brian and Joyce Gohata made a $250 contribution In Memory of Tom and Jan Gohata.
There were four $200 donations: Evelyn All, June Eicker, Nancy Wood and one anonymous.
Rounding out the week's gifts, was a $100 donation by Clara Scruggs.
The total of $2,700 for the week pushes the seasonal total to (unofficially) $9,700.
Of note was a very appreciative donation of food by "the Boy Scouts Troop 719, who prepared 42 bags of side dishes for Thanksgiving. Inside each bag, included mash potatoes, gravy, stuffing, and much more," said Helping Hands coordinator Jaclyn Arcos.
Recapping previous weeks, the Gardena Elks Lodge 1919 set a high bar with $3,500. Sen. Steve Bradford and the Jazz Festival gave $2,000.
Heading week one's kickoff donation of $1,000 was the Charitable Funds Benefitting Gardena. Board members Barbara Phillips, Chris Vlahos and Stephen Koch were present for the check donation to Jaclyn Arcos.
The Gardena Management Employees Organization stepped up big time in with a $500 check presentation by Ramisi Wadkins, Nikki Sweeney, Donny Harris and Uneice Jones to Hands coordinator, Jaclyn Arcos.
The 2020 kickoff is moving along nicely despite the limited donors and challenging times.
At the start of this year's Helping Hands holiday program, Recreation Department director Stephany Santin was a bit cautious in her expectations, due to the virus. 
If Thanksgiving week was an indicator of how individuals, families, churches and service organizations might respond heading into December, then the 2020 Helping Hands is… in good hands.
While the Helping Hands program benefits local families for the December holiday season, the 2020 coronavirus has led to operational changes.
Families participating signed up electronically by Nov. 13, Santin said.
Those who did sign up and meet certain qualifications, will receive food and toys assistance this holiday season.
The program generally helps between 400 and 450 families a holiday season, Stephany Santin of the Recreation Department said. That would include about 700 children and overall, about 2,000 people.
Families who live outside of Gardena, in the unincorporated area of the Harbor Gateway, might also qualify for the Helping Hands program if there is enough food and toys, Santin said.
In anticipation of a sparse fundraising season, Santin and city staff have organized a variety of drive-thru events, such as the Halloween trick-or-treat celebration and the city of Gardena's 90th anniversary to generate funds for the needy. 
These and other events have included a drive-thru for motorists to donate food and purchase city products to generate funds.
For A Great Cause
Now in its 39th year, Gardena's holiday food drive will benefit 400 to 450 needy families in the community, and will serve more than 2,000 people with grocery vouchers and gifts for the kids.
Sponsored by the city of Gardena in cooperation with the Gardena Valley News, the holiday food drive began in 1980 as a food basket giveaway to Gardena's less fortunate.
In recent years, food vouchers to area grocery stores have replaced food baskets, which provides families with a greater selection of food items, including dietary and ethnic items.
Last year, the Helping Hands program received palettes of canned foods and non-perishables from various groups for the holiday.
The city of Gardena provides all staffing in the Hands drive and all monetary contributions go toward the holiday fund-raiser and the year-round food pantry. No money is used for administrative costs.
As in the past, the Gardena Valley News will publish a list of contributors, with a weekly update of new donors. For more information about Helping Hands, call 310-217-9574.
Checks should be made to "Helping Hands" and can be sent or dropped off at:
City of Gardena
Human Services Department
c/o Helping Hands
1651 W. 162nd St., Gardena, CA 90247
To learn more about the event, please contact:
Jaclyn Arcos
City of Gardena Recreation Department
Human Services Division
1651 West 162nd St.,
Gardena, CA 90247
Phone: 310-217-9574
Week Four – Dec. 3 Unofficial total $9,700
Boy Scouts Troop 719 prepared 42 bags of side dishes for Thanksgiving. Inside the bags included mash potatoes, gravy, stuffing, and much more.
Gardena Police Foundation $1,000
Gardena Nissan $500
Brian & Joyce Gohata, "In Memory of Tom & Jan Gohata" $250
June Eicker $200
Anonymous $200
Evelyn Nall $200
Nancy Wood $200
Clara Scrugs $100
Anonymous $50
___________________________
Week Three – Nov. 26 Unofficial total $7,000
Gardena Jazz Festival $2,000
___________________________
Week Two – Nov. 19 Unofficial total $5,000
Gardena Elks Lodge 1919 $3,500
GMEO $500
___________________________
Week One – Nov. 12 total $1,000
Charitable Funds Benefitting Gardena $1,000