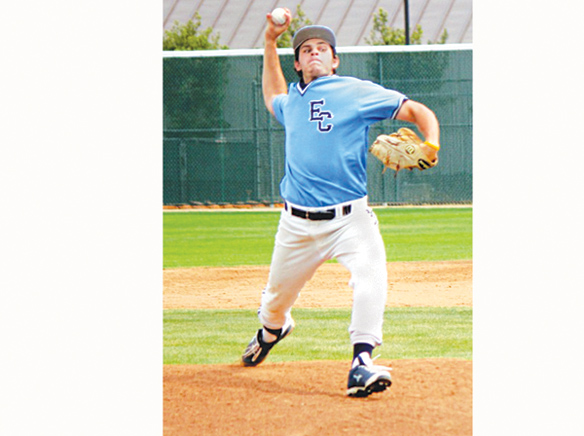 Throughout the season, the South Coast Conference had a very close race between most of the teams.
Going into last week's critical three-game series against rival Long Beach City College, El Camino was in the thick of the race for the California state playoffs and even a possible conference title.
Throughout the season, the South Coast Conference had a very close race between most of the teams.
Going into last week's critical three-game series against rival Long Beach City College, El Camino was in the thick of the race for the California state playoffs and even a possible conference title.
Unfortunately for the Warriors, things did not go their way as they lost all three games to the usually powerful Vikings that dropped them all the way to fifth place. Luckily, ECC made the Southern California Regional playoffs as the 17th seed. The Warriors began the playoffs last Tuesday at No. 16 Mt. San Antonio College in Walnut for a spot in a best-of-three game series on the road against either top ranked Orange Coast College in Costa Mesa or No. 2 seed Oxnard on Friday and Saturday.
Mt. SAC was fourth in SCC play behind champion Cerritos, second place Long Beach and third place East L.A.
Starting at El Camino, the Warriors were outlasted by the Vikings, 9-7 in 12 innings on April 22. Last Thursday at Long Beach, El Camino blew a 4-0 lead in a 5-4 loss. Back at ECC on Friday, the Vikings finished off the Warriors with a 12-2 rout.
Behind two home runs over the left field fence that gave the Vikings a 5-0 sixth inning lead, Long Beach surged out to a 5-0 lead before ECC rallied for four runs in the bottom of the sixth in the April 22 contest.
With the bases loaded and no outs, Jeremy Barth singled to score Dylan Hatch, who led off the inning with a walk. Sonny Lopez sacrificed in a run, then Kevin Lopez singled to load the bases. Alex Turner followed with a bad hop two-run single, cutting LBCC's lead to 5-4.
The Vikings upped their lead to 6-4 on a run-scoring double by Daniel Pitts, who earlier had a two-run home run.
In the bottom of the eighth, ECC had three more runs to take their first lead at 7-6, behind an RBI single from Freddy Smith (3-for-5, one RBI) and a two-run single from Dylan Hatch.
In the top of the ninth, Long Beach tied the game when Stephan Miladinovich tripled and scored on a single from pinch hitter Devon Schermerhorn.
The game remained tied at seven until the Vikings added two runs in the top of the 12th on a two-run double from Justin Davis.
LBCC reliever Julian Griego retired the Warriors in order in the bottom of the inning.
Last Thursday at Long Beach, things looked good for El Camino with a four-run lead. The Warriors broke a scoreless tie with three runs in the top of the sixth. It started when Keyon Allen singled and Alex Turner walked. Smith, then, attempted a sacrifice bunt that was thrown away and Allen and Turner scored as Smith went to third base. Smith scored on a sacrifice fly from Jack Canady, giving ECC a 3-0 lead.
In the top of the seventh, the Warriors made it 4-0 that started on a bizarre play after Sonny Cortez struck out on a ball down in the dirt. LBCC catcher Yamel Delgado, however, threw the ball wildly to first and it went all the way to the right field fence, enabling Cortez to go to third. Cortez scored on a squeeze bunt from Allen.
The Vikings, however, started to rally in the bottom of the seventh with two runs that started out with a triple to left-center from Ryan Dickson, who went on to score when Lopez misjudged the fly ball hit by Nolan Flashman. Flashman scored on a base hit by Pitts.
Long Beach tied the game in the eighth on a two-run single by Jordan Ybarra.
After two out in the bottom of the ninth and appeared the game would go into extra innings. Michael Thomas hit a fly ball that appeared that Alex Turner would catch but it went off his glove and Thomas had a double. Thomas went on to score the winning run on a single from Miladinovich.
Last Friday, ECC and LBCC were tied at two through six innings, but things unraveled for the Warriors in the final three innings as the Vikings let loose for 10 runs to turn the game into a blowout.
Long Beach took the lead for good on a bases loaded triple from Pitts in the top of the seventh.
Delgado went 4-for-5 with one RBI and two runs, and Dickison was 2-for-4 with two RBI's and one run for the Vikings.
LBCC held a 2-0 lead entering the bottom of the sixth but the Warriors rallied to tie the game at two behind an RBI double from Lopez that scored Joseph Cortez, who tripled. Anthony Collins scored the tying run on an error.
In that game, ECC head coach Nathan Fernley started all sophomores, since it was their final home and regular season game. Lopez and Cortez each went 2-for-4.
"The story of this week is we didn't do a job at the finish," Fernley said. "It was a little frustrating."
El Camino still has a good overall record of 22-14 and ended conference at 12-9.
______________
Serra resumes Del Rey after win over Locke; loss to P.V.
By Joe Snyder
GVN Correspondent
Coming off splitting two games over its Spring Break, Serra High's baseball team resumes the Del Rey League with a pair of showdown games against unbeaten La Salle (4-0 in league) this week.
After hosting the Lancers last Tuesday, Serra takes on La Salle in Pasadena for a 3:15 p.m. contest on Friday.
In non-league action last Friday at Serra, the Cavaliers (8-9 overall and 3-1 in league) blanked Los Angeles City School Locke, 8-0, behind a three-hit shutout by junior Mateo Brambila.
Brambila struck out four batters and walked three. With the bat, he went 1-for-4 with two runs batted in and a run scored.
Adrian Morales was 2-for-3, drove in a run and scored two. Morgan Lomax had a hit with two RBI's and one run.
Serra scored in each of the first five innings, including three runs in the bottom of the third to break the game open.
Against a very good Palos Verdes team, which has won eight of its last 10 games including all three last week (two of those in the Bay League against Redondo), Brambila and Marcus Wilson each had a hit and an RBI. Wilson scored once in Serra's 4-2 loss.
After the Cavaliers are done with the Lancers, they will visit South Bay rival Bishop Montgomery in Torrance in another league contest next Tuesday at 3:15 p.m.
Stunning comments by Sterling sets off fireworks at all levels
By Joe Snyder
GVN Correspondent
An audio recording laced with derogatory racial comments by Los Angeles Clippers owner Donald Sterling was not only a shock, but will no doubt damage the team he has owned since 1981.
Within the last year, Sterling hired a very good and legendary African-American coach, Doc Rivers, from the storied Boston Celtics. Then seeing an Instagram photo of his girlfriend posing with Magic Johnson, Sterling denounces Johnson and tells his girlfriend not to bring him or other black people to his games.
The news came to the public on Saturday, the day before the Clippers were to take on the Golden State Warriors at the Oracle Arena in Oakland. They went ahead and played with a pregame silent protest where they turned their warm up shirts inside out. They were trying to hope that it would not distract them but they could not contain the Warriors, who throttled the Clippers, 118-97, behind Stephen Curry's game-high 33 points, including seven three-point baskets (five of those in the first half).
The Clippers and Warriors are tied at two in games with the next contest scheduled at the Staples Center last Tuesday and it could result into a demonstration and, possibly even a riot (hopefully not), by fans.
Sterling has owned the Clippers for 33 years and it might just be time for him to sell the team with that ugly statement.
The Clippers should continue to play and keep their mind on the games the best they can.
It is the second time in approximately four and a half years that a scandal with an owner on an L.A. team hit. It was in October 2009 when the divorce announcement of Dodger owner Frank and Jamie McCourt came, resulting into serious financial woes by Frank as a result of the divorce and other lawsuits. That came right after the Dodgers defeated the St. Louis Cardinals in the first round of the National League playoffs and they were taking on the Philadelphia Phillies in the N.L. Championship Series, which they lost four games to one.
The scandal took three years before Frank McCourt finally sold the Dodgers to the Guggenheim Group, with one of those among the owners being Johnson.
After so many poor seasons in the past, the Clippers are finally enjoying being winners, coming off their best ever regular season at 57-25 and winning the Pacific Division for the second straight year.
We wish the Clippers the best of luck in the playoffs but certainly resent Sterling for that comment. He deserves some sort of punishment by the National Basketball Association commission.
Lakers need new owner: Along with Sterling, it might be best for Jim and Jeanie Buss to sell the team to another potential owner who can make better moves to get the Los Angeles Lakers back on their feet and winning ways.
They do not seem to know as much about basketball and the franchise as their late father, Jerry. Their moves have not been too good, especially with head coach Michael DeAntoni.
The Lakers finished with their worst season in L.A. franchise history at 27-55 for a .329 won-loss percentage, breaking the previous record of 30-52 (.366) set in the 1974-75 season. Their overall worst record was .264 at 19-53 in a 72-game season set by the Minneapolis Lakers in 1957-58.
On the other side, it might be for the Lakers' good since they can get some good choices in late June's NBA draft lottery, but it is only the sixth worst record in the organization. The No. 1 worst is the Milwaukee Bucks (15-67), followed by the Philadelphia 76'ers (18-64), the Orlando Magic (24-58) and a tie for fourth between the Boston Celtics and the Utah Jazz (25-57).
Of course, DeAntoni likes the fast pace games, so it might be good to get some young and quick players who are very good shooters. However, they need very good defensive players. The Lakers, five times, scored more than 120 points and lost games, one of those being a season-high 130 points in a 145-130 loss to the Houston Rockets about a month ago.
The Lakers did not make the playoffs for just the fifth time in franchise history but one might call a playoffs coming in just under a couple of months: the NBA Draft.
ECC spikers fall to SMCC: After winning its first ever Western States Conference crown, El Camino College's men's volleyball team entered last week's California State playoffs as the top seed in their region.
Unfortunately, they did not live up to their expectations as they were swept by conference foe Santa Monica City College, all by 25-19 scores, on April 23 at Santiago Canyon College in Orange.
The Corsairs already handed ECC its only conference loss in a three-game sweep on March 26, although the Warriors had one win against them.
Santa Monica was very physical as it put down 45 team kills to just 23 for El Camino.
The Corsairs were led by Taylor Tattersall and Keats Stanley. Stanley had 20 kills and seven digs, while Tattersall added 12 kills and eight digs. Santa Monica also had very good setting by Kasey Dunn with 40 assists.
The Warriors were sparked by Roy Powell with 10 kills and four digs. Nehemiah Iosia contributed five kills and seven digs and Kennison Rowe had 10 assists. Former Narbonne High standout Errol Basconcillo tallied 11 digs.
in the Santa Monica lost final to Orange Coast College in five game