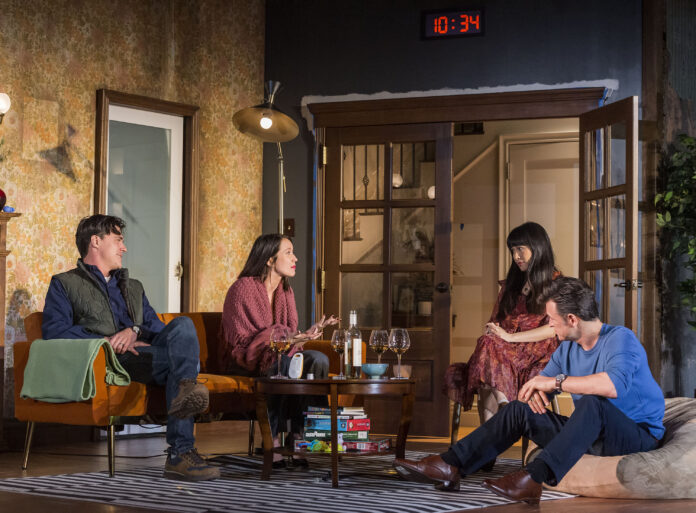 By Shari Barrett
The U.S. premiere of 2:22 – A Ghost Story by Danny Robins, directed by Matthew Dunster, is now playing at the Ahmanson Theatre after debuting in London's West End in 2021 and being nominated for three Laurence Olivier Awards, including Best Play. But I cannot imagine why that is, given the lack of excitement, suspense, or terror in the plodding production I attended. In the four-person play, Jenny (Constance Wu) believes her new home is haunted, but her husband Sam (Finn Wittrock), just returned from an out-of-town business trip, isn't having any of it. They argue with their first dinner guests, their old friend Lauren (Anna Camp) and her new partner Ben (Adam Rothenberg) about whether ghosts exist and what happens when we die. 
It's nothing you haven't heard before, and unfortunately, the repetitive nature of the script is more of a bore-fest than the boo-fest I was hoping to experience. Then again, the few times ear-piercing screams denoted scene changes really did make the audience jump out of their seats. Not so for the accompanying blinding red light framing the stage which seemed to be a forced attempt to hide the fact that nothing really frightening was ever going to happen. The occasional howling coyotes must have been indicating something, but I cannot tell you what. And that was the extent of the terror in this ghost story with four characters just sitting around bickering for almost two hours without much happening to prove any of their opinions about whether the dead really do walk again. 
Perhaps the best thing about the production is Anna Fleischle's scenic design which fills the entire stage with the living room and kitchen of an enormous home under construction. Its large glass patio doors could have added so much more to the frightening aspect of the play, but that never happened other than one scene during which fog appeared, entered the home, and then disappeared just as fast. Again, perhaps I missed the point.
2:22 – A Ghost Story continues through December 4 on Tuesday through Friday at 8 p.m., Saturday at 2:30 p.m. and 8 p.m., Sunday at 1 p.m. and 6:30 p.m. Dark Mondays. Tickets start at $40, available online at https://www.centertheatregroup.org or by calling Audience Services at (213) 972-4400 or in person at the Center Theatre Group Box Office (at the Ahmanson Theatre at The Music Center at 135 N. Grand Avenue in Downtown L.A. 90012.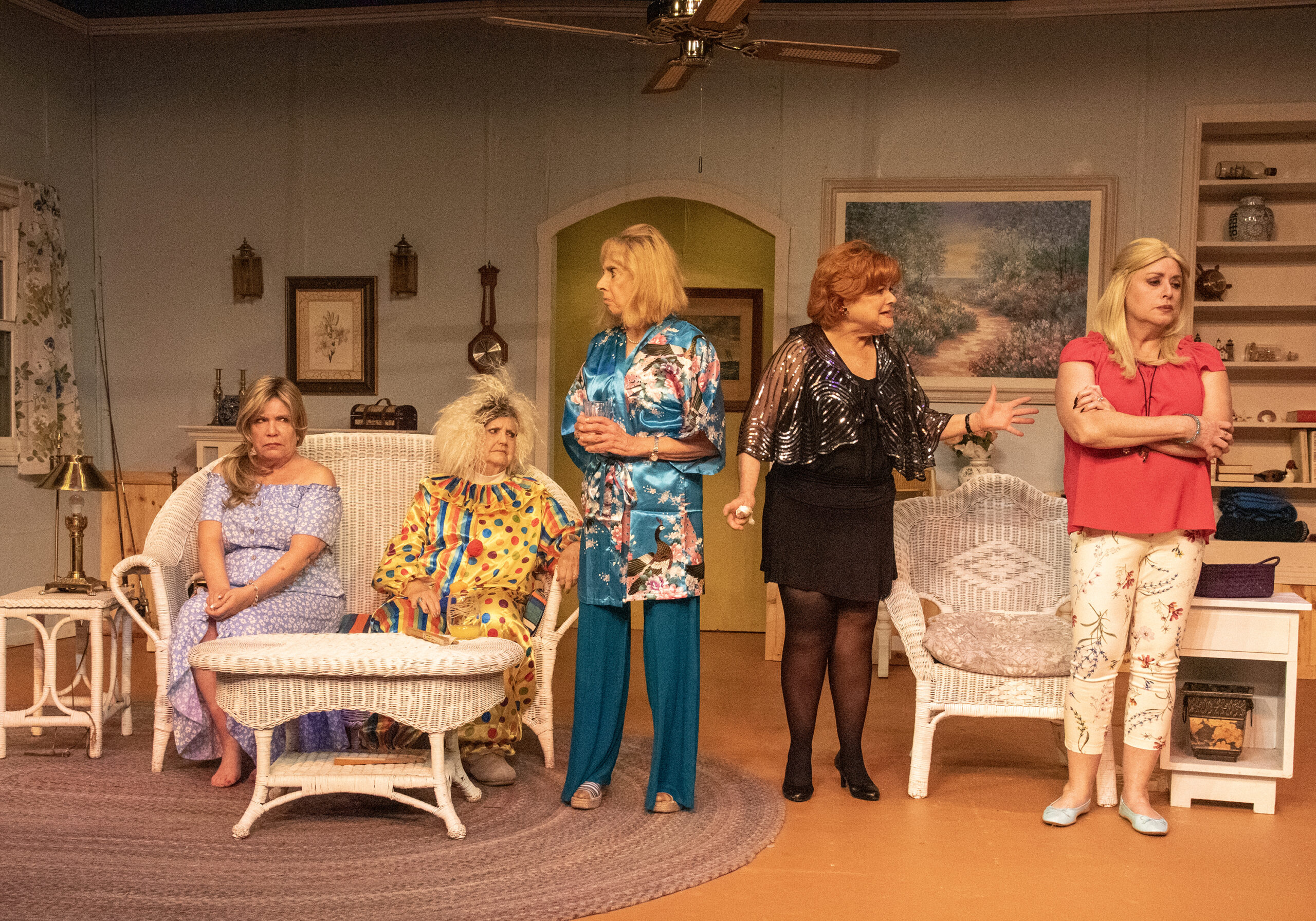 Part Steel Magnolias and Same Time Next Year, Designing Women and a bit of The Golden Girls, The Sweet Delilah Swim Club by Jessie Jones, Nicholas Hope and Jamie Wooten shares the stories of five Southern belles whose friendships began many years ago on their college swim team. Free from husbands, kids and jobs, they meet for a long weekend every August at the same beach cottage, the "Sweet Delilah" on North Carolina's Outer Banks, to catch up, laugh and meddle in each other's lives. 
Over the years, the five feisty ladies, portrayed by Laura Goldstein (Lexie); Martha Hunter (Jeri Neal); Maria O'Connor (Sheree); Mary Allwright (Vernadette) and Michele Schultz (Dinah), increasingly rely on one another, through advice and boisterous banter, to get through the challenges that life flings at them – including men, sex, marriage, parenting, divorce and aging, with some unexpected twists and turns. And ultimately, it's about the enduring power of friendship in the face of life's trials and tribulations. Unfortunately, Director Sherman Wayne, who also designed the lighting and fabulous set, allows the slow Southern pace to overwhelm the comedy, which often falls flat. Or perhaps it was the result of so many dropped lines at the performance I attended. Either way, the incredibly slow pace made it seem twice as long as it needed to be.
All that aside, the actors did authentically portray how much these friends really know about each other and the heartfelt support offered among them through life, as different as they are from each other. Maria O'Connor as the group's ringleader Sheree enjoys being the one in charge, planning weekend activities and meals to keep the girls from just sitting around and complaining. Laura Goldstein's often-married and divorced Lexie proudly talks about her latest cosmetic surgery just as much as the others boast about their husbands and children. But not so much Mary Allwright's Vernadette whose two children have led less than perfect lives. Martha Hunter portrays former nun Jeri Neal whose transformation into a happily married middle-aged woman with a young child offers some hope that life can work out for single mothers everywhere. And martini-drinking lawyer Dinah portrayed by Michele Schultz effectively plays both sides of the coin, happy but frustrated with her lot in life.
The Sweet Delilah Swim Club produced by Martha Hunter and Sherman Wayne, continues through December 11 on Friday and Saturdays 8 p.m.; Sundays at 2 p.m. at Theatre Palisades Pierson Playhouse, 941 Temescal Canyon Road in Pacific Palisades 90272. General admission tickets are $22; Seniors and Students $20, available by calling the box office at (310) 454-1970 or online at https://theatrepalisades.org. Masks are required while indoors. Free onsite parking.
In closing, a big thank you to the Actors' Gang for inviting me to their 40th Anniversary Benefit Concert at the BroadStage on Saturday, November 12, which featured entertainment by musicians Mendeleyev, Madison Cunningham, and Jackson Browne, whose show closing "Running on Empty" got the audience up on its feet dancing! In program notes, Artistic Director Tim Robbins shared his thanks to "our audiences, donors, arts foundations, philanthropists, local, state, and national politicians, and our Board of Directors. We envision a future of infinite possibility, a continuing of our outreach [prison and education] programs, a constant presence on the world stage, and groundbreaking new work developed for our stage in Culver City." Their current production of Ubu the King continues through December 4 with their immersive Cirque Panto Shambles opening December 8. Info and tickets at https://theactorsgang.com