By Shari Barrett
I have enjoyed being part of mentalist audiences for many years, always dazzled by their ability to apparently read or manipulate our thoughts. And I can tell you I was awestruck while in the presence of Drama Desk Award–nominated theater-maker and mentalist Vinny DePonto during the World Premiere of MINDPLAY, which he created and performs in the up-close-and-personal Audrey Skirball Kenis Theater at the Geffen Playhouse through December 18. His belief that comfort can be created, even though mindreading leaves you no place to hide, was in evidence from start to finish as he led us through our "memory palaces" revealing secrets hidden there. 
Introduced as a love letter to the imperfect mind, DePonto takes his audiences on a raucous romp through the back channels of our innermost thoughts, exploring the fragmented and flawed nature of our memories. Since our memories are the pillars upon which we base our reality, our thoughts play a leading role in the show, making each performances a unique experience depending upon who is in attendance and asked to join him onstage for personal thought explorations. And perhaps even question who is in charge of that little voice inside your head.
I do not want to reveal the processes or exercises used during the show as the element of surprise is vital to your enjoyment of the experience. And while I question how he could possibly have known what he did or created the illusion of reading others' thoughts, there is no way I can contemplate or explain his skill as a mentalist. Besides that, he is a wonderfully soft-spoken and charismatic performer whose stage presence will keep you enthralled during the 90-minute experience. Just be ready to play your part if called upon to do so!
DePonto's astounding performance was directed by Andrew Neisler and produced Eva Price, with major support provided by the Edgerton Foundation New Play Production Fund. Kudos to Scenic Designer Sibyl Wickersheimer, Lighting Designer Pablo Santiago, and Sound Designer Everett Elton Bradman for adding such a great aura of mystery and surprise to each sensory-catching moment throughout the show. 
The World Premiere of MINDPLAY written by Vinny DePonto and Josh Koenigsberg continues through December 18, 2022 with performances on Tuesday – Friday 7:30 p.m. and Saturday – Sunday 1:00 and 7:00 p.m. in the Audrey Skirball Kenis Theater at Geffen Playhouse, 10886 Le Conte Avenue, Los Angeles 90024. Tickets currently priced at $39 – $129, available by phone at 310.208.2028 or online at www.geffenplayhouse.org. All Geffen Playhouse productions are intended for an adult audience; children under 6 years of age will not be admitted. Masks are strongly recommended indoors.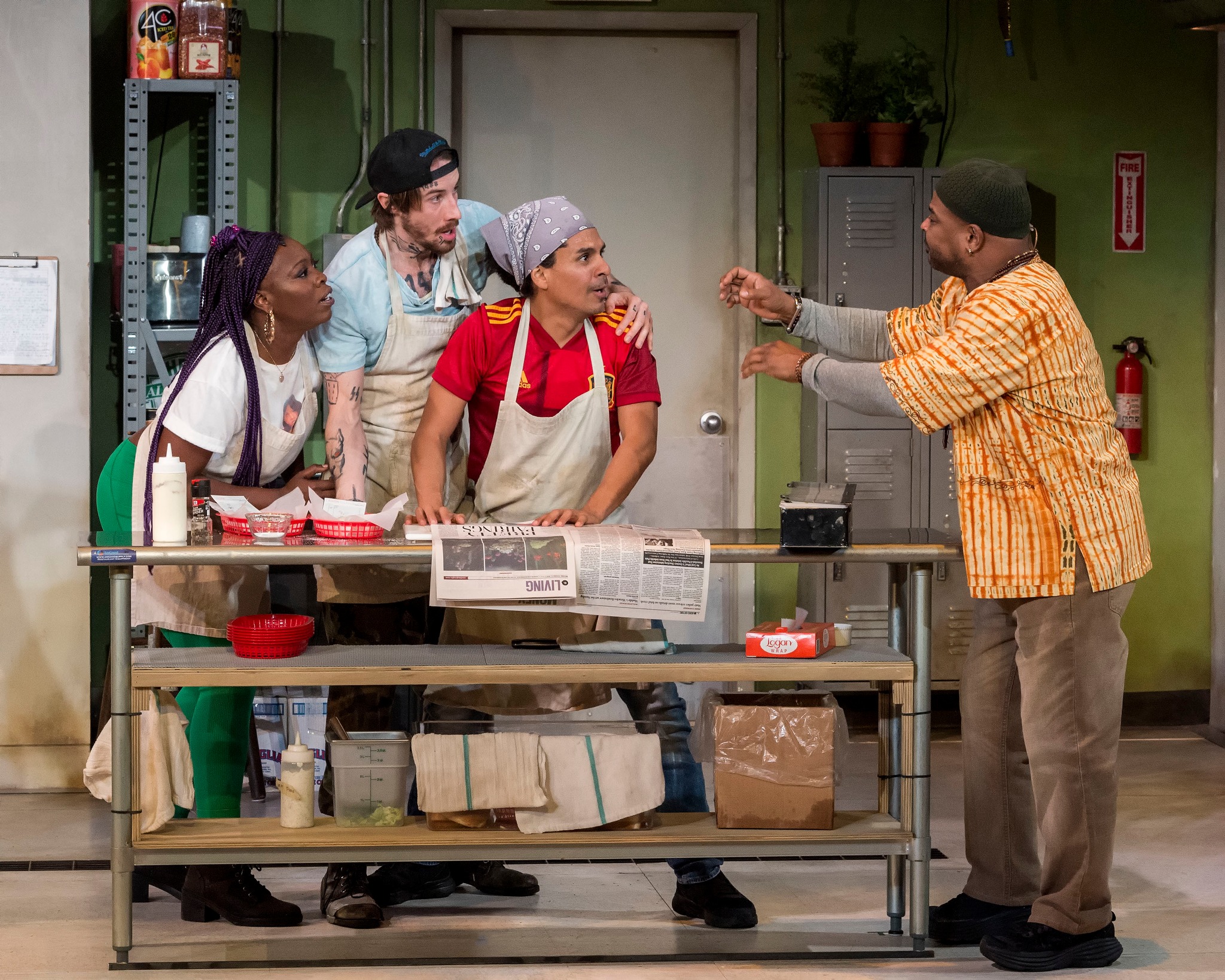 The West Coast premiere of CLYDE'S from two-time Pulitzer Prize winner Lynn Nottage serves up a story of ordinary characters with big dreams. It centers around the formerly incarcerated staff of Clyde's truck stop diner looking to start their lives over in the kitchen under the fiery rule of its owner, Clyde, who has her own demons to fight. In pursuit of the perfect sandwich, the chefs imagine a future they have been constantly told is out of reach, especially by their overly demanding boss.
The Tony Award-nominated Best New Play touches heavily on the hot topics of race, gender, and imprisonment, with Nottage using comedy to highlight the pain and hardships of marginalized communities represented by the play's characters, all of whom have been through the prison system and experience reality through their own lens. Their ongoing banter as they learn to work together to create the perfect sandwich touches close-to-the-surface nerves, but Nottage's use of comedy helps create an environment into which the audience is easily and emotionally pulled. 
The cast features Tamberla Perry as the hot-tempered Clyde, a woman running a business just to try and pay off her gambling debts. Dressed to the nines in magnificent costumes designed by Jennifer Moeller, each of her entrances inspired more than just a casual look at this powerful woman helping others to re-enter the workplace, even though her own insecurities cause her to constantly put them in their place. The most senior member of her kitchen staff is Montrellous (Monty), effectively portrayed by Kevin Kenerly as the strong-willed, gentle, and caring soul in whom the others confide when the going gets tough. Reza Salazar adds Latin soul as fry cook Rafael, the hardest-working go-getter, while Nedra Snipes as Letitia represents a hard-working single mother who still believes the only real success in life is through attaining the attention of a man, even the wrong one. But it is Garrett Young as the tattooed Jason looking to re-start his life who transforms the most from an ill-mannered and unsanitary dude into a chef who knows the importance of just the right garnish.
Director Kate Whoriskey's attention to detail and character development deserves the utmost praise for this constantly on-the-move production, her knowledge developed as the director of the Broadway show, for which she was awarded Best Director by the Drama League. Scenic designer Takeshi Kata, also from the Broadway production, effectively brings the reality of a truck stop diner's kitchen into the trapezoid-shaped proscenium, bringing into focus a side of the restaurant business few ever see, offering a real-life perspective on the people and places where our food is prepared.
CLYDE'S, a co-production with Goodman Theatre in Chicago, continues at Center Theatre Group's Mark Taper Forum through December 18. Tickets start at $35, available through CenterTheatreGroup.org, Audience Services at (213) 628-2772, or in person at the Center Theatre Group Box Offices (at the Ahmanson Theatre) at The Music Center, 135 N. Grand Avenue in Downtown L.A. 90012. Performances run Tuesday through Friday at 8 p.m., Saturday at 2:30 p.m. and 8 p.m., and Sunday at 1 p.m. and 6:30 p.m. Run time is 90 minutes with no intermission. The play includes adult language, profanity, haze, and flame effects. Mask wearing is optional but recommended. After-show stage talks take place on Tuesday evenings December 6 and 13, and Sunday, December 18 after the 1p.m. matinee. Masks are strongly recommended indoors.