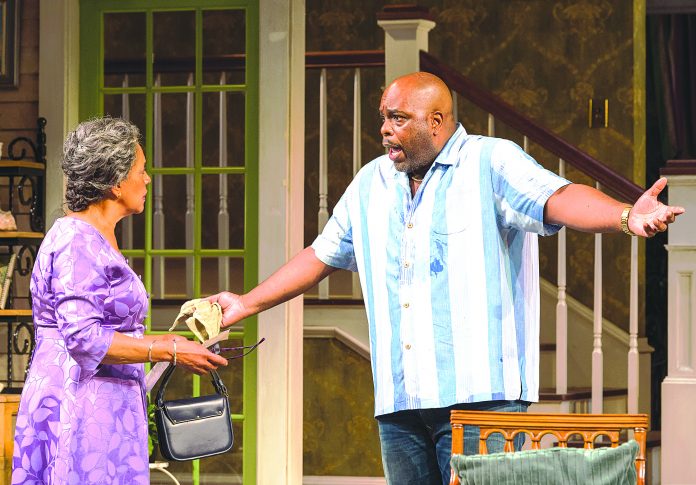 By Theda Kleinhans Reichman
Entertainment Editor
By Theda Kleinhans Reichman
Entertainment Editor
Tarell Alvin McCraney, co-writer of the Oscar winning film "Moonlight," is predominantly a playwright.  His latest theatrical work "Head of Passes," now at the Mark Taper, was commissioned by the Steppenwolf Theatre Company who wanted a play based on the biblical Book of Job.  To work on a concept for the play he and director Tina Landau spent two weeks with a cast "just reading the Book of Job and then trying to decipher its makeup."
According to McCraney "The idea of opening up the dialogue about a person's personal faith was and is always the main focus of the piece….it is a story about someone's personal faith, and how they use it as a guide to try and understand the many, many, sometimes fraught, sometimes beautiful often chaotic events of our lives. Of human existence.  Not just our lives, but other people's lives. And what is that struggle? To maintain an ability to not know all the answers, but also not to try to abandon the notion of life. To really stay in it, to figure out what you know and what you don't know, and what you never will know. Trying to find some balance in that."  
Then using all the insights gained from the biblical Job he crafted his play and set it near the Head of Passes where the Mississippi River meets the Gulf of Mexico. And like the recent terrible storms that have ravaged Houston and Puerto Rico the play takes place during a fierce storm that is wreaking havoc on Shelah's home, once was a prosperous B&B.
As Act One begins, Shelah (Phylicia Rashad, TV's "The Cosby Show" and countless Broadway productions) is having a heartfelt conversation with God.  Not only is her house starting to fall apart, so is her life.  She is deathly ill and this evening at her birthday party she plans to tell her family about the severity of her illness.  She also wants to let them know she will be giving them the family home, hoping this will bring the family back together once again.   
Her two sons Aubrey (Francois Battiste) and Spencer (J. Bernard Calloway) are already there and she is awaiting the arrival of Cookie (Alana Arenas) her husband's child by another woman who Shelah has raised as if she were her own.  A surprise visitor is Dr. Anderson (James Carpenter) who wants to let the family know how grave Shelah's situation is, but she forbids him from saying anything. She will do it in her own way. 
Also in attendance are Creaker (John Earl Jelks) a worker from their bed and breakfast days, along with his son Crier (Kyle Beltran). Jacqueline Williams rounds out the cast as Mae, a role she originated at Steppenwolf.
With the eventual arrival of Cookie, the party literally falls apart as she arouses great anger in her older brother Aubrey who never wanted her to come in the first place.  The party has turned into a disaster and soon Shelah is left alone with her house literally tumbling down all around her.
The scenic design by G.W. Mercier is absolutely amazing, coupled with the lighting design by Jeff Croiter and sound design by Rob Milburn and Michael Bodeen.
The tone in Act Two is far more stark. Major dramatic events have occurred unseen between the two acts and we, like Shellah, learn about them at the start of Act Two as they are quickly mumbled to Shelah by Crier who has come with others who were at the birthday event. A fierce and totally distraught Shelah screams at them, telling them to leave her alone.  When they go Rashad goes into a long, raging, heart-broken dialogue with God begging Him for answers to the terrible events that have come to pass. For almost the entire second act she is alone on stage with her unseen God.  Her soliloquy is a brilliant tour de force as she cries, then pleads for answers to the Job-like miseries that have befallen her and those she loves.  Her stirring performance brought down the house on  opening night as she came out to take her well deserved bows along with the rest of the cast.
"Head of Passes" at the Mark Taper Forum, 135 N. Grand Ave., L.A. ends Oct. 22.  It plays Tuesdays-Friday  at 8 p.m., Saturdays at 2:30 and 8 p.m.  and Sundays at 1 and 6:30 p.m.  Tickets: $25 to $95.  For information call (213) 628-2772 or www.centertheatregroup.org. Running time:2 hours including intermission.
                                   #30