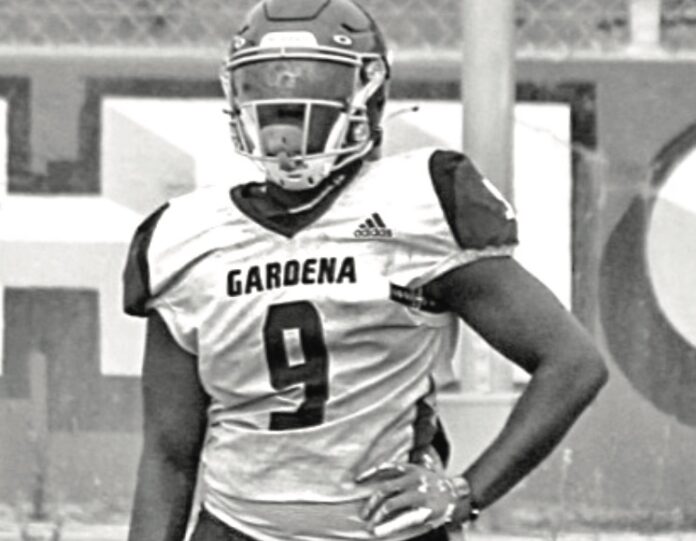 By Joe Snyder
Last year, Gardena High's football team made a good step with an undefeated non-league record only to lose all four games in the always prestigious Marine League.
With 17 starters returned from that squad, head Panther coach Monty Gilbreath has high hopes for Gardena not only to win games in Marine play but even win the league title and get a spot in the CIF-Los Angeles City Section Open Division.
"We're more physical and mature than last year," Gilbreath said. "We want to compete against the best. The Marine is the best league in the City. I feel like we want to compete against the top."
Among the top returning starters for Gardena, which finished 6-5 overall after losing in the first round of the CIF-L.A. City Section Divi- sion I playoffs to host Mervyn Dymally 30-14 in South L.A., is junior running back Xavier Grant who was co-Marine League Player of the Year despite the Panthers' 0-4 record.
"I respect his talent in a major way," Gilbreath said of Grant. "He has some major colleges looking at him."
Grant was first-team all-Marine League as a freshman two years ago.
Gilbreath is also impressed with senior wide receiver Johann Wallace.
"This kid is super talented," Gilbreath said of Wallace. "I feel he's the best wide receiver in the City."
Also back at quarterback is junior quarterback Isaiah Kim, who started after transferring to Gardena from North Torrance High in 2022.
Kim already had a fine showing in the recent spring and summer passing leagues and tournaments.
The Panthers return their entire offensive line that includes right tackle Jacob Willard and guard Christian Sardine. "Both are being recruited by Division I and II colleges," Gilbreath said.
Defensively, Gardena is led by junior lineman Damaj Longley, a returning first-team all-leaguer. Also back are lineman Dallas Hernandez, also returning all-Marine player and junior strong safety Myles Mason, who will also start at running back on offense.
"We still got a lot of young players," Gilbreath said. "Two years ago, we started 17 fresh- men and sophomores."
In 2021, the extremely young Panthers finished 3-6 overall but their highlight was a win over host Narbonne, their first Marine victory since beating Washington, now in the Crosstown League, in 2015.
Missing from Gardena, though, will be all-purpose player Torey Pierce, who was, last year, kicked off the team for disciplinary reasons. Pierce reportedly transferred to Washington, which the Panthers will play at home on Sept. 15.
Gardena opens its season at home against Bell High Friday at 7 p.m. The Eagles usually do well but are not one of the top overall City powers, that in- cludes the likes of Wilmington Banning, Carson, Narbonne, San Pedro, and Lake Balboa Birmingham. The Panthers, then, visit Crenshaw High on Aug. 25 before coming home to face Centennial High of Compton on Aug. 31. Other preseason games include L.A.-Watts Jordan (Sept. 8, away), Washington (Sept. 15, home) and King-Drew Medical Magnet (Sept. 22, home).
Gardena begins Marine action at home against always powerful San Pedro on Sept. 29. Other league games include Banning (Oct. 13, away), Carson (Oct. 20, home) and Harbor City Narbonne (Oct. 27, away).
Cavs look like contenders for state
Over the past season, Serra High's football teams ended up riddled with injuries as the Cavaliers did not have the season they were hoping for.
Gone from that team is the speedy Roderick Pleasant, who graduated and moved on to play for the University of Oregon. With his fastest track and field times of 10.14 in the 100-meter dash and 20.4 in the 200, he was a big aid for Serra, but several key injuries an mishaps led the Cavaliers to only an 8-4 overall record and the quarterfinals of the CIF- Southern Section Division II playoffs where they lost to Mission League foe and eventual champion Chatsworth Sierra Canyon.
Two years ago, and despite just a third-place finish in the Mission League, Serra wound up winning CIF-Southern Section Division III, Southern California Regional and CIF-State Division IA championships.
The Cavaliers return 35 players, including 14 starters from the 2022 squad that include returning seniors, running back Cincere Rhaney, Oregon-commit defensive back Dakoda Fields and UCLA-commit wide receiver Zachary Williams. Recently, Fields decommitted from University of Southern California to Oregon as those universities will be leaving the PAC 12 to the Big 10, which will be more the Big 18 (18 universities in that conference starting in 2024).
Serra will have very good experience in the skilled positions returning Rhaney, Williams, and junior wide receiver Otis "Tre" Harrison. Harrison is also a returning all-CIF Southern Section Division II and Daily Breeze all-South Bay defensive back. Rhaney and Williams were also all-Southern Section.
With one year of experience in his belt, junior Jimmy Butler returns as the starting quarterback. He will be backed up by sophomore Nicholas Johnson.
The Cavaliers will have a strong line behind all-South Bay and all-Mission League Elijah Henderson, a two-way starter on offense and defense, and all-leaguer Andy Maves.
"We're thin but we got a lot of good players," Serra head coach Scott Altenberg said. "Our quarterback is a year older."
The Cavaliers begin play with a challenging one against Orange Lutheran from the prestigious Trinity League Friday at 7 p.m. at Orange Coast College in Costa Mesa. Orange Lutheran is currently ranked eighth in the overall CIF-Southern Section and 10th in California in the Maxpreps preseason poll. Serra begins this season rated ninth in the Southern Section and 11th in the state.
The Cavaliers have their first three games on the road against Orange Lutheran, Warren in Downey, and Cathedral in Los Angeles before hosting another premiere program in Long Beach Poly on Sept. 8. The Jackrabbits already began their season with a 60-28 rout of host Konaawaena last Friday in Kaelakelua, Hawaii. Kaelakelua is on the big island of Hawaii and was not affected by the wildfires that ravaged much of the island of Maui, particularly in its famous historic town Lahaina that had almost all its structures destroyed.
After hosting Oaks Christian from Westlake Village on Sept. 15, Serra begins league at home against West Hills Chaminade on Sept. 29. The Cavaliers have four other critical Mission games against Sherman Oaks Notre Dame (Oct. 6, home), La Puente Bishop Amat (Oct. 13, away), Sierra Canyon (Oct. 20, away) and Mission Hills Ale- many (Oct. 27, home).
Rebuilding North starts season at LB Jordan
North Torrance High's foot- ball team had quite a ride the past few seasons behind four- year starting quarterback Trevor Lagarde.
Lagarde had a great career with the Saxons passing for 102 touchdowns over the four seasons as he continues his football at West Liberty University, an NCAA Division II university in Virginia.
The Saxons return only seven starters from that squad but will continue to have some good talent that should continue to make them a contender in the Pioneer League this season.
The focus, though, will be on defense led by returning all-league and Daily Breeze all- South Bay linebacker Tristan Henry. Last season, Henry led North's defense with 150 tack- les as the Saxons finished at 8-3 overall after placing second (behind champion Lawndale) and making the CIF-Southern Section Division VI playoffs before losing in the first round to host Oak Park.
Also back is senior offensive lineman Landon Date, all-league junior running back- linebacker Will Pineda and senior all-league cornerback Matai Tofaeono.
Replacing Lagarde at quarterback appears to be a toss- up between freshman Boogie Anetema and junior Felix Avilar. Anetema might have the potential of being North's next four-year starter if head coach Todd Croce opts him to start this season.
"We have good speed and depth," Croce said. "We're on the youth movement. We have just enough experience to make things happen but there are a lot of question marks."
After playing seven of its 10 regular season games at home last year, North will do a lot of traveling playing seven road games, including its season opener at Long Beach Jordan High Friday at 7 p.m.
North has good speed but it will be challenged facing one of the fastest running backs in the United States in senior Jordan
Washington of the Panthers. Washington already helped Jordan win the CIF-Southern Section Division X title last season and has fastest times of 10.24 in the 100-meter dash and 20.51 in the 200 as he was Serra's Roderick Pleasant's top challenger in the sprints over the past two seasons. Wash- ington placed second, behind Pleasant, in the 100 in the CIF- State Track and Field Champi- onships on May 26 in Clovis.
The Saxons have two more consecutive road games against St. Genevieve in Panorama City (Aug. 25) and Carson (Aug. 31) before its first of its only three home games against Encino Crespi on Sept. 8. North closes non-league at Paraclete in Lancaster on Sept. 15.
The Saxons begin the Pioneer League at El Segundo on Sept. 29 before their homecoming game against cross town rival South Torrance on Oct. 6. Other league games are against Torrance (Oct. 13, away), Lawndale (Oct. 20, home) and West Torrance (Oct. 27, away).