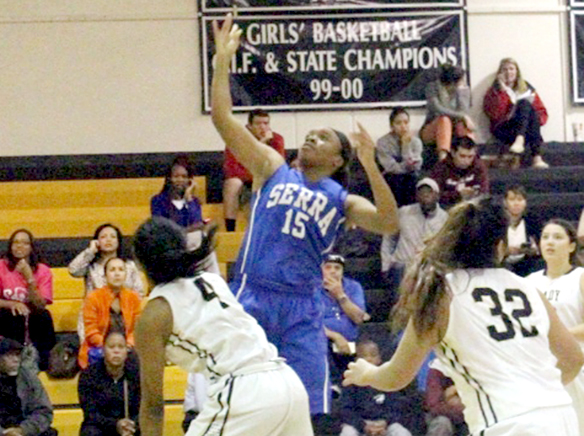 Serra High's girls' basketball team moved to the front seat of the Del Rey League with wins over rival Bishop Montgomery and St. Anthony last week.
At Bishop Montgomery in Torrance on Jan. 20, the Cavaliers outlasted the Knights 58-54. At Serra last Thursday, the Cavaliers downed the Saints 52-37.
Serra High's girls' basketball team moved to the front seat of the Del Rey League with wins over rival Bishop Montgomery and St. Anthony last week.
At Bishop Montgomery in Torrance on Jan. 20, the Cavaliers outlasted the Knights 58-54. At Serra last Thursday, the Cavaliers downed the Saints 52-37.
In a key showdown against Bishop Montgomery, the game was mostly a see-saw battle but it was numerous key baskets and other plays from Nautica Morrow that keyed Serra, especially down the stretch. Morrow scored 11 of her game-high 22 points that enabled the Cavaliers to hold on to their third league win against no losses. Serra is 13-7 overall.
The Knights held a 15-12 edge after the first quarter but Serra outscored Bishop Montgomery (10-11) 21-11 in the second period for a 33-26 halftime lead and it proved to be the difference in the game.
The Knights proceeded to outscore the Cavaliers by narrow margins of 14-12 and 14-13 in the third and fourth quarters, in order, but key plays from Morrow and Briana Johnson (12 points) enabled Serra to come out with the victory.
Keria Michael and Camille Hailey each added eight points.
"Our defense did a good job," Serra head coach McKenzie Hadley said. "We were not getting people in front of us."
Bishop Montgomery, which routed host Bishop Amat 78-47 last Thursday in La Puente, was led by Jessica Malazarte with 20 points and Chelsea Lidy with 14 that included scoring her prep career's 1,000th point when she converted on a free throw in the third quarter.
Last Thursday, it was Christine Delapina, who also chipped in 11 points against Serra and put in 18 against the Lancers, who surpassed the 1,000 mark.
At the same time, the Cavaliers broke the game open with a 19-7 third period run to bring down St. Anthony from Long Beach.
Johnson led Serra with 14 points, 12 of those on free throws. Brijaye Brackett contributed 10 points and 10 rebounds and Morrow had six points, 10 rebounds and three steals.
The Cavaliers visit Bishop Amat tonight at 6 p.m.
_________________
Local players highlight Prep Football All-Star Weekend
By Joe Snyder
Sports Editor
Last weekend was local All-Star Football Weekend and players from Serra and Gardena were involved in each of those contests.
Perhaps the bigger one was last Sunday's West Coast Bowl where Team Speed topped Team Impact 24-19 at Warren High in Downey.
Serra wide receiver Deontay Burnett keyed Speed with two touchdown receptions from quarterback Cameron Burston from Stellar Prep in Oakland. Burnett, in fact, gave Speed the lead for good on a 70-yard play from Burston in the second quarter.
Midway in the third period, the two, again, connected from five yards that gave Speed a 21-10 lead.
Ahead 24-13, Impact cut Speed's lead to five points on a 7-yard run from James Gardner, but Speed held on.
There were no players from the Cavaliers, who lost in the first round of the prestigious CIF-Southern Section playoffs to eventual champion Corona Centennial 68-64 on Nov. 15, but some from Gardena, which finished fifth in the Marine League, in Saturday's 51st Annual West Torrance Lions All-Star Classic at Mira Costa High in Manhattan Beach.
The Panthers, including running back-linebackers Marcus Beroit, Chris Plunkett and Marvell Beroit, were on the losing Blue team that was routed by the White stars with a record score of 44-8. The Whites 44 points broke the previous record of 43 set in 2013 by the Blues when they blew by the Whites 43-13.
All made some key plays.
Torrance had a few standouts for the White squad. Quarterback Vincent Huey completed eight of 11 passes for 102 yards and a touchdown of 19 yards to Inglewood receiver Kendric Johnson that gave the Whites a 20-0 second quarter lead.
Tartar standout running back Tyree Harris rushed for 28 yards and one TD, and caught two passes.
Elijah Jones had two interceptions.
Carson quarterback Devante King shined for the Blues as he rushed for 66 yards and passed for 46 more. He scored both a TD on a one-yard run and the two-point conversion to cut the White lead to 20-8 late in the second quarter.
The Whites blew the game open by outscoring the Blues 24-0 in the second half.
________________
Narbonne stifles Gardena; Serra splits two
By Joe Snyder
Sports Editor
Gardena High's boys' basketball team had hopes of a Marine League title but saw itself fall one game behind league leading Narbonne as the host Gauchos used a big fourth quarter to down the Panthers 56-47 last Friday.
Gardena, which fell to 16-5 overall and 4-1 in Marine action, held a nine-point lead late in the third quarter only to see Narbonne (16-7, 6-0) close out by outscoring the Panthers 24-6 in the remainder of the contest, including 21-6 in the fourth quarter.
Gardena had a hard time holding down Shane Carney who led the Gauchos with a game-high 26 points, including nine in the final period.
Clarence Bookman led the Panthers with 14 points, eight rebounds, three blocks and two steals. Michael Thompson added 10 points.
Gardena held leads of 19-14 after the first quarter and 32-29 at halftime.
On Jan. 20 at Banning in Wilmington, the Panthers rolled over the Pilots 71-17.
Gardena hosts Banning Friday at 7 p.m. and visits Washington next Monday at 5:30 p.m.
Serra's young and inexperienced squad continued to play inconsistently splitting its two Del Rey League games. At Serra on January 21, the Cavaliers topped rival Playa del Rey St. Bernard 63-56 before falling to a very good Cathedral team from Downtown Los Angeles 82-63 last Friday on the road.
The Cavaliers hosted powerful Bishop Montgomery from Torrance on Wednesday. The Knights were ranked 22nd in the United States by USA Today last week and are 19-1 overall. They are No. 1 in the CIF-Southern Section Division IVAA and fourth in Greater L.A. by the L.A. Times.
Serra has another very good foe at home against Montebello Cantwell-Sacred Heart on Friday at 7 p.m. The Cavaliers, then, take on L.A.-Mar Vista Windward in the Fairfax State Preview Showcase Saturday at 2 p.m.