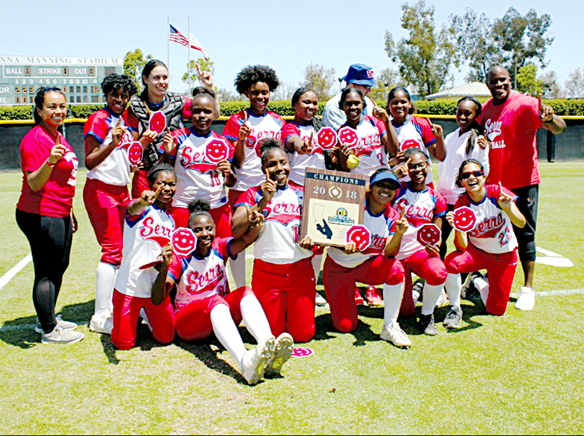 Serra High's softball team proved very successful after capturing the CIF Southern Section Division VII championship with a 12-1 rout of The Archer School for Girls from West Los Angeles last Saturday at Deanna Manning Stadium on the grounds of Bill Barber Park in Irvine.
For the Lady Cavaliers, it was their first ever Southern Section title in their second appearance in the final. Serra also made the Division VII championship game in 2006 but lost to Camino Real League rival Cantwell-Sacred Heart from Montebello 10-2. This season, Serra won the Santa Fe League.
"It was a good group of girls," Serra head coach Calvin Spencer said. "They came in and executed."
Serra, which scored in double figures in all five of its playoff games and outscored their opponents by a combined score of 65-11, wasted little time on the Panthers. It started when freshman Mykaila Fleming slashed a double to center field but she went on and circled the bases after Archer center fielder Alex Feldman threw the ball away. It was the first of seven errors committed by the Panthers as seven of the Cavaliers' runs were unearned.
One out later, a dropped ball by Archer left fielder Ava Thompson enabled Victoria Brown to get all of the way to third base. After the second out, sophomore Isabella Guzman singled Brown home for a 2-0 lead.
From there, Serra's powerful offense proved too much for Panther starting pitcher Kameron Bellamy, who on May 29 shut out San Gabriel Mission High 4-0. The Cavaliers proceeded to score two runs in the top of the second and three more in the third to build a 7-0 lead.
Janelle Nardone started the inning with a single, but went on to third on a throwing error. She scored on a double by Gail Usher. Usher scored on an error.
In the third, Guzman singled to drive in Brown, her second of three runs batted in. Guzman scored on a double by senior Eriyan Odom who scored on a sacrifice fly hit by Nardone.
"I just stayed focused," Guzman, a junior transfer from Santa Monica High, said. "Things were different here. I played at Santa Monica in my freshman and sophomore years. Our teams made the semifinals each year."
Archer scored its only run in the bottom of the third but Serra put the finishing touches for its championship with a run in the fifth and four more in the sixth. Winning pitcher Chatman went the distance with a two-hitter, but due to 10 walks, she did run into some jams. In fact, Archer left the bases loaded twice. The Panthers' only run was unearned as Thompson scored on an error.
Guzman went 4-for-4 and drove in three runs. "She came through with us," Spencer said. "She had to sit out for awhile, but, from Day One, she's gone non-stop."
The Cavaliers' win also avenged their 13-12 loss to the Panthers in the St. Monica Tournament in March.
Not only did the Cavaliers score in double figures in all five playoff games but in their last 13 contests, that included mercy rule wins in all eight of their league games.
Four days earlier at Serra, the Cavaliers overcame an early 3-0 deficit, then pulled away from Marymount High from the L.A.-Bel Air District 10-3.
Included in Serra's win was a triple play in the third inning. The Cavaliers did it with a balanced offense, behind a two-run double by Odom, along with run-scoring doubles by Lauryn Carter and Usher.
The Cavaliers ended their season at 17-7, while Archer finished at 21-5.