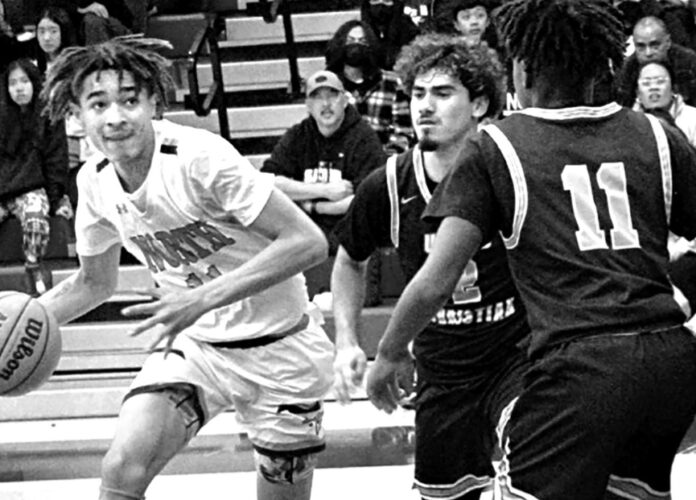 By Joe Snyder
North Torrance High's boys' basketball team is off to a great start in the CIF-Southern Section Division VAA playoffs as its stiff defense held its first two opponents to a total of only 64 points.
At North on Feb. 8, the Saxons crushed New Roads High from Santa Monica 71-33. Staying at home last Friday, North stifled Rancho Cucamonga United Chris- tian Academy 54-31.
Leading 14-10 after the first quarter, the Saxons, who are 24-5 overall after winning the Pioneer League title at 10-2, began to wear down UCA. By halftime, North extended its lead to 12 points (32-20) at halftime. The Eagles struggled even more in the second half scoring only 11 points to 22 for North in the predominantly defensive battle but lopsided.
"We got to keep getting better," North head coach Wai Sett said. "We're a defensive team. Defense leads our offense. Everybody contributed in some sort. If we keep doing that, we'll be O.K."
The Saxons, in fact, had so much depth that no player scored in double figures in their win over UCA. Kobe Cari and Jayden Lightfoot shared North's high scoring honors with nine points, apiece. Elliot Langston added eight points.
The Eagles were led by Gabe Martinez with a game-high 12 points.
On Feb. 8, the Saxons had little trouble against New Roads.
The wins send North into the quarterfinals last Tuesday on the road against Loara High in Fullerton in a battle of the Saxons. In the second round last Friday, Loara won a defensive game against Fillmore 42-36. If North, seeded No. 2 behind top ranked Lynwood in the playoffs win, it will play in the semifinals Friday at a site to be determined.
GHS's offense 'off' in loss to LACES
Lack of offense proved costly as Gardena High's boys' basketball team saw its 2022-23 season come to an end with a 42-40 home loss to Los Angeles Center of Enriched Studies in the second round of the CIF-Los Angeles City Section Division I playoffs last Friday.
The Panthers, who ended their season at 13-16 overall after tying Long Beach Rancho Dominguez Prep for third place in the Marine League at 5-5, were involved in a tight game all the way. LACES led 19-17 at halftime and each team scored 23 points in the second half.
LACES used its long-range shooting for its offense. It had nine three-point baskets accounting for 27 of its 42 points. "This game was typical for us this season," Gardena head coach Ernie Carr said. "We were 2-9 in games decided by eight points or less. We couldn't get over whatever the hump was, to get the win."
The Panthers entered the playoffs as the No. 4 seed, while LACES was seeded fifth. Both had first round byes.
Despite the loss, senior guard Chase Williams had a game-high 18 points and 12 rebounds in his final prep game. Jarren Ponds added 12 points. Dwayne Boston pulled down nine rebounds and scored four points.
In a CIF-L.A. City Section Open Division first round game last Friday at Narbonne, the top- seeded Gauchos were upset by Westchester 60-56. The Gauchos play two more games this week.
In the CIF-L.A. City Section Division III girls' basketball action last week, Gardena began the playoffs with a 67-25 home rout of Bernstein High from Hollywood on Feb. 8 but fell in the next round at top-seed Washington Prep 50-32 last Friday in Southwest L.A. The Lady Panthers' win over Bernstein avenged their 45-29 non- league loss in late November in Hollywood.
Rosary too much for Lady Saxons
North Torrance High's girls' basketball team began the CIF- Southern Section Division I play- offs with an impressive 59-39 home win over Rolling Hills Estates Peninsula on Feb. 9 send- ing the Lady Saxons to the second round on the road against Rosary Academy in Fullerton on Saturday.
Rosary, the playoffs' No. 3 seed, proved too much for the Saxons in their 68-48 win.
Reese Noa led North, which finished its season at 19-8 after tying cross town rival West Torrance for the Pioneer League championship, with 13 points.
In the Saxons' first round win over the Panthers, North led by seven points (44-37) with 4:50 left in the game before finishing the game with a 15-2 run.
The game was tied at 12 after the first quarter before the Saxons took a 23-18 halftime lead.
North proceeded to lead by as many as 15 points in the third period but Peninsula, behind Jadyn Lee and Taylor Yee, got within seven points. The Saxons, however, broke the game open.
Keimi Santiago led North with 16 points. Noa added 14 points.
For Peninsula, which began the season as the favorite to win the Bay League but ended up only in fifth place (only ahead of hill rival Palos Verdes), Taylor Yee led all scorers with 19 points. Lee, a premiere player who set the Panthers' scoring and steals record, finished with just 11 points due to the stingy Saxon defense.
GHS boys and girls soccer teams begin City playoffs
Gardena High's boys' and girls' soccer teams each closed their season with wins and begin the CIF-Los Angeles City Section playoffs this week.
The Panther girls are seeded third in the L.A. City Section Division III playoffs as they began the playoffs last Tuesday at home against Sotomayor. If Gardena wins, it will host the winner of Tuesday's first round game be- tween Robert F. Kennedy Community High and Stella Academy today at 3 p.m.
Gardena ended up in second place, behind champion San Pedro, in the Marine League after falling to the host Pirates 4-0 on Feb. 1 and finishing league with a 1-0 home victory over Carson.
Gardena High's boys ended up fourth in the Marine League after getting shut out 3-0 at home against San Pedro on Feb. 1 and blanking Carson 1-0 on Feb. 3 at Gardena.
In the Panthers' win over the Colts, Kevin Martinez scored the game's only goal off an assist by Alexis Corte.
Gardena began the CIF-L.A. City Section Division II playoffs at home against Robert F. Kennedy High on Wednesday. If the Panthers win, they could take onNo. 2 East L.A. Garfield on the road Friday at 3 p.m.
In the CIF-Southern Section Division III playoffs, North Torrance boys' soccer team won its wildcard game at home against Ontario High 4-3 on Feb. 7 but lost in the first round to host and No. 3 seed Hart High 4-1 last Thursday in Newhall. The Saxons finished third, behind champion South Torrance and runner-up West Torrance, in the Pioneer League.