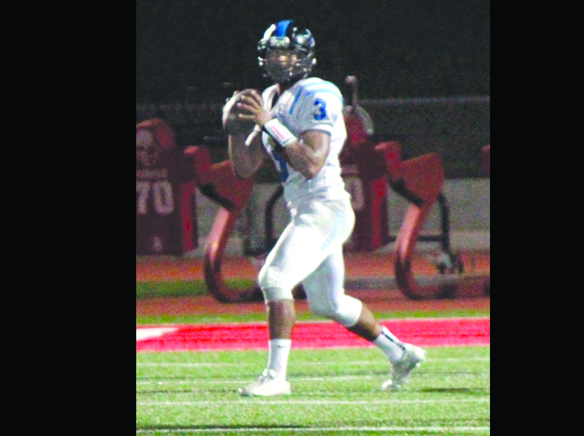 Led by preseason all-American and University of Southern California all-around player Mique Juarez, North Torrance High's football team was hoping to get off to a good start with a non-league game at Redondo last Friday.
A slow start prevented the Saxons from pulling the game out as they fell short to the Sea Hawks 26-21.
Led by preseason all-American and University of Southern California all-around player Mique Juarez, North Torrance High's football team was hoping to get off to a good start with a non-league game at Redondo last Friday.
A slow start prevented the Saxons from pulling the game out as they fell short to the Sea Hawks 26-21.
Juarez managed to score two of North's three touchdowns and threw for another one but Redondo's stingy defense kept the highly regarded player in check throughout most of the contest. He was held to just 30 yards and two TD's on 12 carries on the ground.
In fact, both of his scores were set up by Sea Hawk turnovers. He completed the short drives on runs of one and 17 yards. Juarez's 17-yard run with 1:01 left in the game cut Redondo's lead to five points. The Saxons attempted an on-side kick but the Sea Hawks' Jerome Jackson recovered it and Redondo was successfully able to run down the clock and avenge its 13-10 loss at North from last season.
The Sea Hawks started fast in taking a 14-0 lead on a 16-yard TD run by sophomore running back Jemar Jefferson and a 5-yard blocked punt run from Cody LeBlanc.
In the second quarter, North cut Redondo's lead after recovering a Sea Hawk fumble at the Redondo 23-yard line. Juarez tossed a 22-yard pass to wide receiver Justin Allmond giving the Saxons the ball at the Sea Hawk 1-yard line. From there, Juarez scored the TD.
On the pursuing kickoff, though, Jefferson ran 90 yards for the touchdown. The conversion failed and Redondo led 20-7, the score that stayed at halftime.
The third quarter saw Juarez complete a 66-yard scoring pass to Allmond, who was wide open and easily made it to the end zone untouched.
The Sea Hawks' scored their final touchdown \on an 11-yard run by Malik Spencer for a 26-14 lead with 3:02 remaining in the game.
"It was an extremely sloppy game," North head coach Todd Croce said. "This was a learning experience on both sides. We responded real well when we were down."
The two teams combined for approximately 240 yards in penalties.
Redondo had good depth on its running game, totaling 209 yards on the ground. Spencer led the Sea Hawks with 42 yards and one touchdown.
Redondo quarterback Jacob Silvera, a transfer from rival Mira Costa, completed 12 of 17 passes for 100 yards and no TD's.
The Saxons' next game will be at Peninsula High in Rolling Hills Estates Friday at 3 p.m.
____
Serra starts sluggish but easily defeats Lakewood
By Joe Snyder
Sports Editor
During last season, Serra High's football team got its taste at playing in a prestigious Mission League and CIF-Southern Section PAC Five Division.
The Cavaliers ended up finishing in a three-way tie with La Puente Bishop Amat and Encino Crespi for the league crown, but got on the unfortunate side of a double coin flip and ended up traveling to, then, No. 3 seed Corona Centennial on the road. Serra lost to the Huskies in a shootout 68-64. Centennial ended up winning the PAC Five title, before falling to De La Salle 63-42 in the California State Open Division championship.
With the experience on the belt, Serra continues to have a lot of talent in hope of defeating those state and national powers. The Cavaliers get to take on the Huskies, who were ranked sixth in the first Maxpreps National Xcellent 25 poll, on Sept. 5 at 7:30 p.m. at Oceanside High. Serra was unranked, but rated fourth in Greater Los Angeles in Monday's L.A. Times poll.
De La Salle, meanwhile, is the top ranked team in the nation by Maxpreps.
Serra continues to be the Serra it has been over the past several seasons. It continues to be loaded with talent that includes numerous Major NCAA Division I college prospects, four of them whom already committed. These include defensive end Oluwole Betiku to UCLA, quarterback Khalil Tate to University of Arizona, linebacker Blake Walls to San Jose State and safety C.J. Pollard to University of Southern California.
All were all-CIF Southern Section PAC Five and all-California state players in 2014.
There are several more. On offense, top players include senior wide receiver Brandon Burton (all-PAC Five), senior wide receiver Diego Williams, senior right end Kevin Hicks, sophomore wide receiver Kobe Smith, senior running back Job McGinity, junior running back Anthony Torres, senior running back Michael Moore, senior offensive lineman Steven Wynn, senior tackle Alonzo Abdullah, junior guard Hardell Ross and senior center Amanaky Veikoso.
Despite seemingly a lot of depth, it may not be as much as it looks. Seven of the starters are expected to go both ways that could affect Serra, especially when it faces top teams.
Starting on the defensive line include five-star recruit Betiku, an end, as well as Hicks starting at the other end. Ross starts at nose guard. Wynn is a tackle.
Linebackers include Walls, sophomore Merlin Robertson and junior Tyler Parker. Last year, Parker was first team all-Mission.
Burton and Pollock will be key starters at safety.
Starting cornerbacks include senior Isaiah Diego Williams, Hall and David Eure.
"We're very talented," Serra defensive coordinator and athletic director Josh Dabbs said. "We have our normal top talent. We have to stay healthy. We'll take it one day and a week at a time."
In the season opener last Friday at Lakewood, Serra rolled over the Lancers 41-15 but, outside the win, it was not pretty.
Perhaps the big loss was Tate who was ejected late in the second quarter. It came after on a late hit incident. He was hit in the head by a Lakewood player while he was down. Tate ended up punching him and, as a result, both benches cleared and the scrum ended in a 30-yard penalty on Serra.
Tate was ousted, meaning that he will be ineligible to play in Saturday's Honor Bowl showdown against defending CIF-Southern Section PAC Five Division champion Corona Centennial on Saturday at 7:30 p.m. at Oceanside High.
The Cavaliers were not at their best with first game jitters. Serra was penalized 14 times for 135 yards, gave up a safety and was unable to get its running game going in the second half.
Serra got things going fast as runs on two yards from Tate and and seven yards from Brandon Burton gave the Cavaliers a quick 14-0 lead in the first period.
In the second quarter, Tate connected with Burton for a 14-yard touchdown pass, then backup quarterback Jalani Eason tossed a 14-yard TD pass to Isaiah Diego-Williams.
Eason's 4-yard scoring run gave Serra a 34-0 lead in the third quarter.
The Cavaliers' final touchdown came in the fourth period on a 28-yard fumble recovery.
The Lancers managed two touchdowns and a safety in the final quarter.
­­­­­­­­____________
Sports Scoop
Gardena High Panthers begins season with easy win
By Joe Snyder
Sports Editor
Gardena High's football team started its season on the right foot by routing host Santa Clara High 59-6 last Friday in Oxnard.
The Panthers, who were 2-8 last year, started very fast in grabbing a 41-0 halftime lead and continued to pour it on the Saints.
Keying Gardena was Nehemiah Ross who scored four touchdowns, two rushing and two more on punt returns. He ran for 178 yards on 12 carries.
The Panthers will visit Verbum Dei High from Southeast Los Angeles at L.A. Southwest College Friday at 7 p.m.
Bishop Montgomery starts well: Bishop Montgomery High's football team is improved and it showed as it downed host Bellflower 28-6 last Friday.
The Knights had a fine performance from the passing combination of quarterback Brendan Marafino and wide receiver Bernard Amofa for two touchdowns.
Marafino completed 13 of 22 passes for 233 yards, two TD's and one interception. Amofa caught six passes for 141 yards and two scores.
Defensively, Bishop Montgomery was led by sophomore Nnaemeka Nadozie with 11 tackles and one forced fumble.
The Knights visit Westchester in their second non-league game tonight at 7 p.m.
Other locals begin this week: Week one is this week. Perhaps the biggest game will be Narbonne hosting CIF-Southern Section PAC Five and Moore League power Long Beach Poly tonight at 7 p.m.
The Gauchos won the CIF-L.A. City Division I championship in three of the past four seasons and are solid favorites to do it, again, this year.
Carson, last year's L.A. City finalist who lost to rival Narbonne 33-20, begins its season at Fairfax tonight at 7 p.m.
Defending Pioneer League champion and CIF-Southern Section Western Division semifinalist West Torrance opens its season at Culver City Friday at 7 p.m.
The Warriors are expected to have another outstanding season this year.
Torrance will have a tough opener at Mira Costa in Manhattan Beach at the same time.
South Torrance begins its season at Lawndale in what should be a battle between two outstanding and experienced quarterbacks Friday at 7 p.m.
The Spartans return all-Pioneer Leaguer Gabe Zuniga and the Cardinals have fourth year starting quarterback Chris Murray.