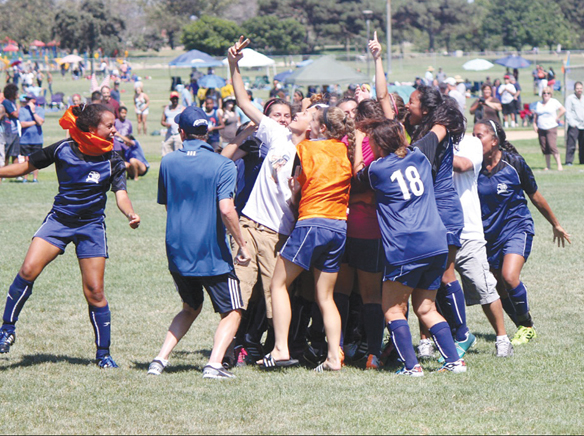 The North Torrance under 19-year-old American Youth Soccer Organization captured the 50th Anniversary National Games Tournament title on penalty kicks over Okeeheelee, Fla. last Sunday at Columbia Park in Torrance.
The North Torrance under 19-year-old American Youth Soccer Organization captured the 50th Anniversary National Games Tournament title on penalty kicks over Okeeheelee, Fla. last Sunday at Columbia Park in Torrance.
After a scoreless tie through regulation, North, which also includes players from Gardena, was able to outlast Okeeheelee, 3-1 on penalty kicks to capture its first national tournament. It was a classic hosted by Torrance and Riverside to commemorate the 50th Anniversary of the founding of the AYSO in Torrance in 1964. Nearly 500 teams played, most of those in Torrance and other South Bay cities and communities including Redondo Beach, Rancho Palos Verdes and San Pedro.
The two teams were battled in an outstanding defensive duo and it finally had to be decided by the penalty kick shootout. It was Kristen Coyne, Aunika Ortiz and Jean Kisaka that converted on the penalty kicks and North goalkeeper Arianna Armijo was able to stop three of Okeeheelee's four attempts.
"We didn't know what our luck brought us," North head coach Tony Warfield said. "We trained for this for the past several months."
The outstanding effort by Armijo won her the tournament's Most Valuable Player.
"It feels good," Armijo said about her team winning the title after failing to win earlier tournaments this year. "Our defense helped a lot during the game."
The North Torrance Select squad played in five earlier tournaments, finishing second three times, third once and fourth another time.
"We have gotten better in each tournament leading up to this one," Warfield said.
North Torrance (Region 16) went unbeaten in its pool, then played three hard fought matches in the playoffs. It was so hard fought that all three, including the other two, were also decided by penalty kicks in Saturday against Burbank and Culver City on Sunday morning. The matches were each tied at one after regulation. North went on to edge Burbank, 3-2, and Culver City, 4-3 on PKs.
Columbia Park, along with nearby Magruder Middle School, are home fields for the North Torrance AYSO.
In the Under 19 boys' division, North Torrance won its pool but was quickly eliminated in the quarterfinals by Temple City 3-0 on Saturday.
Temple City scored all three of its goals in the first half and its goalkeeper made some outstanding saves to preserve the shutout.
North won its pool with wins over Wesdon, Fla. and a tie against Granada Hills on Thursday, a win and a tie on Friday (Fourth of July) and a 2-1 victory over Lake Forest.
Kouy Chhay and Gardena resident Ricky Taira each scored to give North a 2-0 lead before Lake Forest scored its only goal late in the game.
Sergio Rivera, Gustavo, Gustavo Adame, Arturo Adame, Chhay and Joshua Leos each scored one goal as North dominated Wesdon, 5-0.
Earlier on Thursday, North battled to a 1-1 tie against Granada Hills on a goal by Garrison Sudario.
South Torrance's girls captured the Under 10 group at the new Toyota Soccer Field, located in the Torrance Civic Center area along Maple Avenue.
The classic included teams from 19 states along with the United States Virgin Islands and Trinidad and Tobago.
_________
Sports Scoop
Torrance has become a soccer pioneer
By Joe Snyder
GVN Correspondent
For a long time, soccer, known as football throughout a large majority of the rest of the world, has been the world's No. 1 sport.
Unfortunately for the United States, it's been unique being so used to our known American Football (called by the rest of the world with soccer being World Football), basketball and baseball. Soccer sat in the back seat.
Especially prior to 1964 when the American Youth Soccer Organization was founded in Torrance and even for decades afterward, just a handful of Americans knew anything about the sport. That's why they wanted to begin with the kids and hopefully advance it into their adult hood.
Throughout most of American history, soccer was played predominantly by immigrants coming from the soccer-dominated nations and that even included the earlier years of the AYSO, when most of its players were immigrants or children of immigrant parents.
The AYSO began with nine teams and 135 players. Today, it has grown to approximately 50,000 teams with about 700,000 players from throughout the United States and Trinidad and Tobago. A once very little known sport to the U.S., at least among youth, is now the most highly participated youth sport in the nation even surpassing the long time predecessor Little League Baseball and Softball.
A lot of that was the help of the organization's slogan, "Everyone Plays."
Interestingly, both sports are celebrating milestone years. While AYSO is commemorating its 50th birthday, Little League Baseball is currently celebrating its 75th anniversary of its founding in Williamsport, Pennsylvania in 1939. Little League Baseball, in fact, was founded on the centennial (100th anniversary) of the invention of the sport in Cooperstown, N.Y. in 1839. Cooperstown, of course, is the home of the Baseball Hall of Fame which also began in 1939.
Torrance was not only a big factor in youth soccer but also high school soccer. In 1966, the legendary coach Roger Bryant started one of California's first prep boys' soccer teams at South Torrance High and brought the sport into the CIF two years later. South, along with rival West Torrance, were two of the most dominating prep soccer programs in California and even the United States throughout the late 1960's, 1970's and into the 1980's.
Bryant guided the Spartans to 366 victories and nine Southern Section crowns from 1969-84.
The AYSO has been very responsible to get more American involvement in the sport.
Even though the U.S. has not all the way caught up with top soccer countries in the world and is being eliminated in earlier rounds of the World Cup, it has made slow progress and is getting a lot more support. Approximately 4,000 U.S. soccer fans showed up at a viewing party at Redondo Beach Veterans Park on July 1. The heavy underdog Yankees put up a fight, behind an astounding 16 saves from goalkeeper Tim Howard before finally falling to Belgium, 2-1, in extra time in Salvador, Brazil in the second round. Belgium lost to Argentina, 1-0, in the quarterfinals last Saturday.
Let's hope the U.S. can go further in future international tournaments, including the 2018 World Cup.
Soccer Week: Last week was the week of Independence Day, but it was a huge soccer week. While the World Cup was going on, American youth had their own version of the World Cup in the 50th Anniversary AYSO National Tournament.
Nearly 500 teams from 19 states, U.S. Virgin Islands and Trinidad and Tobago participated at various sites throughout the South Bay and Riverside.
Local champions included the North Torrance-Gardena-Lawndale Under 19-year-old girls and the South Torrance Under 10 girls.
The AYSO was founded in Torrance in 1964, the same year of the Civil Rights Act and the Beatles and Rolling Stones making their first performances in the U.S. that ignited the British Rock Invasion.
If interested, West Palm Beach, Fla. is hosting the next AYSO National Games in 2016. It is held every two years.
_______
Two 7th-inning homers lift Lennox to District 37 crown over Tri Park
By Joe Snyder
GVN Correspondent
The Tri Park Senior Little League All-Star baseball team was unable to hold on to a three-run seventh inning lead as Lennox rallied for five runs on two home runs to pull off the District 37 championship with an 11-9 victory last Saturday night at Jim Thorpe Park in Hawthorne.
Things looked good for Tri Park as it rallied from an early 3-0 deficit to grab a 9-6 lead in the top of the seventh, behind Demitre McField who blasted two home runs and went 4-for-4 with four runs batted in. He gave Tri Park a three-run lead on a run-scoring base hit driving home Miguel Osorio in the top of the seventh.
The bottom of the seventh saw the Tri Park pitchers struggle. Lennox began the inning with singles from Miguel Flores and Ramona Noejchi. One out later, Joshua Salcedo quickly blasted the game-tying three-run shot over the right field fence.
Things did not get any better with losing pitcher Tyler Bonsky. He walked Jose Franco and Gardena High baseball player Ralph Garcia finished off Tri Park with his two-run homer that pulled off the win and a spot in the Section 4 Tournament for Lennox.
"What happens is Lennox is a team that doesn't give up," Tri Park manager Alex Campos said.
McField had homers of three and two runs over the short Thorpe Field, which ranges from about 180 to 210 feet.
Lennox began the Section 4 Tournament against District 27 champion San Pedro Eastview last Monday at a much larger Marine Park Stadium in Manhattan Beach.
In a District 37 All-Star Junior Little League Baseball Championship first of the best-of-three series game, Lennox rolled over Tri Park, 11-1, in a six-inning mercy rule game at Thorpe Park.
The two teams met, again, last Monday. If Tri Park wins, they played, again, on Tuesday.