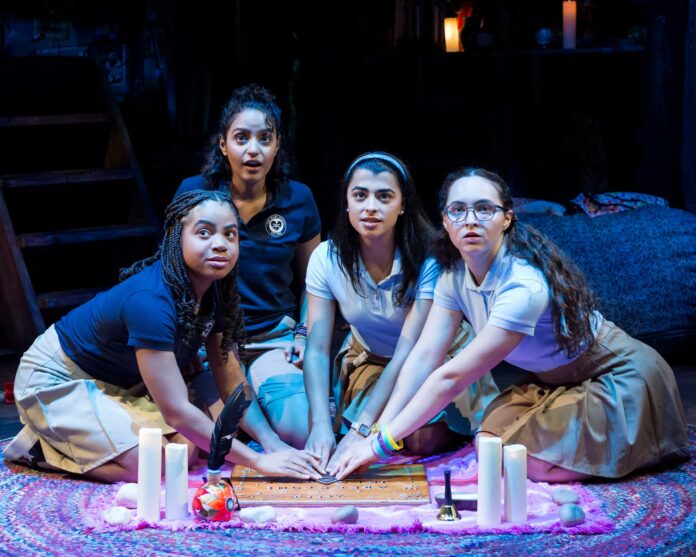 By Shari Barrett
Named a New York Times Critics Pick, Our Dear Dead Drug Lord by playwright Alexis Scheer, directed by Center Theatre Group Associate Artistic Director Lindsay Allbaugh and produced in association with IAMA Theatre Company, continues at the Kirk Douglas Theatre through September 17. In this fierce and feverish dramedy, four teenage girls gather in an abandoned treehouse to summon the ghost of Pablo Escobar. Are they messing with the actual spirit of the infamous cartel kingpin when they decide to hold a séance in their pursuit to gain power and catharsis in each of their lives? 
Rooted in the struggles and experiences of adolescence, the protagonists, played to the hilt of teenage angst by 
Ashley Brooke as Zoom, Samantha Wynette Miller as Squeeze, Coral Peña as Kit, and Lilian Rebelo as Pipe, spend equal time talking about boys and the ups and downs of life, especially around their own personal traumas and fears. From unplanned pregnancies to domestic abuse and repressed sexuality, the four girls hold back no punches, especially during their energetic choreography. Intimate in nature yet universal in its ability to explore the need to connect, the play is an unflinching and powerful reminder of what it means to be human during the rollercoaster ride through the dangers and damages of girlhood, all the while making their teenage wasteland seem like so much twisted fun – until it isn't.
Time is also spent discussing the more trivial obsessions of the early 2000s, such as dealing with slow dial-up Internet and what goes on at the local shopping mall. Political and cultural moments also get their due, be it conversations surrounding 9/11 or the impending 2008 presidential showdown between Barack Obama and John McCain. Playwright Scheer transports the audience vividly back to this confusing time while showcasing how difficult it was to be a coming-of-age teen smack dab in the middle of it all.
"For my directorial debut at Center Theatre Group, I knew that I wanted to focus on a story that centered on young women, was written by a woman, and brought a diversity of voices to the stage. When I read this play, I was on pins and needles," explained Center Theatre Group Associate Artistic Director Lindsay Allbaugh. "There's something inherently magical about the setting … that treehouse … and all the feelings of nostalgia and youthful possibilities it implies, combined with the way that they speak to each other. It takes me right back to my high school days with my best friend and all of the deep feelings, angst, rage and desire we were feeling. This play showcases a deep exploration of womanhood combined with complexities of power, control, grief, and coming of age."
Technical credits include movement and intimacy coordination by Veronica Sofia Burt, François-Pierre Couture's set design which takes you into the large treehouse along with the girls, costumes designed by Elena Flores that express the girls need to conform for school as well as assert their own individuality, and moody lighting and sound designed by Azra King-Abadi and Veronika Vorel that complement the mystical elements of the play. 
Tickets for Our Dear Dead Drug Lord start at $30, available through CenterTheatreGroup.org, Audience Services at (213) 628-2772, or in person at the Center Theatre Group Box Offices (at the Ahmanson Theatre) at the Music Center, 135 N. Grand Avenue in Downtown L.A. 90012 or at the Kirk Douglas Theatre (open 2 hours prior to curtain) at 9820 Washington Blvd. in Culver City 90232. Be advised this production contains sexually suggestive language and movement, references to suicide, depictions of drug use, extreme physical violence towards humans and animals, and self-harm making it not appropriate for children.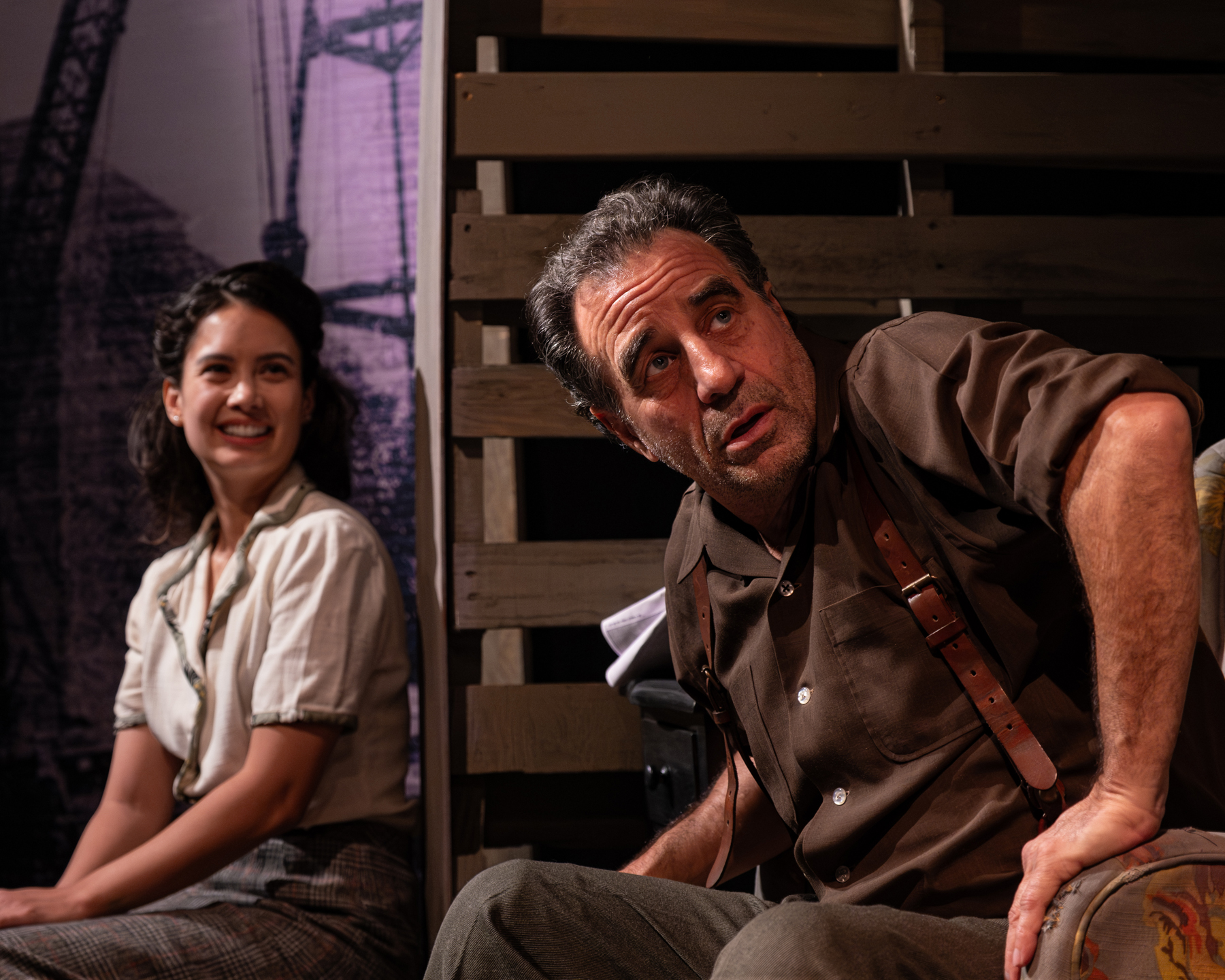 Ruskin Group Theatre has another hit on their boards with an exceptional production of Arthur Miller's Tony, Drama Desk, Outer Critics Circle, and Olivier Award-Winning play A View from the Bridge, sharply directed by Mike Reilly, set in 1950s Brooklyn near the ocean-facing docks close to where hard-working longshoreman Eddie and his wife Beatrice live and have cared for her 17-year-old niece Catherine since birth. But when Beatrice's two Italian cousins Marco and Rodolpho arrive to stay with them to work on the docks, Eddie becomes consumed with raging jealousy when the innocent young girl falls for the handsome younger cousin from the moment they meet. 
But Eddie knows the uneducated, poor illegal immigrant is not a good match for her and is ready to pull out all the stops to prevent her from marrying the handsome Rodolpho so he can get his green card and stay in America. As the situation takes a tragic turn, caught in the middle is Eddie's loving wife who is pulled in all directions at once wanting what is best for everyone but obliged to take her husband's side. Playwright Miller has said he heard the basic account that developed into the plot for the play from a lawyer who worked with longshoremen, who related it to him as a true story. Appropriately, the play's story is told through memories shared by Eddie's lawyer friend Alfieri (Al Viscuso), who introduces scenes we are about to witness, leading up to his meeting with Eddie as tempers flare, fully knowing Eddie will never listen to his good advice to allow Catherine to live her own life.  
Ray Abruzzo brilliantly channels Eddie in every aspect of his life, with both the physical gruffness as he moves and speaks to the pain he feels from deep within his soul when he feels the loss of respect from his family and community. It is an astounding real-life, Italian longshoreman Abruzzo brings to the stage who will both induce anger and deserve your sympathy when things don't go his way. Caught in that push me-pull you struggle is the astounding Kim Chase as his wife Beatrice, who delves deep into her tormented emotions, summoning you to cry with her as she gets caught between a rock and a hard place over and over again.
Young lovers Catherine and Rodolpho, portrayed with all the wonder of first love and heartbreak by Aurora Leonard and Brandon Lill, will pull you into the reasons why these two deserve to be together as well as Eddie's good reasons they should not be. Of course, any of us who have lived through a father forbidding his daughter to pursue the man she loves will be roused to anger and tears as the two cling to each other against all odds. Leonard absolutely manifests the realization of falling in love at first sight while Lill encompasses not only the young Italian's speech and movement patterns to a tee, but also his struggle to go against the wishes of the man who has offered him a place to stay in America.
As the married and quieter cousin Marco, Jesse Janzen lets us know from moment-to-moment everything he is feeling without saying a word. After all, he just wants to work in America to send money home to his wife and three children back in Italy, fearing upsetting the cart will destroy their chances for survival. His emotional outburst as the situation with Eddie rises to the boiling point will leave you gasping at the raw emotion so brilliantly captured onstage. Rounding out the cast are Jamie Daniels, Kevin Alain, Aaron Mashall, Jeff Prater, Paul Denk, and Nicole Millar who steps away from the booth to portray upstairs neighbor Mrs. Lipari.
With the intimate seating inside the Ruskin, I guarantee you will feel like a fly on the wall, watching helpless as joy turns to hardship in such close proximity. Fifties costumes deigned by Michael Mullen heighten the realism of the play's timeframe with mood-enhancing lighting and sound design by Edward Salas adding to the impressionist open wooden board scenic design by Stephanie Kerley Schwartz, although a closed-in wall apartment would probably serve the story better. Kudos to Dialect & Speech Coach Mary Unruh for the play's honest Brooklyn accents.
Produced by John Ruskin and Michael Myers, A View from the Bridge runs 8 p.m. Fridays and Saturdays, 2 p.m. on Sundays through October 8. Ruskin Group Theatre is located at 3000 Airport Avenue, Santa Monica 90405. Tickets: $25 – $35 (Seniors/Students/Guild $5 off ticket price) available in advance by calling (310) 397-3244 or at www.ruskingrouptheatre.com. Performances sell out so order early. Free parking available on site.