By Shari Barrett
Written by American playwright Charles Fuller, A Soldier's Play takes place in 1944 on a Louisiana Army base where two shots ring out resulting in the death of Sergeant Vernon C. Waters by an unknown assailant. To figure out whodunit, Captain Richard Davenport is called in to question not only the Black soldiers but also the White officers to find out what motives may exist beneath the surface of life in the barracks. But as he unravels the events of that fateful night, Davenport unearths the underlying racial tensions of the United States through the lives of the segregated army unit in the Deep South during World War II. And as he digs deeper, truths are discovered about not only racism in our country but also self-hatred within our culture. 
The late Pulitzer Prize-winning playwright often wrote about the experience of being Black in the Untied States using three-dimensional characters speaking from their own perspective. Each of the military characters in A Soldier's Play are presented as such, allowing us to see individuals dealing with real problems, not only fighting racism aimed at them from the outside world but also among themselves. We also get to hear from Captain Charles Taylor (William Connell), the White base commander whose discomfort taking orders from a Black officer reveals his underlying White supremacist attitude. He then becomes the perfect target for Davenport to take down a notch with the cutting brilliance of a man who knows his worth and stands his ground to prove it.
As Davenport, Norm Lewis commands the stage with not only his physical presence and steely gaze, but also his confidence in knowing he stands for more than just the color of his skin. Filled with well-deserved military bravado, Lewis engages the audience into the search for truth, questioning each soldier about their negative experience with the murdered Sergeant Waters (Eugene Lee, mastering the bitter, hate-filled sergeant to a tee) to gain clues into identifying his real killer. It's an exciting journey which takes us from each interrogation session into witnessing the actual events being described. And it soon becomes very apparent that each of the soldiers under Waters' command have more than enough reasons to hate him and want him dead. I was certainly kept guessing as the stories played out one-by-one. 
Along with the three leads mentioned, the soldiers' ensemble includes standout performances by Will Adams as corporal Bernard Cobb, Sheldon D. Brown as Private C.J. Memphis, Malik Esoj Childs as Private Tony Smalls, Alex Michael Givens as Corporal Ellis, Matthew Goodrich as Captain Wilcox, Chattan Mayes Johnson as Lieutenant Byrd, Branden Davon Lindsay as Private Louis Henson, Tarik Lowe as Private First-Class Melvin Peterson, and Howard W. Overshown as Private James Wilkie. Joining director Kenny Leon is the play's Broadway design team including Derek McLane (Sets), Dede Ayite (Costumes), Allen Lee Hughes (Lights), Dan Moses Schreier (Sound) and Cristina Angeles (Associate Director). 
Performances continue at Center Theatre Group / Ahmanson Theatre through June 25. Tickets start at $40, available at CenterTheatreGroup.org, Audience Services at (213) 972-4400 or in person at the Center Theatre Group Box Office (at the Ahmanson Theatre) at The Music Center, 135 N. Grand Avenue in Downtown L.A. 90012. Performances run Tuesday through Friday at 8 p.m., Saturday at 2 p.m. and 8 p.m., and Sunday at 1 p.m. and 6:30 p.m. Information on Special Community Events during the run can be found at CenterTheatreGroup.org.
Four beautiful, badass women lose their heads in this irreverent, girl-powered comedy set during the French Revolution's Reign of Terror. They are playwright Olympe de Gouges, assassin Charlotte Corday, former queen Marie Antoinette (a fan of ribbons and cake), and Haitian rebel Marianne Angelle, who hang out, commit murder, and try to beat back the extremist insanity in 1793 Paris. This grand and dream-tweaked comedy is about violence and legacy, art and activism, feminism and terrorism, compatriots and chosen sisters, and how we go about changing the world. It's a true story. Or total fiction. Or a play about a play. Or a raucous resurrection that ends in a song and a scaffold. On several occasions, the actors break the fourth wall and speak directly to the audience, reminding us that it's more important to tell the stories of these remarkable women than just give the facts about their lives.
The cast includes Kat Kemmet, Alana Webster, Meghan Lloyd, Sami Stumman and Ashlee Olivia, all dressed to the hilt in authentic costumes designed by Michael Mullen. John Leslie and Kevin Dulude assist in supporting roles. Melanie MacQueen directs Lauren Gunderson's play, which is very wordy and could benefit from more movement and less talking heads. The tech team includes stage manager Don Solosan, set designer Jeff G. Rack, sound designer Nick Foran, lighting designer Derrick McDaniel, with hair/wigs by Judi Lewin.
The Revolutionists is produced for Theatre 40 by David Hunt Stafford. Continues on Thursdays through Saturdays at 7:30 p.m. and Sundays at 2:00 p.m. at Theatre Forty, 241 S, Moreno Drive, in the Mary Levin Cutler Theatre (same venue, new name), Beverly Hills 90212.  The venue is on the campus of Beverly Hills High School. Free parking is available in the parking lot adjacent to the theatre, accessed by entering through the driveway at the intersection of Durant and Moreno Drives. Reserved seat tickets are $35, available by calling (310) 364-0535, online at http://theatre40.org or at the venue.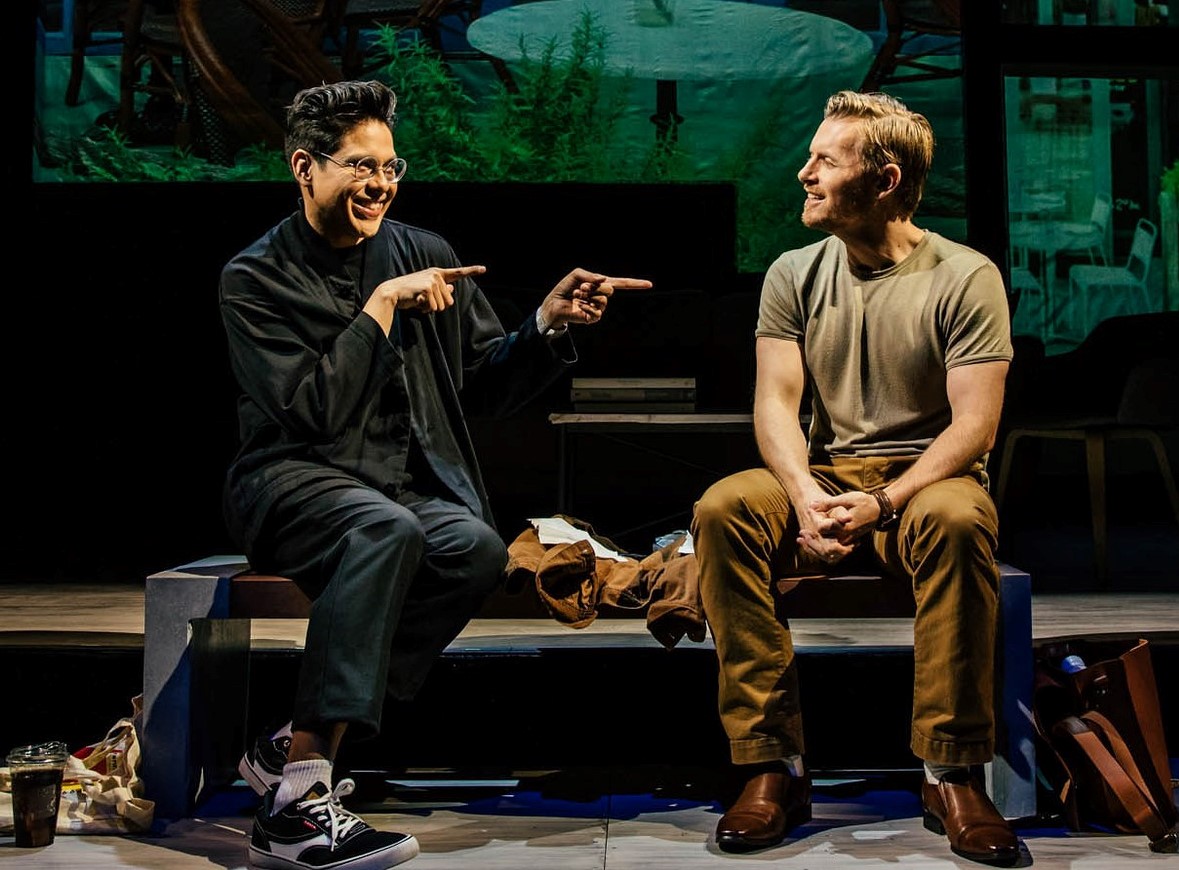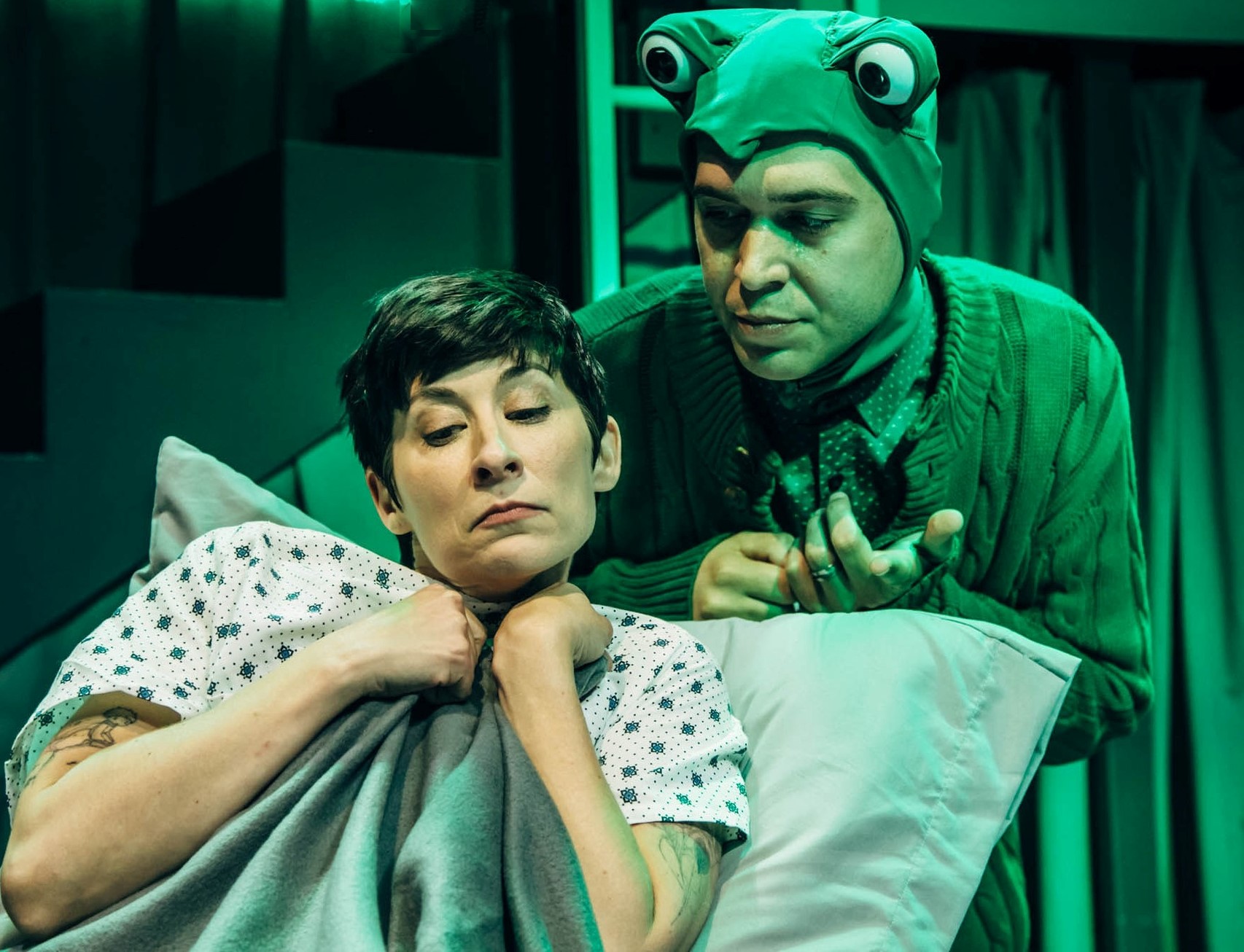 The Bottoming Process by IAMA Theatre Company and A New Brain by Celebration Theatre are being presented in association with the Los Angeles LGBT Center in the Lily Tomlin/Jane Wagner Cultural Arts Center's two theaters, located at 1125 N. McCadden Place, L.A. 90038. Since 1969, the Center has cared for, championed, and celebrated LGBT individuals and families in the Los Angeles area and beyond. They are an unstoppable force in the fight against bigotry and the struggle to build a better world for all people. 
The world premiere of The Bottoming Process, a dramedy by Nicholas Pilapil developed in IAMA's Under 30 Playwright's Lab, is directed by IAMA's associate artistic director Rodney To, centers on two writers who meet and fall for each other despite their differences. Milo (George Salazar in a tour-de-force performance) is a fledgling writer flailing through his twenties whose clever use of humor makes him a hit on social media. John (handsome Rick Cosnett) is a famed novelist nearing middle age and ready to settle down. John is White and Milo is Filipino American. As they mate, date and cohabitate, they grapple with issues of race, sex, careers and power, all to find out who's really in charge and who's on the bottom. Dealing with serious issues along the way, this rom-com takes a realistic look at what it takes to have a successful modern-day relationship given the pressures of social media and loneliness. The talented cast includes Anisha Adusumilli, Julia Cho, and Ty Molbak. Projection design by Nicholas Santiago effectively moves the action from scene to scene, even into texts and tweets between Milo and John.
A New Brain with music and lyrics by William Finn, book by William Finn & James Lapine, is a totally sung-through play, enhanced by clever small-stage choreography by Alli Miller-Fisher, with musical direction by Gregory Nabours. Directed by Khanisha Foster, it's a timely revival about second chances and the urgency of art, centering on composer Gordon Schwinn who collapses into their lunch and awakens in the hospital, forced to deal with their greatest fear – will they die before their greatest songs get written? Celebration Theatre's inspired gender-expansive look at Finn and Lapine's rarely-performed milestone musical centers on the composer's struggle to survive brain surgery, reminding us that the power of music, love, and the creation of art can never be lost. Powerful immersive performances by the entire energetic ensemble take place in the round, drawing you into Gordon's (amazing belter Amanda Kruger) struggle to survive and meet their deadline to create new "frog" songs for TV's Mr. Bungee (Richardson Cisneros-Jones). Looking after Gordon are their lover Roger (Tassi Noubahar) and mother Mimi (Gina Torrecilla), assisted in the hospital by nurses, doctors, and a minister, with a homeless person (Whitney Avalon) walking about through the cast and audience asking for "change." But is it really coins she wants? 
The Bottoming Process continues in the Renberg Theatre through June 12 on Friday/Saturday at 8 p.m.; Sundays at 2 p.m.; and Mondays at 8 p.m. through June 12. A New Brain continues in the Davidson/Valentini Theatre through June 24 on Thursday/Friday/Saturday at 8 p.m.; Sundays at 2 p.m. Tickets for both are $35 at www.lalgbtcenter.org/tickets or onsite.