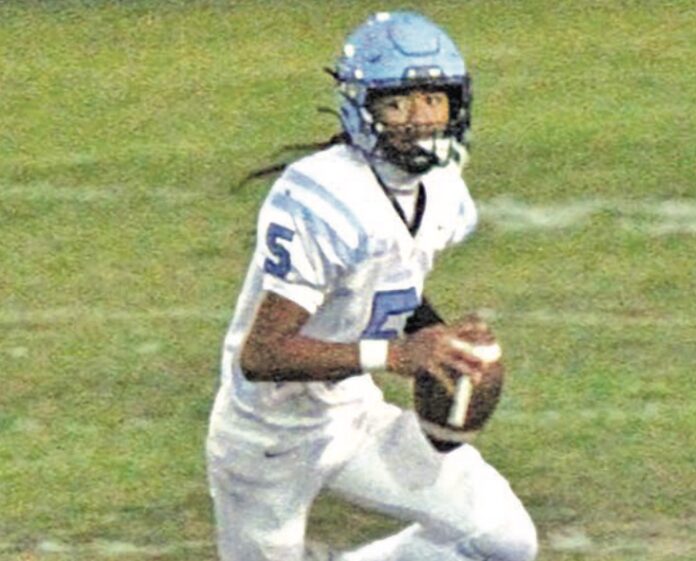 By Joe Snyder
Last Friday's 2023 season opener at Long Beach Jordan High was a battle of two prep football teams from the north sides of cities.
Jordan is in North Long Beach and hosting North Torrance High.
The Panthers, which includes one of the fastest high school football players in the United States in Jordan Washington, proved clearly too much for the young and lesser experienced Saxons as they pulled away for a 59-24 win.
Washington did what many expected as he rushed for 153 yards and three touchdowns, but he was not alone as Jordan used its outstanding depth in its offensive backfield and line and North could not keep up by the second half.
The Saxons did well to stay with the Panthers in the first half as they trailed 7-6 after the first quarter and 33-18 at halftime.
North, in fact, took an early 6-0 lead as senior running back Will Pineda scored on an 18-yard run. The point after touchdown attempt was missed as the Saxons had trouble with their kicking game, missing all three attempts and failing on a two-point conversion.
Later in the first period, Jordan took the lead for good as junior quarterback Jarret Nielsen connected with wide receiver Donovan Randolph on a 60-yard touchdown pass play. The PAT was successful as the Panthers took a 7-6 lead. Nielsen threw for 517 yards and five TD's.
From there, Jordan proved too much for North as it scored 18 unanswered points for a 25-6 lead with 7:57 left in the second quarter. The streak began when Jamari Redmond intercepted a pass by Anetema at the Saxon 10-yard line and ran the ball into the end zone for a 13-6 lead after the extra point was missed. Washington scored his first of three touchdowns on a 3-yard run giving Jordan a 19-6 lead with 9:10 remaining before halftime and just 1:13 later, Jake Bautista, a transfer from Cerritos High, added to the Panther lead on a 50-yard scoring run.
That was when the Saxons twin freshman brothers, quarterback Boogie Anetema and wide receiver Kingston Anetema put on their show as both combined for three TD passes. They began with a 53-yard pass play cutting Jordan's lead to 25-12 with 5:08 to go in the second period.
Washington gave the Panthers a 33-12 lead with 3:05 remaining before halftime on a 5-yard run but the Anetema brothers attempted to keep North in the game as they were successful from 36 yards out with 42 seconds left before intermission.
The second half saw Jordan pour it on North as it scored on all but two possessions, the last one being on their final drive where it drove to the Saxon 1-yard line, then downed the ball as time expired. Nielsen completed a 59-yard touchdown pass to Bautista, Jordan scored on a 55-yard sprint, then Deonte Tucker scored on a 21-yard run as the Panthers built a 52- 18 bulge with 1:29 remaining in the third quarter.
The third and final Boogie to Kingston show was a 20-yard TD pass cutting Jordan's lead to 52-24 with 9:29 to go in the game.
The Panthers finished their scoring as Nielsen connected with Redmond for a 53-yard scoring play.
"Our inexperience showed," North head coach Todd Croce said. "It was a two-score game at halftime and we didn't capitalize in the second half."
Boogie Anetema did well completing 17 of 30 passes for 241 yards and all three touchdowns to Kingston. He was intercepted once. Kingston had six receptions for 133 yards.
North will play its second of three consecutive road games as it visits St. Genevieve High in Panorama City Friday at 7 p.m.
Serra can't stop Or. Lutheran
Serra High's football team began the season with high hopes due to most of its players and starters back from last season that saw the Cavaliers go 8-4 and make the CIF-Southern Section Division II quarterfinals.
However, it began with a same old story as the previous recent seasons; players going down to injuries. Serra lost linebackers Deylaun Reed and Len- non Ford, along with lineman Rocky Maaele and, despite some key injuries themselves, Orange Lutheran humiliated the Cavaliers 47-19 in their season opener last Friday at Orange Coast College in Costa Mesa.
The running game was expected to be a strength for Serra, led by returning all-CIF Southern Section Division II running back Cincere Rhaney, but Orange Lutheran had its number. It held the Cavaliers to just 115 yards on the ground; 74 of those on quarterback keepers from Jimmy Butler. Rhaney was held to only 45 yards rushing on 11 carries, and just two of his runs were longer than three yards. Butler completed 11 of 22 passes for 131 yards.
Orange Lutheran started quickly on Serra in building a 34-6 halftime lead. It had 435 total yards and 25 first downs. The Cavaliers' bright spot was UCLA-bound junior wide receiver Zacharyus Williams who scored all three of their touchdowns. His first was a 24-yard pass from Butler that tied the game at six in the first quarter. He also scored on a 6-yard pass from Butler and an 80-yard kickoff return. Williams caught four passes for 44 yards and two TDs.
Serra will seek for better things as it tries to even its record to 1-1 in visiting Warren High in Downey Friday at 7 p.m. It is the second of its first three games on the road for the Cavaliers.
Schalk and Borne get ousted as they fail to hold leads
With Chaim Schalk teaming with 2020-21 Olympian Tri Borne, they had high hopes to win several championships in this season's Association of Volleyball Professionals Tournaments and get a spot for the United States Olympic beach volleyball team in next year's Olympics in Paris, France.
Both have been tough luck as they mustered just a 3-2 record in getting eliminated in the contenders' bracket semifinal of the Manhattan Beach Open by Chase Budlinger and Miles Evans in three thrilling sets that included Schalk, a 2020-21 Canadian indoor volleyball Olympian who currently lives in Gardena, and Borne winning the first set 34-32 last Saturday. From there, Budlinger and Evans outlasted Schalk and Borne 21- 18, 17-15 to advance to the contenders' final but they fell in split sets to eventual champions Taylor Crabb and Taylor Sander.
In the first set, it appeared that Schalk and Borne were headed for an easy win lead- ing by as many as seven points. That was when the strong digs by Budlinger and Evans gave them a couple of leads and it ended up a marathon before Schalk and Borne pulled it out.
In the second set, Budlinger and Evans led virtually the whole way but it remained very close.
In the third set, Schalk and Borne appeared they were headed to the contenders' final being at match point with a 14-10 lead. Again, Budlinger and Evans made numerous digs, blocks and kills as they were more successful with their come-from-behind win.
Schalk and Borne won the season opening tournament in Miami Beach in March and had a few second-place finishes. They placed just fifth at Manhattan Beach.
Schalk and Borne won their first two matches on Friday before beginning Saturday losing in split sets to shut out host Hawthorne 54-0.
The Colts host Franklin High from Highland Park Friday at 7:30 p.m. at Los Angeles Harbor College. Bishop Montgomery began its season by getting blanked at home by Boron 48-0.
The Knights, who were CIF-Southern Section Division XIII runner ups last season, visit South El Monte High Friday at 7 p.m.