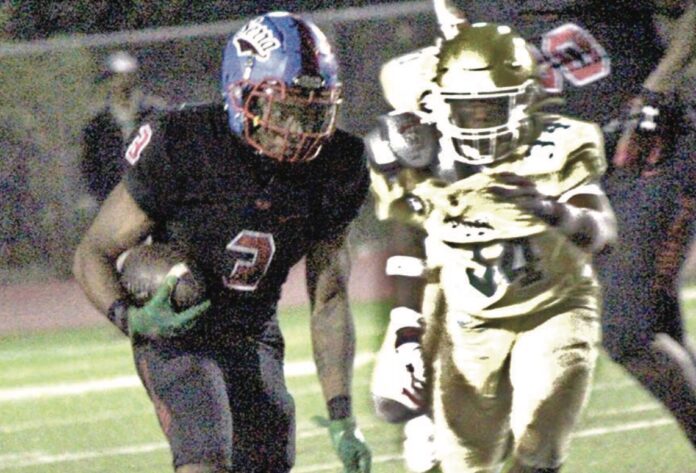 By Joe Snyder
Last Friday night at Serra, the Cavalier football team had its annual non-league rivalry against Long Beach Poly as it drew another large crowd.
After it was announced that the tickets were sold out, an estimated 3,000 fans were unable to get into the 4,500-seat stadium that set off numerous tempers and even riots that Serra security was unable to control, calling police from Gardena and several other local South Bay cities to get order restored.
Several fans eventually ran past and some even jumped the fences and the unrest eventually led to a long delay after halftime that officials finally decided to cancel the second half with the Jackrabbits leading 28-14.
Throughout recent rivalry history, the Serra-Poly contest, billed as the "USC-Notre Dame of high school football," had overflowing crowds at games with thousands of fans, including some parents and other family members of players, unable to make it in. Two years ago, the Cavaliers hosted the Jackrabbits in the CIF-Southern California Regional Bowl Division IA championship game that left an estimated 2,500 spectators on the outside and being forced to go home.
"It would have been fun to play the second half," Serra head coach Scott Altenberg said. "Something has to be done about it. I remember two years ago; it was crazy but we got it under control. We must play the series at a neutral site. It's a great series for the kids. We need to figure things out."
In last year's Serra-Poly contest at the 20,000-seat Long Beach Veterans Stadium, there were an estimated 12,000 fans at the contest in a game won by the Jackrabbits 17-3.
The final 2:19 of the second quarter was a wild one. Poly was ahead 7-6 until that time, but extended its lead to 14-6 when quarterback Darius Curry tossed a 21-yard touchdown pass to running back Joshua Cason.
The Cavaliers bounced back to tie the game at 14 with 1:43 left when senior running back Cincere Rhaney scored on a 5-yard run. Junior quarterback Jimmy Butler, then, connected with Zacharyus Williams for the tying two-point conversion. From there, the Jackrabbits scored two TD's in just 23 seconds, behind senior quarterback Darius Curry. Curry connected with wide receiver Kamarie Smith from 34 yards out with 44 seconds remaining before halftime. With 21 seconds to go, Curry threw his second scoring pass to Cason from 43 yards out, shortly after a kickoff return fumbled away by Serra.
Cason gave the Jackrabbits, who improved their record to 3-1, a 7-0 lead with 8:48 remaining in the first quarter on a 2-yard touchdown run.
Serra cut Poly's lead to 7-6 on a 13-yard TD run by Williams as the point-after-touchdown attempt by C.J. McBean, who replaced Scott Altenberg's son, Nathan, as the Cavaliers' place kicker due to his injury, failed.
The Cavaliers remain at home with another very tough non-league game against Oaks Christian High from Westlake Village Friday at 7 p.m.
GHS now 4-0 after blanking Jordan
Gardena High's football team continues on a roll as it shut out host Los Angeles Jordan High 35-0 in non-league play last Friday.
For the Panthers, it was their third shutout in four games. Gardena allowed just 13 points, all of them in its 18-13 win over host Crenshaw on Aug. 25.
Junior quarterback Isaiah Kim had an outstanding passing game, completing nine of 10 passes (90 percent ratio) for 152 yards and four touchdowns.
He threw two TD passes each to wide receivers Desmon Wright and Johan Wallace. Wright caught scoring passes of 55 and 25 yards. Those were his only two receptions of the game. Wallace had two touchdown receptions and a total of 35 yards.
Running back Keyshawn Hood rushed for 44 yards and one TD.
Defensively, the Panthers had a balance effort as Myles Mason, Michia Wallace and Zaluye Marcus who each recorded five tackles.
Kicker Angel Munive was perfect on his five point-after-touchdown attempts.
Gardena is at home against Washington Friday at 7:30 p.m. The Generals are 0-3.
ECC improves to 2-0 after win over Palomar
El Camino College's football team is 2-0 after defeating host Palomar College 35-24 last Sat- urday afternoon at Escondido High.
Wide receiver Marceese Yetts caught two touchdown passes from quarterback Dayton Tafoya from 24 and 58 yards as the Warriors built a 21-7 lead.
Tafoya completed 18 of 30 passes for 295 yards and two touchdowns.
Wide receiver Bryant Williams also caught seven passes for 175 yards and one TD.
Running back Amani Givens rushed for 72 yards and one touchdown.
The Warriors will play their toughest game of the season at Riverside City College Saturday at 1 p.m. The Tigers are currently ranked No. 2 in California.
North Torrance evened its record to 2-2 after downing Encino Crespi 35-13 in a non-league game last Friday at North.
The freshman brother quarterback-wide receiver duo of quarterback Boogie and receiver Kingson Anetema accounted for three touchdowns. Boogie passed for 176 yards. Will Pineda rushed for one TD and recorded 14 tackles on defense. Tristan Henry had 18 tackles.
The Saxons will host Paraclete from Lancaster in non- league play tonight at 7 p.m. The game, originally slated to be played at Paraclete's home field on the campus of Antelope Valley College, was changed due to another activity happening there.
Torrance High's football team improved to 2-1 with a key 24- 17 non-league win over CIF-Los Angeles City Section and Marine League power San Pedro last Friday at San Pedro.
The Tartars had strong games from two running backs Jake Silverman and Ryan Young. Silverman rushed for 138 yards and two touchdowns. Young ran for 135 yards and scored the eventual winning TD on a 19-yard run in the fourth period.
Torrance overcame a 14-3 third quarter deficit as it outscored the Pirates 21-3.
The Tartars return home to face Garden Grove Friday at 7 p.m.
West Torrance is 0-4 after a 10-3 loss to host Peninsula High last Friday in Rolling Hills Estates.
The Warriors will attempt to pick up their first win when they visit Cerritos High Friday at 7 p.m.
Carson improved to 4-0 with a 56-7 rout of host Paramount last Friday.
The Colts visit Hamilton High in the L.A.-Palms District Friday at 3;30 p.m.
South Torrance fell to host Harvard-Westlake 28-21 last Friday in Studio City.
The Spartans host Peninsula Friday at 7 p.m.