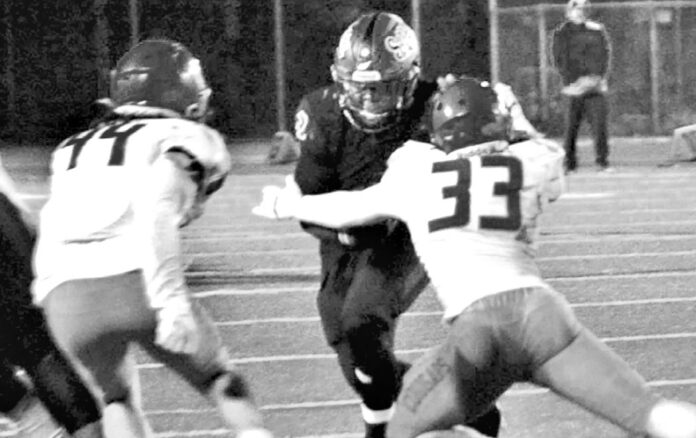 By Joe Snyder
Serra High's football team relied heavily on junior running back Cincere Rhaney in the first round of the CIF-Southern Section Division II playoffs against Norco last Friday at Serra.
Rhaney rushed for 275 yards and three touchdowns to key the top-seeded Cavaliers to a 28-14 win over the Cougars.
Rhaney began Serra's scoring with a 10-yard run in the first quarter, but that was just his start.
Norco tied the game later in the period, but Rhaney gave the Cavaliers a 14-7 lead early in the second period with a 50-yard touchdown run.
The Cougars, again, knotted the game at 14 with 6:21 left in the third quarter on a 20-yard TD run by Camden Conner, however, sophomore quarterback Jimmy Butler gave Serra the lead for good when he completed a 16-yard scoring pass to Camron Harris-Wilcot just 16 seconds before halftime.
Serra continued to lead 21-14 but Rhaney put an exclamation mark for the Cavaliers as he broke through the Norco line and raced 69 yards for the touchdown with 1:53 to go in the game.
"He was our call card," Serra head coach Scott Altenberg said of Rhaney. "We had 20 players, including five starters who were out. A lot of our guys were sick but our guys kept fighting. It was a good test. Our defense played amazing." Serra has been plagued with several players with the flu and RSV, a respiratory viral disease that has spread all over the world recently, mostly to children and elderly.
The win increased the Cavaliers' overall record to 6-4 after finishing second behind champion Chatsworth Sierra Canyon in the Mission League. The two teams, will, again, show down in the quarterfinals Friday at 7 p.m. at Serra. The Trailblazers, who defeated Serra 35-21 in league on Oct. 14, are coming off a come-from-behind 22-21 home win over Downey Warren in the first round last Friday.
GHS ousted by Dymally in LA City Divison I playoff
After finishing last in the al- ways rigid Marine League and following an unbeaten 6-0 non- league record against teams not at the level of its league opponents, Gardena High's football team was placed in the CIF-Los Angeles City Section Division I playoffs as the No. 11 seed.
The Panthers saw their season come to an end with a 30-14 loss to Mervyn Dymally High last Friday at Dymally in South L.A.
Gardena, which ended its season at 6-5 after winning its first six games, had trouble with quarterback Curtis Bevons. Bevons completed 18 of 20 passes for 312 yards (a 90 percent pass completion effort) and two touchdowns, both to wide receiver Anthony White.
Mark Reynolds and Bryant Collins each had one rushing TD and Tramonte Lowe added a pick six.
Gardena sophomore quarterback Isaiah Kim struggled most of the game but managed a touchdown pass to senior wide receiver Maurice Henderson. Running back Torey Pierce also had a TD run.
Dymally was the Metro League champion. Head Panther coach Monty Gilbreath will return a large majority of his players in hope of even becoming a Marine contender and going further in the playoffs next season.
Two other Marine teams in Division I, Carson and Narbonne, won their games. The Colts downed Hamilton 21-3 last Thursday at L.A. Harbor College and Narbonne defeated host Westchester 30-13 on Friday. Both play in the quarterfinals tonight at 7:30 p.m.
North falls to Oak Park in Div. VI playoffs
North Torrance High's foot- ball had an outstanding regular season finishing at 8-2 overall and taking second in the Pioneer League with a 4-1 mark.
Behind fourth year starting senior quarterback Trevor Lagarde, the Saxons were seeking to become league, Southern Section and CIF-State title contenders. North, though, got pitted on the road in the first round of the CIF-Southern Section Division VI playoffs against No. 2 seed Oak Park in Agoura Hills. Oak Park showed why it is one of the top contenders for the Division VI title with a 29-12-win ending North's season at 8-3.
Led by junior quarterback Holden Heidt, Oak Park, which improved to 7-4, scored a touchdown in each of the four quarters as its defense held down Lagarde throughout most of the game.
Lagarde managed to throw for two TD's, both to Dylan Williams. His first was of 23 yards that cut Oak Park's lead to 7-6 early in the second quarter. After Oak Park added 22 unanswered points, he found Williams from 13 yards out for the final score. Oak Park led 15-6 at halftime.
Lagarde passed for 164 yards. North had only 28 yards rushing. Lagarde ended his prep career with 102 passing touchdowns, including his milestone 100th in the Saxons' Pioneer League finale at home against West Torrance. North won that game 47-14.
West, which placed third in league, was edged out by host Laguna Beach 24-21 in the first round of the CIF-Southern Section Division IX playoffs last Friday.
Pioneer champion Lawndale also saw its season come to an end with a 13-7 loss at Loyola High in Los Angeles last Friday. The Cubs entered the Division VI playoffs as the fourth seed.
ECC tops Chaffey in football action
El Camino College's football team won its first National Central Conference game over Chaffey College from Rancho Cucamonga 30-20 last Saturday at Murdock Stadium.
The big highlight by the Warriors came from former Serra High standout linebacker Lando Brown who broke the ECC record for most quarterback sacks at 23.5. He recorded 2.5 sacks against Chaffey to surpass the previous record of 23 set in the 2008 and 2009 seasons by Daniel Stewart. Lando sacked Chaffey quarterback Nicholas Poulos on the blind side for an eight-yard loss that forced a fourth down and long and forcing Chaffey to punt. The punt ended up blocked as it was returned for a touchdown giving El Camino a 16-6 third quarter lead.
So far this season, Brown has 14.5 sacks where he is tied for second, all time, with Marques Johnson in 2011. Stewart holds that record at 15 he set in 2008 as Brown will need only one sack to break that record as the Warriors visit Palomar College in San Marcos (North San Diego County) in their conference finale Saturday at 6 p.m.
Against Chaffey, ECC trailed 6-3 at halftime but went on to score 30 unanswered points before Chaffey scored the game's final two TDs.
El Camino (4-5) must defeat the Comets for a shot at a post-season bowl game.