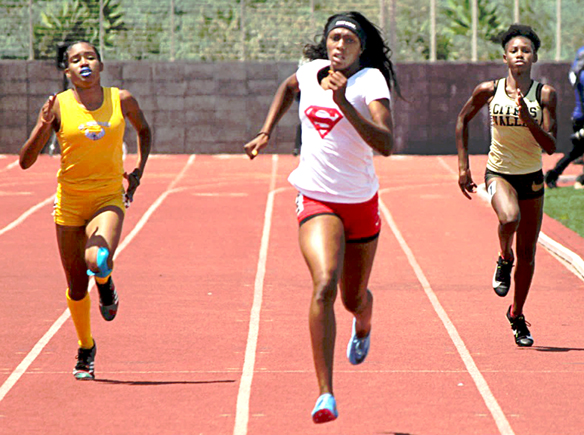 On May 19, Serra High's girls' track and field team returned to stardom by capturing the CIF-Southern Section Division IV crown and was poised to excel against higher division teams in last Saturday's Southern Section Masters Meet at El Camino College.
The Lady Cavaliers got off to a good start by winning the 4×100-meter relay at 45.88 seconds. The team of Queen Okoh, Jaylah Herron, Destinee Reid and Jazmyne Frost were able to win handily over second place Calabasas (46.34) and third place Long Beach Poly (46.92) and are expected to enter Friday and Saturday's CIF-State Championships as the top seed. The meet will be at Buchanan High in Clovis.
Frost, a junior, continued to do well in the sprints but was faced with stiffer competition. Frost had a pair of third place finishes in the 100 clocking 11.77 and 200 in 24.14 to advance to state. Frost finished behind Long Beach Poly's Ariyonna Augustine (wins in the 100, 10.7 and 200, 23.87) and Calabasas' De'Anna Nowling (second in the 100, 10.76 and 200, 23.92).
Jaylah Herron qualified for state in the 400 with a time of 55.85, good for a fourth place finish.
Herron also led off Serra's 4×400 relay squad to a fourth place finish in 3:48.51, good enough to advance to state. Other runners were freshman Maya Rush, Okoh and anchor Frost. The Cavaliers, however, were plagued with a slow start as they attempted to catch up. Winning the race was La Verne Bonita (3:46.07), followed by Quartz Hill (3:46.73) and Chino Hills (3:48.17), respectively.
"I was very impressed with our 4×100," Herron said. "We could have been better in the 4×400. Everybody had to do their own thing."
Serra hopes it can improve in the state meet, with the prelims on Friday and the finals on Saturday.
"We did good overall," Serra head coach Chris Calvin said. "We're going to state. We've been good all year. I feel we can score 36 points and it could be enough to win state. We're definitely flying in the radar."
West Torrance advanced two athletes to state. The Warriors had a second place finish from senior Rory Abberton in the boys' 1,600-meter run timing 4:11.26 and senior Caleb Terrill was fifth in the 800 in 1:53.41.