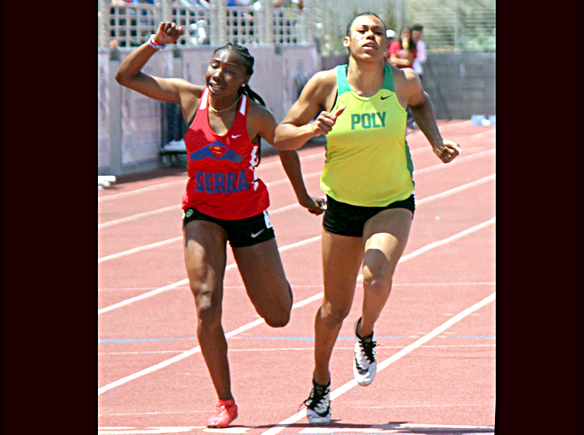 Serra High junior sprinter Jazmyne Frost capped off her accomplishments by receiving the Daily Breeze South Bay Track and Field Athlete of the Year.
During the 2018 season, Frost helped the Lady Cavaliers win their second ever CIF-State Championship (their other in 2012) by anchoring their 4×100-meter relay team to the title with a time of 45.69 seconds. She also finished second in the 100-meter dash at 11.7 and third in the 200 clocking 23.65 on June 2 at Buchanan High's Memorial Stadium in Clovis. Her personal bests in those events include 11.57 in the 100 and 23.65 at the 200.
Frost also anchored Serra's 1,600 relay squad to a runner-up, behind champion La Verne Bonita, finish with its season best time of 3:44.37.
Junior Queen Okoh also made all-area in the 100. Okoh took second, behind teammate Frost, in the 100 at the CIF-Southern Section Division IV Championships on May 19 at El Camino College.
Two other all-South Bay athletes included 400 standout Jaylah Herron, who has run as fast at 54.73, and Division IV shot put-discus champion Erin Brown.
CIF-Los Angeles City champion Carson had a few all-area athletes in Kaitlyn Williams (100), Ryan Lacefield (200), Elisha Salazar (400), Indiah Turner (300 hurdles and long jump), Jonon Young (long jump and triple jump) and Dominique Payne (shot put). Turner finished second in state in the long jump.
Serra's boys were led by Makarious Page in the 400 and Tiger Taylor-Hart in the 100. Page ran as fast as 47.53 seconds in the 400. His biggest highlight was winning the Redondo Nike Invitational in March. He also helped the Cavaliers' 4×100 and 4×400 teams to the CIF-Southern Section Division IV finals. Taylor-Hart was third in the Division IV 100.
Carson was led by Andre Butt II who was South Bay Athlete of the Year. Butt's biggest event was the 110-meter high hurdles where he made the CIF-State Finals. He recorded a 14.67 for eighth place but has a personal best of 14.17 he ran at the Mt. San Antonio College Relays on April 21 at ECC.
Butt also finished second in the CIF-L.A. City Section finals at the 200 but helped the Colts win the 4×100 with a very good time of 41.76. He also made the state finals in those two events.
Jermar Jefferson, who keyed Narbonne High's football team to the CIF-L.A. City Open Division and California State Division IA titles last fall, made all-area in the 100 and 200.
Both Narbonne and Carson made all-South Bay in the 400 relay and the Colts made it in the 1,600.
Also making all-area in the 110 highs was Joshua Wingo. Other Carson athletes to make all-area were Elijah Rice (long jump) and Henry Hood (shot put).
Titus Houston of Narbonne also made all-South Bay in the triple jump.
West Torrance had Caleb Terrill make the all-area in the 800 and Rory Abberton in the 1,600. Abberton was fifth in state in the 1,600, while Terrill advanced to the state prelims after a third place finish in the Southern Section Masters Championships on May 26 at El Camino.
Torrance's Chris Pitts made all-area in the 400. He advanced to the Southern Section Masters. John Chambers of the Tartars landed in the 200. Also getting all-South Bay was state high jump qualifier Jordan Baylis from Bishop Montgomery, as did West's Shea Wissler.