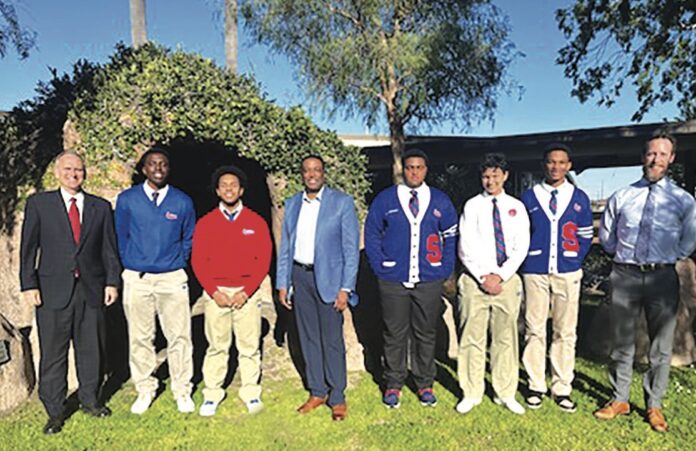 By Gary Luster
Serra High School's National Society of Black Engineers will see the science experiment they have been working on since last August launched into space with its destination being the International Space Station on April 21.
With this project, Serra becomes one of only nine schools out of the 12,000 high schools in the United States, as well as the first inner city high school, to send an experiment to the astronauts at the International Space Station, Serra High officials said.
If the event occurs within school hours, Serra plans to broadcast the launch to the entire student body.
"Not even Harvard or MIT or Stanford have a berth on the space station, but Serra does," said John Moran, president of Serra High School.
Moran enrolled the school into the NSBE/ISSP space program last year, not long after he was named school president, living up to his reputation as a transformational leader and as a follow-up on his plan to continue the school's culture of excellence.
"Our National Society of Black Engineers (NSBE) Club is conducting the ISS Program," Moran said. "This year we have five students involved, and next year we will double that number to ten. With the proper funding, we could have more than one team at Serra per year."
This year's team includes five Serra High juniors: Henry Toler, Isaiah Dunn, Christopher Holbert, Travis P. Leonard, and Anderson Pecot. Moran said that the team spent lots of time collaborating on their science experiment.
"The team operates much like an aerospace company by collaborating to create an ex- periment according to NASA guidelines, while learning multiple new skills in the process," Moran said. "Our Team chose Seed Germination in Micro-gravity as their experiment this year. They had to design, code, and engineer the experiment to fit into a Nano-cube only 6 inches long and 2 inches wide. They did this within required program and NASA time frames and guidelines. The experiment was sent to NASA for safety checks and returned for modifications.The finalized Nano-cube has now been delivered to NASA for a scheduled flight to the ISS aboard a Northrop-Grumman rocket on April 21st."
According to Moran, The experiment will remain on the ISS for one month, when the astronauts will download data to the students every three days, so they can analyze outcomes and draw conclusions. Afterwards the students hope to publish a scientific paper in a journal for presentation at a national aerospace convention in October.
While the entire project has gone smoothly, Moran said that at the beginning, there was a lot of doubt among the students that such a project was even possible.
"When I first explained the concept to them last summer they had a deer-in-the-headlights look and said that they can't do this," Moran said. "When they presented to the city council last week, they stated that they didn't think they could do this and were amazed at what they were able to accomplish."
To help the students overcome their doubts and work together as a team, was Ken Irvine, Serra's Science Department Chair, served as the mentor of the NSBE/ISSP project. Several days per week after school, Irvine oversaw the project, kept the students focused on their task, and helped the five juniors work together as a team.
All of the students' hard work attracted the attention of the local officials. Gardena City councilman Rodney Tanaka visited the team last week because of his interest and amazement at what they were doing.
"We have partnered with the USC Viterbi School of Engineering, who adopted our NSBE Club under their banner, which provides access to USC faculty, graduate students, labs, and materials," Moran said. "Our students will visit the USC Maker Space next month to explore innovation in new technologies. The ISSP academically transforms each participant, builds their self-efficacy, and it will help put Serra on the map as a Center of Science education excellence."
The National Society of Black Engineers (NSBE) is a society that was founded in 1975 at Purdue University, located in West Lafayette, Indiana. It is one of the largest student-run organizations in the United States, with core activities centered on improving the recruitment and retention of Black and other minority engineers in both academia and industry.
NSBE has more than 30,000 members worldwide, 18 regional conferences, an annual international conference, an annual national convention, and offers multiple scholarships. NSBE also represents 310 collegiate student chapters, 99 pre-college programs, and 88 professional chapters with their 6,000 technical members.