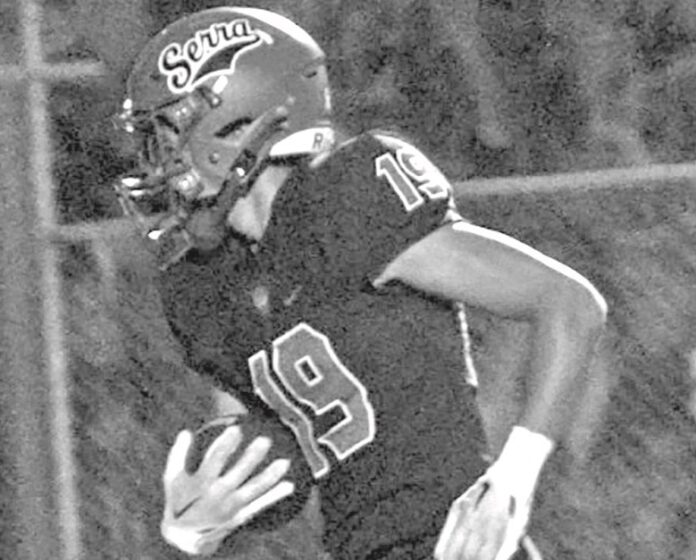 By Joe Snyder
After leading 21-7 throughout much of the game before seeing Bishop Amat High's football team rally for two touchdowns to tie the game, Serra High's football team picked up a late touchdown to hold off the Lancers from La Puente 27-21 in a key Mission League and Serra's homecoming game last Friday.
The Cavaliers took a 21-7 lead into halftime and continued to lead by two TDs until 2:41 left in the third quarter when Bishop Amat, one of the Mission favorites, cut Serra's lead to 21-14 on a 22-yard scoring pass from ju- nior quarterback Richie Munoz to wide receiver Delano Franklin.
Serra running back Cincere Rhaney, then, appeared he was giving the Cavaliers a two-touchdown lead early in the fourth period but he fumbled the ball as he was just feet away from the end zone. The ball rolled into the end zone for a touchback and the Lancers got the ball at their own 20-yard line. Later in the quarter, though, the Cavaliers drove to Bishop Amat 13-yard line but sophomore quarterback Jimmy
Butler had his pass intercepted by Lancer cornerback Rayjohn White. Bishop Amat would cash it in when Chris Cooper scored on a 2-yard run tying the game with 3:10 remaining in the game.
Behind Butler, Serra, which improved to 4-3 overall and 1-1 in league, was able to do its magic as it did in many other games throughout recent history. With a third down at the Bishop Amat 45-yard line, Butler unleashed a 42-yard pass to senior running back Kai Honda who brought down the ball at the three.
"I just got inside," Honda said. "I didn't think (at first) I could get the ball. I ran as fast as I could and caught the ball."
On the next play, Rhaney scored from two yards out to give Cavaliers the lead. Honda's point after touchdown attempt was blocked leaving Serra with a six-point lead with 1:02 to go in the contest.
The Lancers attempted to come back. Munoz completed two passes but his third attempt deep was intercepted by defensive back C.J. McBean with 38 seconds remaining clinching the game for Serra. It was McBean's first game at Serra.
"We felt good on the game," Serra head coach Scott Altenberg said. "We made a few bone head moves. It is part of a young team and a young quarterback. We won and it was a big win. Bishop Amat is well-coached and they play hard. They made great adjustments and we made great adjustments. That's what makes it fun."
The Cavaliers started the game fast with a 14-0 first period lead. Serra's first touchdown came on a 15-yard pass from Butler to wide receiver Zacharyus Williams with 7:49 left in the quarter. Serra made it 14-0 with 5:11 remaining in the first period on a 2-yard run by Roderick Pleasant, his first of
two but his next showed his first- class speed in the second quarter. Immediately after running back Aiden Ramos cut Serra's lead to 14-7 on a 1-yard touchdown run, Pleasant took the ensuing kickoff and raced down the right sideline 98 yards for the TD with about three minutes remaining before halftime.
The Cavaliers' win evened their league record to 1-1 in what would have been 2-0 but Serra was forced to forfeit its Mission opener at Sherman Oaks Notre Dame due to an ineligible player. That player was a transfer who had to sit out the first five games and was unable to play until, at least, on Sept. 30 against the Knights. His paperwork to the CIF-Southern Section was turned in as Serra's coaching staff believed he was eligible but, according to Southern Section officials, it was only pending at that time. He was ruled ineligible and Serra had to forfeit its 13-7 win over Notre Dame.
The Cavaliers will seek to increase its league record to 2-1 when it hosts Mission newcomer Sierra Canyon from Chatsworth on their Senior Night Friday at 7 p.m. Sierra Canyon is 1-1 in league after an impressive 42-0 home win over Mission Hills Alemany last Friday. Alemany was last year's CIF-Southern Section Division II runner-up behind Orange Lutheran but is faced with a rebuilding season. The Trailblazers lost their league opener to host Bishop Amat 31-28 in over- time on Sept. 30.