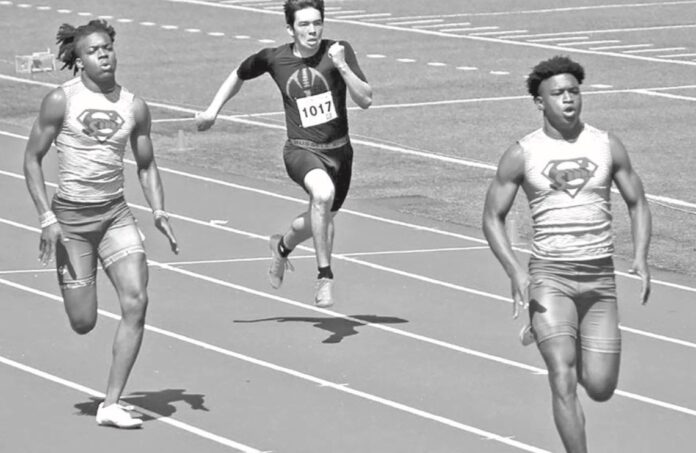 By Joe Snyder
Serra High's track and field teams did not compete in a lot of events, but managed to do very well at the Pasadena Relays with wins in the boys' and girls' 200-meter dash and the boys' 4×100 relay Friday and Saturday at South Pasadena High.
The top ranked prep sprinter in the United States, Roderick Pleasant, ran away from the field in the boys' 200 with a time of 21.88 seconds. Teammate Dakota Fields finished third at 22.55 as East Los Angeles Lincoln's Jaden Rattay was second clocking 22.51.
Both also keyed the Cavaliers' 4×100 relay squad to a win in 42.26. Other runners included Tre Harrison and Cameron Wilcox.
The University of Oregon-bound Pleasant will be seeking for national records that includes breaking 10 seconds in the 100 and 20 in the 200. He has personal best times of 10.14 in the 100 and 20.4 in the 200.
Serra's defending California state championship girls team and last year's state 100 champion Brazil Neal participated in the 200 which she won handily timing 25.31.
Teammate Sadia Green placed fifth in 26.72, in a meet that included mostly slow races due to a strong head wind toward the finish line. Most of the meet's top runners were far off their personal bests.
In the 400, the Lady Cavaliers' Savanna Mullins took fourth clocking 1:01.95.
In the field events on Friday, Jordyn Brooks placed second in the triple jump at 36 feet, nine inches and was third in the long jump (17-9).
Joey Zoranble won the girls' frosh-soph triple jump with a 34-7 effort.
Due to poor conditions caused by the strong head winds, Serra head coach Christopher Mack said that the times were not his athletes' best marks. Serra's boys' 4×100 relay team, for instance, won the California Relays clocking 41.74 a week earlier at Long Beach Wilson High.
Serra, meanwhile, canceled out on the Texas Relays at University of Texas in Austin and will, instead, compete in the Trabuco Hills Invitational at Trabuco Hills High in Mission Viejo on Friday and Saturday.
It will be a good tune up for the prestigious Arcadia Invitational on April 7 and 8.
CSUDH lady cagers eliminated in NCAA II tourney
Cal State University at Dominguez Hills' women's basketball team ended its big run as it was eliminated in the quarterfinals of the Elite Eight in the NCAA Division II Championships to Catawba from North Carolina 77-70 on March 20 at the St. Joseph Arena in Missouri.
Catawba jumped on the Lady Toros early as it built a 12-point lead (45-33) at halftime and led by as many as 14 points (49-35) early in the third quarter.
CSUDH, though, rallied in the second half as it trailed 61-60 but it wasn't able to cash in on several opportunities, missing three consecutive shots. Catawba was able to cash in on those and put away the Toros.
CSUDH had a balanced performance led by Dawnyel Lair with 16 points and 15 rebounds. Nala Williams added 15 points and Deejanae Poland chipped in 14. Kelsey Bell contributed nine points and Asia Jordan finished with seven.
Lair was named as California Collegiate Athletic Association Player of the Year in leading the Toros to the conference title at 21-1 and 26-1 overall in the regular season. CSDH finished its season at 31-3 overall. Williams was the CCAA's Freshman Player of the Year and head coach John Bonner was Coach of the Year.
Cal State University at Dominguez won the Western Regional crown with wins over Cal Poly Pomona (87-61), Montana State University at Billings (77-66) and Cal State San Marcos (73-51) at the CSUDH Toro Dome in Carson.
On March 22, Catabwa fell in the semifinals to second seed University of Minnesota at Duluth 70-59 as Duluth will take on University of Ashland from Ohio for the championship Saturday at University of Texas at Dallas beginning at 12:30 p.m. (Pacific Daylight Time).
North High softballers starts league this week
North Torrance High's softball team began the season ranked No. 2 in the CIF-Southern Section Division I, I but fell a couple of spots down to fourth due to earlier non-league losses to Bay League power Redondo and Granada Hills, the top ranked team in the CIF-Los Angeles City Section according to Maxpreps.
From there, though, the Lady Saxons are coming on strong that included winning two Pio- neer League wins over crosstown rival South Torrance and Lawndale, in games that were delayed due to another of many atmospheric river storms that hit Southern California over the past few months.
Last Thursday at South, North topped the Spartans 4-2. Then, last Friday at North, the Saxons overwhelmed a hapless Lawndale team 29-0.
Serra is 3-3 overall and 1-2 in the Camino Real League. On March 7, the Lady Cavaliers be- gan the league with a 9-1 home win over La Salle High from Pasadena. Two days earlier at Paraclete High in Lancaster, the Spirits rolled over Serra 18-1.
Against the Lancers, Serra was sparked by Emily Velador who went 3-for-4, including a double, and scored three runs. Anyssa Saa added a three-run home run.
The Cavaliers' last game was on March 20 when they blanked host Lennox Academy 10-0 in a five-inning mercy rule game. Serra scored four runs each in the top of the first and second inning and added two more in the third.
Lennox had only one hit against Serra pitching in the five-inning mercy rule game.
After CRL home games against Santa Monica St. Mon- ica last Tuesday and Lakewood St. Joseph on Wednesday, the Cavaliers visit St. Monica today at 3:15 p.m. and La Salle next Tuesday at 3:30 p.m.
Gardena is 2-1 after blowout wins over Sotomayor (12-0 on March 7 at home) and host Santee (22-7 on March 13 in Downtown L.A.) and a 2-1 home loss to Harbor Teacher Prep on March 17.
Against the Monarchs, Kameya Jones went 3-for-4 and drove in one run and Lilleana Gudiel was 3-for-3.
Harbor Teacher was led by Andrea Avalos who went 2-for-3 and that included a two-run double.
Against the Falcons, the Panthers had 22 runs on only two hits as they cashed in on 20 walks and seven errors.
Gardena began the Marine League at Narbonne High in Harbor City last Tuesday. The Panthers host Wilmington Banning in league today at 3:15 p.m. before its spring break. Gardena resumes Marine action at Rancho Dominguez Prep in Long Beach on April 11.
In baseball action, North Torrance improved its Pioneer League record to 2-1 by shutting out El Segundo Wiseburn-DaVinci 13-0 last Friday at North.
The Saxons have league games against cross town rival South Torrance this week. After hosting the Spartans on Wednesday, North visits South Friday at 3:15 p.m.
Serra played one non-league game at Banning High in Wilmington last Saturday and the Cavaliers blanked the host Pilots 2-0.
Serra visited La Salle High at Arcadia Regional Park last Tuesday and host the Lancers
Friday at 3:15 p.m. Serra will have non-league games at Aquinas High in San Bernardino on Tuesday at 4 p.m. and at Redondo next Thursday at 6:30 p.m. before visiting Paraclete in Lancaster for a 1 p.m. Del Rey League game on April 8.
Gardena continued to struggle in non-league after an 18-1 loss at home to Huntington Park Marquez last Saturday.
Despite the loss, Brady Tanaka went 2-for-2 and Nate Guzman was 1-for-2 with one RBI and one run.
Marquez is unbeaten at 7-0 after its lopsided win.
Gardena began the Marine League at San Pedro, one of the top teams in league, last Tuesday. The Panthers' next game is a non-league contest at home against Sotomayor on April 10 before resuming Marine action at Rancho Dominguez Prep on April 12.