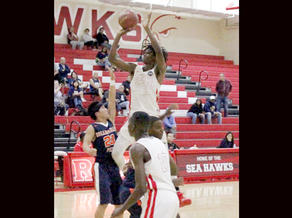 It is a rough start for this season's edition of Serra High's boys' basketball team.
With mostly a very young and inexperienced team that is missing a few players, including a pair of transfers who have to wait for 30 days to become eligible, the Cavaliers struggled through the Redondo Ryse Williams Memorial Pacific Shores Tournament with a 1-3 record.
Serra started the classic on Nov. 12 with a 74-57 loss to very good and big Santa Margarita squad. That threw the Cavaliers into the consolation bracket but, a day later, they were routed by small schools power Rolling Hills Prep from San Pedro 67-42. On Nov. 16, Serra won its only game of the tournament over South Gate Southeast 76-52 but fell short of Rolling Hills Estates Peninsula 55-53 on Nov. 17.
"We're a very young team," Serra High head coach Bernard McCrumby said. "It was a good tournament for us. We'll be battle tested going into the Del Rey League."
The Cavaliers will also be looking for two key transfers, including Brandon Clay from Rolling Hills Prep and Andrew Piperberg from out of state to become eligible by the middle of next month.
Serra also has some players who have lacked play during preseason practices, Fall and Summer Leagues due to injuries.
"We hadn't had a full team since the summer," Serra assistant coach Cliff Sims said.
On Nov. 17, in a consolation game against Peninsula, which was also without two projected starters who are still playing on the Panthers' football team that reached the CIF-Southern Section Division XI championship game after defeating Hemet 28-7 in the semifinals last Friday at South Torrance High and will visit Western High in Anaheim on Friday at 7 p.m. for their first Southern Section crown since 1997, the Cavaliers saw themselves fall well behind as Peninsula grabbed leads of 20-10 after the first quarter and 33-18 at halftime.
In the third quarter, however, Serra came alive and outscored the Panthers (1-3) 24-9 to tie the game at 42. The fourth period saw the Cavaliers start out with a 45-42 lead behind a three-point basket by Miles Threat, one of two returning starters for Serra. From there, the game was a see-saw battle. Threat made another three-pointer that gave the Cavaliers a 53-51 lead but Peninsula, which is one of the favorites in what should be a very balanced Bay League, scored the game's final four points to pull it off for its first win after three losses, one of those to eventual tournament champion Fairfax that defeated Torrance Bishop Montgomery 64-56 last Saturday.
The Cavaliers were led by freshman guard Jeremy Dent-Smith with a game-high 21 points, 15 of those in the third quarter. Dominic Woods added 14 points and Threat chipped in eight.
The Panthers were led by J.D. Plough with 20 points.
Woods led all scorers with 32 points in Serra's win over Southeast but returning starters and all-Del Rey League guard Doctor Bradley had a triple double that included 18 points, 10 rebounds and 11 assists. Dent-Smith contributed 14 points and four steals.
Woods led the Cavaliers with 13 points in their loss to Rolling Hills Prep. Dent-Smith had nine points and four assists. Sweet tallied eight points and eight rebounds.
Chris Oden led the Huskies (3-1 after a consolation title win of 52-47 over Birmingham from Lake Balboa on Saturday) with a game-high 22 points, six rebounds and six assists.
Woods led Serra with 23 points in its loss to Santa Margarita, which is ranked 45th in the United States by Maxpreps and has four starters who are 6-feet-7 and taller including a seven-footer. The Eagles, in fact, have four starters who are already committed to NCAA Division I colleges including one to UCLA and another to University of Southern California. Bradley put in 16 points. Santa Margarita is also rated second, behind Trinity League rival Santa Ana Mater Dei, in Orange County by the Register. Santa Margarita went 3-1 in the classic after placing fifth by downing host Redondo 68-56 on Saturday.
McCrumby will have Serra play in three other tournaments that includes its own Dwan Hurt Memorial Holiday Classic from Dec. 17-22. Next for the Cavaliers will be the Legacy Tournament in Las Vegas from next Thursday through Dec. 1. Serra, then, plays in the Beverly Hills Tournament from Dec. 3-8.
The Cavaliers begin the Del Rey League at home against rival Bishop Montgomery on Jan. 4.
Gardena Boys' Basketball
Gardena slips past Torrance in season opener
By Joe Snyder
Gardena High's boys' basketball team is off to a good start after outlasting Torrance 62-61 in non-league play on Nov. 14 at Gardena.
The Panthers started off leading 11-10 but the Tartars, last year's Pioneer League champions, came back to outscore Gardena 23-14 in the second quarter for a 33-24 halftime lead. The Panthers, however, came back with a 24-14 third period for a 49-47 edge. The contest stayed close throughout the fourth quarter with Gardena holding on.
The Panthers had four players score in double figures, led by returning junior guard Michael Frankling with a game-high 21 points. Another returning player, Kameron Mayhan, added 17 points while Kolby Kimbaugh and Jason Hicks each chipped in 10. Lack of depth, though, might hurt Gardena as no reserves scored and its fifth man, returning starter Kameron Wheeler contributed three points.
Torrance had balanced scoring, led by Jaylon Bourgeois with 13 points. Garrett Kasai had 12 points, all on four three-point baskets, and Kenichi Morofuji put in 10 points.
Gardena is currently playing in the El Monte Tournament where it began last Monday against Bloomington High from San Bernardino County. The classic runs through Saturday. Beginning next Wednesday, the Panthers will host Price Christian High from the Los Angeles-Crenshaw District before playing in the Orangewood Academy Tournament in Orange from Dec. 3-7.
Gardena is at Hollywood High for a 6 p.m. non-league contest on Dec. 14. Following Christmas, the Panthers vie in the San Pedro Pirate Holiday Classic from Dec. 26-29 and will be in the round robin John F. Kennedy Classic in Granada Hills from Jan. 2-4. Gardena begins the Marine League at home against Carson on Jan. 9.
The Panthers should be strong contenders, along with Narbonne and Carson, in the Marine League.
Torrance fell to 0-2 with a loss at Santa Monica on Nov. 16.
The Tartars play another non-league game at Orange Lutheran on Dec. 11 and host Price on Dec. 14. Torrance begins Pioneer League play at North Torrance on Dec. 18. The Tartars hope to repeat as league champions but West Torrance, led by returning two-time all-CIF Southern Section senior guard Alex Mishaw, appears to be the Pioneer favorite. In the 2016-17 season, sophomore Mishaw keyed the Warriors to the CIF-Southern Section Division IVAA title.
Prep Football Roundup
Narbonne keeps on in making City Open Division finals
By Joe Snyder
One question concerning CIF-Los Angeles City Section football teams is "Who can beat or even play with Narbonne?"
For the eighth consecutive season, the top-ranked Gauchos are in the Open Division championship after rolling over No. 4 Lake Balboa Birmingham 63-23 in the semifinals last Friday at Narbonne.
The Gauchos move to the championship against Garfield High from Monterey Park Friday at 7 p.m. at El Camino College. The Bulldogs, who upset third seeded Carson 14-10 on Nov. 9 at Carson, went on to edge second seed Eagle Rock 24-21 last Friday at Eagle Rock.
Narbonne sophomore quarterback Jake Garcia had a festive day, completing 13 of 15 passes for 230 yards and two touchdowns. Garcia also scored the Gauchos' first TD on a 28-yard bootleg run.
The Gauchos started quickly by rolling out to a 19-0 lead midway in the first quarter behind scoring runs by Marceese Yetts and Steven Jenkins.
The Patriots managed to cut Narbonne's lead to 19-7 when quarterback Jason Artiga tossed a 21-yard touchdown pass to wide receiver Abdul-lateef Audis and got to within 19-10 early in the second period on a 40-yard field goal but, from there, the Gauchos turned the game into a rout.
North falls to Brea-Olinda: After a pair of thrilling CIF-Southern Section Division IX playoff wins over Orange and San Marino, North Torrance High's football team saw its season come to an end with a 28-19 loss at Brea-Olinda in the semifinals last Friday.
The Saxons, who ended their season at 10-3, saw the Wildcats take a quick 14-0 lead but North climbed back within one point (14-13) behind touchdowns by junior running back Stephen Bradford (1-yard run) and wide receiver Braydon DelCampo (30-yard pass from quarterback Victor Puelles).
Brea, led by running back Cany Wyse who rushed for 115 yards and two TD's on 30 carries, enabled the Wildcats to pull away and ended the Saxons' best season in six years. In 2012, North, led by quarterback Jorge Hernandez and wide receiver Michael Jurado, made the Division X finals before falling to Nordhoff from Ojai.
The Wildcats moved to the final where they go against San Gorgonio, a 40-27 winner over Garden Grove last Friday, on Friday.
ECC Football
Riverside proves too much for El Camino
By Joe Snyder
El Camino College's football team won its first Central Conference title since 2008 and first outright since the Warriors captured the California state championship in 2006, and made the state playoffs for the first time since 2011 but the Warriors were pitted on the road against No. 2 seeded and unbeaten Riverside City College.
ECC knew the Tigers well, already losing to them at home in their season opener 34-7 on Sept. 1, but Riverside, also ranked third in the United States by the Junior College Grid Wire, dominated the Warriors even more in a 63-24 blowout on Nov. 17.
The Tigers surged out to leads of 21-0 and 35-7 in the second quarter and El Camino could not keep up.
Quarterback Aaron Thomas managed to have a good game passing for 245 yards and two touchdowns. Wide receiver Trevon Clark had four catches for 65 yards and one TD. He completed the season with 57 receptions for 986 yards, an average of 17.3 yards per catch.
Linebacker Quinn Perry led ECC's defense with six tackles, five of them solo.
Riverside, which improved to 11-0 and will visit top-seed College of the Canyons (second in the nation) for the Southern California championship on Saturday, was led by quarterback Stone Smartt who accounted for seven touchdowns. The Cougars are also 11-0 after topping Ventura last Saturday at Canyons in Valencia.
El Camino had back-to-back winning seasons (6-5 last year and 8-3 this season) for the first time since its seven straight winning years, under head coach John Featherstone (1985-2015), from 2003-09.