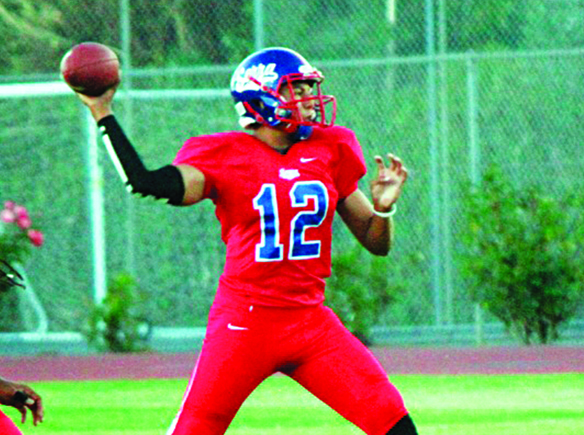 Serra High football and basketball standout Caleb Wilson, was named Gardena Athlete of the Year by GVN sports writer, Joe Snyder. Wilson who transferred to Serra from Georgia over last summer, was a key all-around athlete. He was quarterback and wide receiver for the Cavalier football team that was tri-Mission League champion with La Puente Bishop Amat and Encino Crespi, and one of the leading scorers on Serra's boys' basketball squad. In football, Wilson saw only little action at quarterback, behind starter Rasheem Greene, but had 610 yards and one touchdown passing over the 2014 season. Greene also caught 18 passes for 310 yards and seven TDs as a wide receiver. Wilson is one of four Serra football players who signed at University of Southern California, in which he is already preparing for this upcoming season. Wilson averaged about 15 points per game for the Cavalier boys' basketball team, despite seeing the squad miss the CIF-Southern Section playoffs for just the third time in head coach Dwan Hurt's 27-year stint.
______
Ex-West Torrance baseball standout named AD at CSDH
Former West Torrance High baseball standout Jeff Falkner was named as the new athletic director at Cal State Dominguez Hills last week.
Falkner graduated from West Torrance High in 1998. He played baseball and earned his Associate of Arts and Bachelor of Arts at Santa Barbara City College and Grand View College in Iowa, in order.
Falkner was head coach at Brescia University in Owensboro, KY before being named as the athletic director there from 2008 through this past school year.
Falkner, who is married with two children, was always looking to come back to the South Bay and work at a college there.
Falkner expects to start as A.D. at Cal State Dominguez on Aug. 3.
Three Toro baseballers drafted: Three Cal State Dominguez Hills baseball players were taken in the Major League Baseball Amateur draft last week.
It started on June 9 when Kevin Brown was selected in the ninth round by the Los Angeles Dodgers.
A day later, two other Toros were drafted. Kamran Young was taken in 21st round by the Minnesota Twins and pitcher Winston Lavendier was selected in the 33rd round by the L.A. Angels.
Serra faces Centennial, again: Last season, Serra High's football team lost in the first round of the CIF-Southern Section Big Five Division in a wild 68-64 game to host Centennial High in Corona, which went on to top nationally ranked Bellflower St. John Bosco in the final 48-41.
On Sept. 5, the Cavaliers and the Huskies will square at Oceanside High at 7 p.m.
Serra lost several key players, including eight to Major Division I colleges, four of those who will be playing for head coach Steve Sarkesian at University of Southern California this fall.
Will it be another shootout? We'll find out.
Stanley Cup Settled: Throughout this decade, so far, it seems that the L.A. Kings own the even number years and the Chicago Blackhawks the odd number.
For the second time in three seasons, the Blackhawks captured the National Hockey League Stanley Cup by shutting out the Tampa Bay Lightning 2-0 Monday in Chicago.
The Blackhawks had goals from Duncan Keith and Patrick Kane.
Lakers will draft No. 2 on Thursday: So far in the National Basketball Association championship series, the Golden State Warriors lead the La Bron James-led Cleveland Cavaliers three games to two after topping the Cavaliers 104-91 in Game 5 on Sunday in Oakland.
Days after the series ends, at the latest on Friday, will be the NBA draft in which all 32 teams select top players from college, those playing overseas, or from their developmental leagues.
The Lakers, who came off their worst season ever at 21-41 and are the fourth worst overall, will get the No. 2 pick and many fans hope that it will be one of the top players. Top available prospects will likely be Duke center Jahlil Okafar, Ohio State point guard D'Angelo Russell and point guard Emmanuel Mudiay, who recently played professionally in China.
The Minnesota Timberwolves, who had the NBA's worst record at 16-66, get the top pick. They are expected to draft Kentucky's power forward-center, Karl-Anthony Towns.
___________________
Blue stars win baseball; Reds capture softball
By Joe Snyder
Sports Editor
CIF-Southern Section and Los Angeles City Section baseball and softball playoffs are over but the South Bay's top seniors had their encore before moving on to college or where ever.
In last Friday's 47th Annual South Bay All-Star Baseball Classic at El Segundo Recreation Park's Stevenson Field, it was the Blue stars that defeated the Red team 6-3.
The Blues were head coached by Narbonne High's Bill Dillon, who was last week named as the South Bay Daily Breeze Coach of the Year for guiding the mostly young Gauchos (led by dominating senior Daniel Rocha and junior Delvin Flowers [transfer from Serra prior to the 2014 season]), to a 27-9 record and the CIF-L.A. City Section Division I semifinals before losing to eventual champion Woodland Hills El Camino Real 3-2, and El Segundo's Steve Eno, who led the Eagles to the Ocean League title and the second round of the CIF-Southern Section Division III playoffs before losing to eventual champion Redondo 5-0.
Guiding the Reds were Cassidy Olsen of co-Bay League champion (with Redondo) Mira Costa and Hawthorne's Jeff Hines, who recently stepped down as the Cougars' head coach after 23 years.
The Blues had fine hitting by Luke Jelmini (Mira Costa), Cheech Pacheco (San Pedro) and Brady Dorn (Redondo). Jackson Cooper of West Torrance also drove in a run with a double in the bottom of the sixth inning.
Drake Pingel of Southern Section Division IV finalist South Torrance pitched the first two innings, allowing one run on two hits, three walks and three strikeouts.
For the Reds, former Serra High standout Duncan McKinnon, who played his junior and senior years at Redondo and keyed the Sea Hawks to their first Southern Section baseball championship on their Centennial of their program with a 10-0 shutout of Walnut on June 6 at San Manuel Stadium in San Bernardino, had two hits including a third inning solo home run and a single, stolen base and run scored on a base hit by Rocha in the top of the first. Rocha, a highly regarded NCAA Division I college prospect, went 2-for-3.
The Blues tied the game at three in the fourth behind an RBI (run batted in) single from St. Bernard's Navari Julius before the Blues scored one run in the sixth and two in the seventh.
The Reds managed to have fine pitching by South's other top pitcher, Nick Beardsley, who hurled three shutout innings.
In the softball game, the Red squad topped the Blue stars 6-3.
Starring for the Reds was North Torrance's Rachel Sandoval and Marina Vitalich from San Pedro Mary Star who each drove in runs with base hits in the sixth inning.
Melody Garcia of Banning pitched the final two innings, striking out five batters for the Reds.
The Blue squad got within 4-3 in the sixth on a two-run double by Alexis Geich (Mary Star) but the Reds padded scored their final two runs in the eighth behind an RBI sacrifice fly by another Mary Star standout, Savanna Ramirez, and Peninsula's Ashley Hughes scoring on a wild pitch.
________
Nationals prove too much for H.P. Reds
By Joe Snyder
Sports Editor
For the Minor (ages 9-10) Little League Baseball Holly Park Reds, things looked good as they entered last Sunday's Carl Magee, Jr. District 37 Tournament of Champions Round I game against the host Westchester Nationals last Sunday at Carl Nielsen Youth Sports Complex.
The Nationals, though, made it look easy on the Reds as they needed five innings for a 13-3 mercy rule victory.
Westchester had total command in the entire game as pitchers, starter Conner King and reliever Casey Richardson combined for a four-hitter and allowed one earned run.
The Nationals had run-scoring doubles from Cooper Dolan, Kenny Ruiz and Anthony Temebary.
With the Nationals losing earlier in the tournament to their Westchester Little League rival Rockies, the two teams squared off, again, last Tuesday for the championship at Nielsen Park.
A week earlier at Holly Park, the Reds topped the Rockies 9-6. A home run from Joshua Johnson, one of his two in the tournament, highlighted the Reds.
Jamal Dean was the winning pitcher and Dean was expected to start on Tuesday. Holly Park started the tournament with wins of 16-4 over the Compton Devilrays on May 30 at Holly Park and 15-4 against the Westchester Yankees on May 31 at Del Rey. On June 2 at Nielsen Park, the Reds edged the Westchester Braves 7-6 before topping their rival Bluejays 2-1 a day later at Holly Park.
The District 37 All-Star Tournament in various Little Leagues begins on Saturday at various sites. For information, please log on at cad37.com.