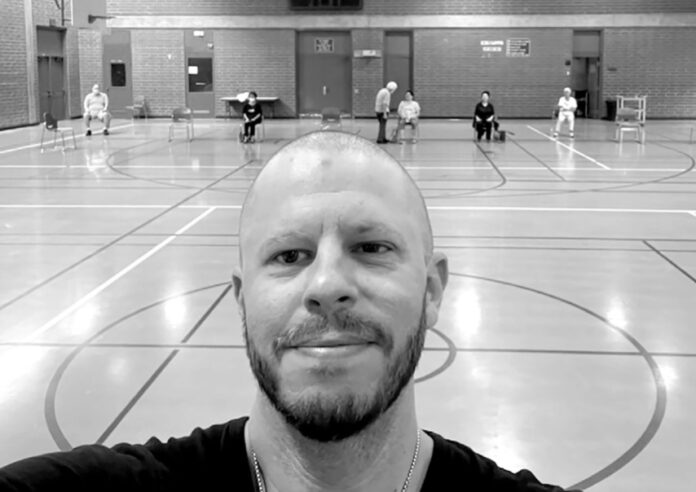 Gardena fitness program working out at Rush Gymnasium
By Gary Luster
After more than two years of being shut down due to COVID-19, the City of Gardena's Senior Exercise Class reopened on May 9 and is hosting exercise and fitness classes for seniors at Rush Gymnasium.
Every Monday, Tuesday, and Wednesday from 8:30 a.m. until 9:30 a.m., local seniors are welcome to train with Regan Reed, her son Jack, 42, and her friend Scott Kjos, 74, who help seniors stay in shape with cardio, leg workouts, core and back strength workouts, balance exercises, stretching, and utilization of proper breathing techniques. All three are former Los Angeles Unified School District instructors who operate under their LLC called OATH (Online Active Total Health).
Each class costs $5 (or $40 per month) and is one hour with a short 5-minute break halfway through. Read said her classes have various ages and levels of seniors with some who are very active and others who are more compromised. She said everybody is encouraged to go at his or her own pace.
During the height of the pandemic, although the senior adult exercise classes were closed to in-person gatherings, Read said that she and her team were conducting online exercise courses for the seniors. However, many of her seniors let her know that they much preferred the in-person experience.
"A lot of the seniors had been asking about when the classes would be starting again," Read said. "We tried to interest them during the time we were doing the online classes but most of them were not really interested in doing online classes. Most everybody was anxious to get back in person."
Prior to the pandemic, Read, 72, had between 120 and 150 seniors who would take her classes every week. However, last week Read said she had 24 seniors in the classes which she said is pretty good since most of her marketing and public- ity is word of mouth, flyers and special announcements at local community events.
"Basically we're just there trying to get people coming and hopefully at some point we can go back to five days a week," she said. "But right now we're just starting on the three days until we get a bigger class."
Read hopes that with the return of her senior exercise classes, her students, who have been shut-in for the past two years, will rekindle the friendships and feeling of togetherness that they experienced pre-pandemic.
"We're hoping to develop that sense of community because they hang out and they visit and talk and they're getting to know each other so that's kind of a great part of it just really developing that friendship," Read said. "Seniors, a lot of them, are very very lonely, especially those who lived alone during the pandemic and getting back out even if they can just do a minimum amount is still good. They're out of their house, they're active, doing something at whatever level they can function is just great."
Read and her team, in addition to teaching fitness, also try to educate their seniors about nutrition by bringing in various articles related to eating healthier that they could share and discuss with their students. Read said that this is part of a holistic approach to fitness that encompasses all aspects of healthy living.
"The very essence of being out, listening to music, exercising is also building your brain and your memory so it's all part of one thing, being social and connecting with people is a big part of your spiritual health, your physical health, your emotional health," Read said.
Read, who worked as a teacher in the Adult Education program at the Los Angeles Unified School District for 37 years, also teaches classes at Gardena's Japanese Cultural Institute, where she has been for more than 30 years.
According to the website of the GreenFields Continuing Care Community, a skilled nursing, rehabilitation, respite care, and outpatient therapy center in Lancaster, New York, seniors experience five benefits of regular exercise: preventing disease by improving overall immune function; improving mental health by the release of endorphins which act as a stress reliever; reducing the occurrence of falls due to improved strength and flexibility which helps to improve balance; improving social engagement which provides seniors with a sense of purpose and decreases feelings of loneliness; and improved cognitive function which lowers the risk of the onset of dementia.
Rush Gymnasium is located at 1651 West 162nd St. in Gardena. For more information on the senior exercise classes at Rush Gymnasium in Gardena, please call the Gardena Senior Citizen's Bureau at 310-217-9552.