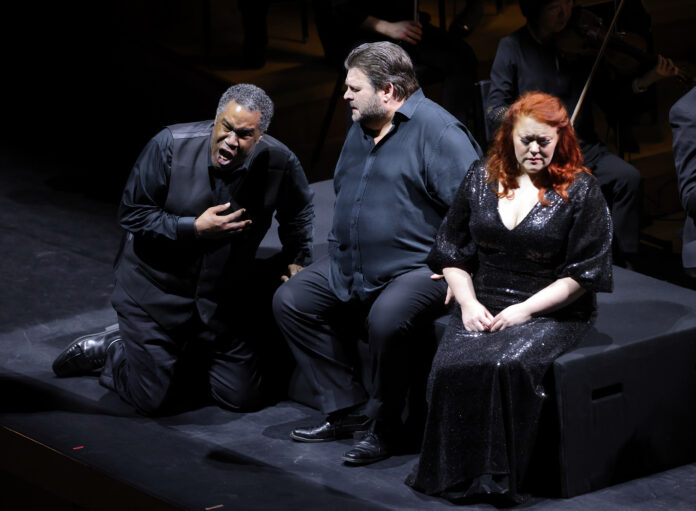 By Shari Barrett
THE TRISTAN PROJECT takes you inside the fiery passion of Wagner's revolutionary opera Tristan and Isolde, with the extraordinary acoustics inside the Walt Disney Concert Hall transporting you into the classic tale of another pair of star-crossed lovers. Brilliantly directed by Peter Sellars with imaginative, large-screen video designed by Bill Viola Studio, with the Los Angeles Philharmonic conducted by Gustavo Dudamel, who calls Tristan "his obsession" and invites you to dive headlong into the all-consuming love story at the Walt Disney Concert Hall for the first time.  
Matching Wagner's 19th-century desire to expand what opera could be with 21st-century innovation, Viola's and Sellars' staging explores the psychological, spiritual, and elemental subtext of the story. This rare opportunity to see the Tristan Project features a globally celebrated cast, headlined by Michael Weinius as Tristan and Miina-Liisa Värelä as Isolde. Wagner elicits their endless yearning that mirrors the tumultuous emotional worlds of not only Tristan and Isolde but the lives of others around them.
And trust me, this ingenious "surround-sound" production will transport you into realms of emotional depth within your own soul that will take you by surprise.
Wagner's opera, based on a medieval epic poem, explores the human condition through its characters unrequited love, beginning aboard a ship upon which Tristan is bringing Isolde from Ireland to Cornwall to be the bride of his mentor, King Marke (Eric Owens). But the trip takes longer than expected due to rough seas, during which Tristan and Isolde fall in love, fully expecting this sea voyage to be their last. Their longing for a perfect connection while battling suffering and loss is the foundation upon which the opera explodes. Inspired by their struggle, Viola's stunning visual art explores the spiritual lives happening beneath the surface where the flames of spiritual love cannot be extinguished. 
Other performers of note include Okka von der Damerau as Brangäne, Isolde's companion with healing powers whose duets with Värelä were always rapturously melodic; Ryan Speedo Green as Tristan's close friend Kurwenal; Robert Stahley as Melot, a knight in the service of King Marke and Tristan's dear friend before he betrays the lovers; Arnold Livingston Geis as the Shepherd, Ryan Wolfe as the Steersman; and members of the Los Angeles Master Chorale. Kudos to lighting designer Benjamin Zamora for highlighting the performers as they moved around within the many levels of the Walt Disney Concert Hall, and to executive producer Kira Perov for overseeing this magical production. 
To experience the full effect of THE TRISTAN PROJECT, make plans to attend this weekend on Thursday, 12/15 at 8pm for Act I; Friday, 12/16 at 8pm for Act II; and Saturday, 12/17 at 8 p.m. for Act III by purchasing tickets at https://www.laphil.com/events/performances/1818/2022-12-15/dudamel-leads-the-tristan-project-act-i Each act runs approximately 80 minutes without an intermission. The Walt Disney Concert Hall is located at 111 South Grand Ave., Los Angeles 90012. Please note: There may be street closures in the area, and no late seating will be available for these performances. Please plan to arrive early to also take advantage of pre-show discussions led by the production team. Face masks are not required but strongly recommended.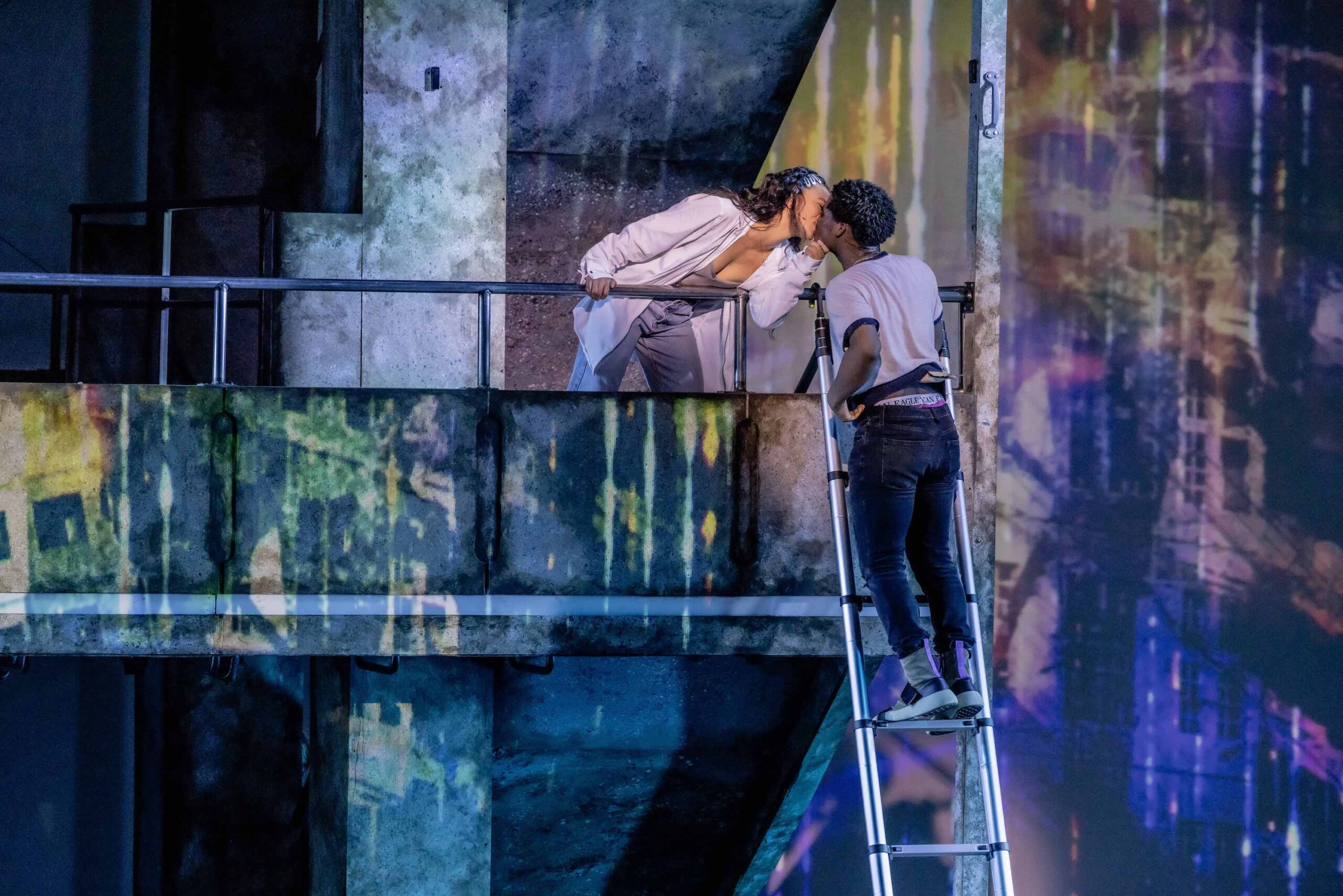 Singer-songwriter Pat Benatar and producer-musician Neil Giraldo were inducted into the Rock & Roll Hall of Fame in November. Their partnership, which combines her staggering vocals and take-no-prisoners attitude along with his trailblazing artistry as a guitarist, producer and songwriter, forged the undeniable chemistry and unique sound that created eternal rock hits including "Love Is A Battlefield," "We Belong," "Invincible," "Promises In The Dark," "We Live For Love," "Treat Me Right," and "Heartbreaker." Together, Benatar and Giraldo created two multi-platinum, five platinum, and three gold albums as well as 19 Top 40 hits, and have sold over 36 million records worldwide, winning an unprecedented four consecutive Grammy awards.
And now the Wallis Annenberg Center for the Performing Arts is presenting the World Premiere production of INVINCIBLE featuring the songs of Pat Benatar and Neil Giraldo, through December 18 in The Wallis' Bram Goldsmith Theater. This inventive jukebox musical weaves their legendary catalogue with inspired new songs throughout a reimagining of Shakespeare's Romeo and Juliet for the 21st century. Set in the modern, war-torn metropolis of Verona, the newly elected Chancellor Paris vows to destroy the progressive resistance led by the Montagues and return the city to its traditional roots exemplified by the Capulets. The star-crossed lovers' story, exploring how love and equality battle for survival in times of great transformation, envisions peace in this divided world via the steps necessary to hopefully achieve it.
Directed by Tiffany Nichole Greene with a book by Bradley Bredeweg, music direction and vocal arrangements by Jesse Vargas, arrangements by Jesse Vargas and Neil Giraldo, orchestrations by Neil Giraldo and Jesse Vargas, the cast features Khamary Rose as Romeo, Kay Sibal as Juliet, Sharon Leal as Madame Capulet, Dionne Gipson as Madame Montague, Brennin Hunt as Paris, Ari Notartomaso as Benvolio, Julia Harriman as Nura, Jon Patrick Walker as Friar, Aaron Alcaraz as Mercutio and Josh Strobl as Tybalt, supported by an incredibly energetic ensemble of 12 performers always ready for each big production number.
Benatar and Giraldo's rocking score is brilliantly performed to perfection by this astounding triple-threat group of belting singers, with songs matched to the emotional situations taking place. The hidden-from-sight yet always playing 8-piece band is conducted by keyboardist David Saul Lee. Triple level set piece designed by Arnel Sancianco is highlighted by projections designed by Yee Eun Nam to effectively create the illusion of many locations.
Wallis Annenberg Center for the Performing Arts is located at 9390 N. Santa Monica Blvd., Beverly Hills. To purchase single tickets ($39-$125), subscriptions and for more information, please call 310-746-4000 (Monday – Friday, 10 a.m. to 6 p.m.) or visit TheWallis.org/Invincible. Please note this production features haze and strobe lights, and some adult language and content. Recommended for ages 13+. Approximately one hour and 45 minutes, no intermission. Face masks are strongly recommended but not required.