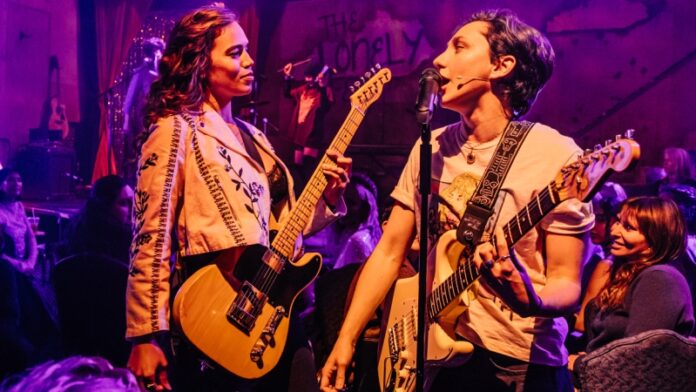 By Shari Barrett
The world premiere musical The Lonely Few with Book by Rachel Bonds, Music & Lyrics by Zoe Sarnak, directed by Trip Cullman and Ellenore Scott continues at the Geffen Playhouse through April 30. Produced in Association with FourthWall Theatrical, the rock show/concert taking place in the smaller Audrey Skirball Kenis Theater, brilliantly transformed by scenic designer Sibyl Wickersheimer into a rural Kentucky local bar with a stage performance area, features Joshua Close, Damon Daunno, Lauren Patten, Ciara Renée, Helen J Shen and Thomas Silcott as small town loners who team up as a country-blues-rock-grunge band that goes out on tour together, hoping to make their mark in Nashville.  
At the center of the story is Lila (Lauren Patten, an incredible rocker/entertainer) who is getting by in her Kentucky hometown by scanning groceries at the Save-A-Lot while caring for her erratic brother, Adam (Joshua Close). But Lila lives for Friday nights, when she plays a gig with her band The Lonely Few at the local dive bar. And that's enough for her. Or so she thought, until Amy (showstopping belter Ciara Renée), an established musician ragged from the road, passes through town and offers her a shot at something much, much bigger, both personally and professionally. But is Lila ready for the life she never dared to imagine?
Also along for the ride are the other members of The Lonely Few, bass player Dylan (Damon Daunno) Lila's boss at the Save-A-Lot who is struggling to accept his upcoming fatherhood, keyboardist JJ (Helen J Shen) who looks to Amy to further her own songwriting career, and the drummer Paul (Thomas Silcott) who owns the local bar but is willing to finally go after his chance at stardom by following Lila's lead. But will his past involvement in Amy's life set up a roadblock to the group's success on the road?
Intimacy Director Sasha Nicolle Smith is to be commended for allowing Lila and Amy to explore their budding sexual relationship in an authentic way, with actors Patten and Renée realistically expressing the characters' desires and fears with each other, both physically and emotionally, in ways universal to any couple getting to know each other while life's distractions seem to be pulling them apart. 
Adding to the mystic of a new local band out on tour are costumes designed by Samantha C. Jones and rock show lighting designed by Adam Honoré which took me back to memories of attending local venues on the Sunset Strip in the early glory days of rock and roll. Music Director Myrna Conn conducts the four-piece band skillfully hidden within the stage design whose members occasionally appear onstage with The Lonely Few while appearing in different small cities throughout the South. The rockin' score had me ready to get up and dance, had I been given the opportunity to do so!
The Lonely Few run time is 2 hours and 15 minutes, including one intermission. Be advised there is loud music, herbal cigarette smoke, strobe lighting effects and theatrical haze and smoke effects. This production contains adult language, adult intimate content, and alcohol and drug content. The production is recommended for audiences 12+; children under 6 years of age will not be admitted. Masks are no longer required for most performances, but are encouraged. Tickets at https://www.geffenplayhouse.org/ start at $59 and are selling out quickly, so get yours ASAP!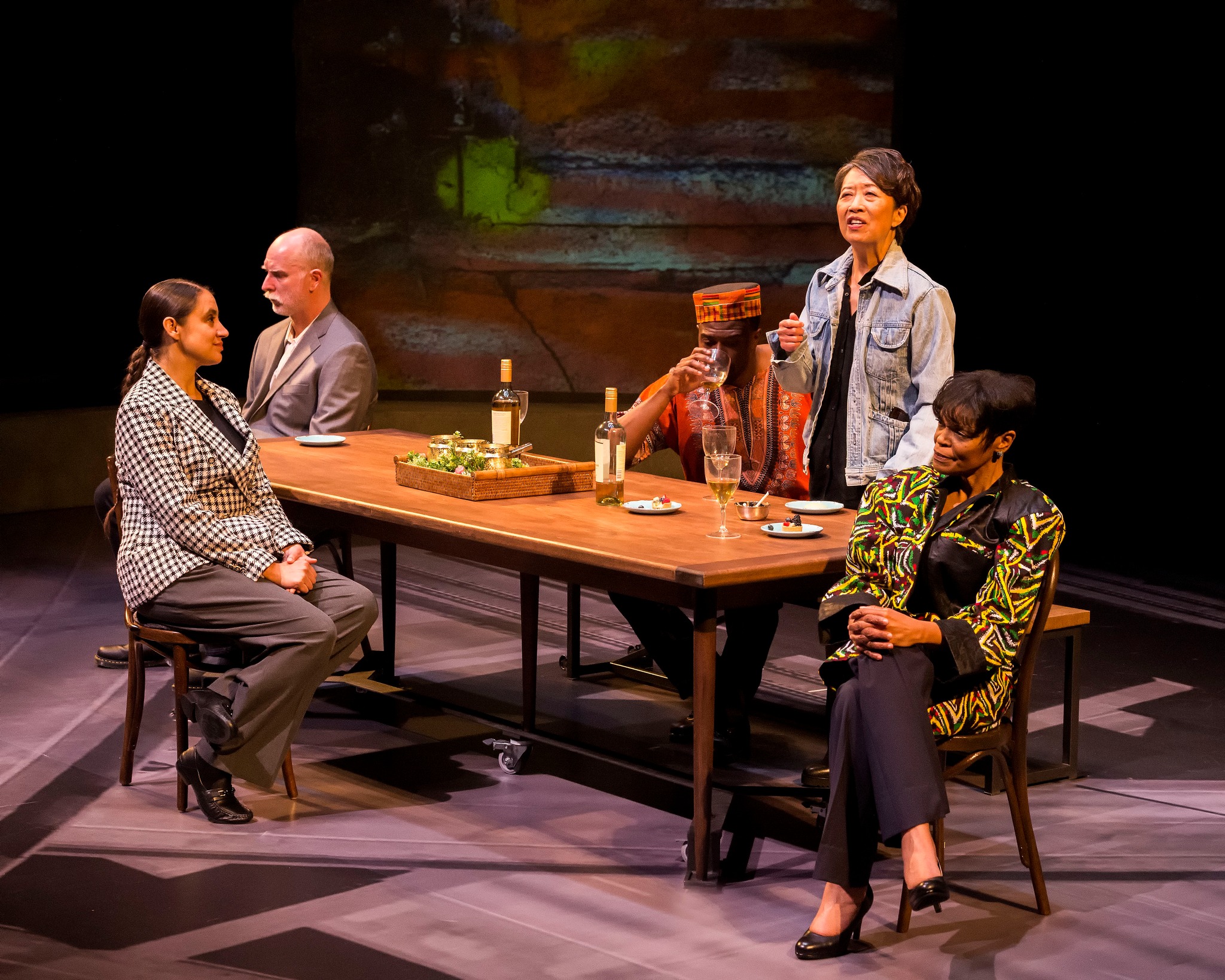 Center Theatre Group is presenting the 30th anniversary production of Twilight: Los Angeles, 1992 through April 9 in its original home, the Mark Taper Forum, with a multi-talented diverse ensemble cast directed by Gregg T. Daniel, assisted by an all-local design team. After the initial sold-out run here in May 1993, many successful revisions of the play included a Broadway run and two Tony nominations; a national tour mounted at the Berkeley Repertory Theatre; a film produced by playwright Anna Deavere Smith and others in partnership with PBS; and the most recent reconceptualized production for five actors at the Signature Theatre in New York, the version now playing here.
Twilight: Los Angeles, 1992 draws on 320 interviews with politicians, activists, police, jurors, shopkeepers, and countless other Los Angelenos to explore the uprising sparked by the acquittal of the men charged in the Rodney King police brutality case. Through the words of these real people, Smith delves into the long-simmering tensions that set the stage for the L.A. Riots and explores the immediate impact on individual Angelenos and the community as a whole. And as an L.A. native who vividly remembers looking out my high-rise office window at the columns of smoke rising along streets heading north from South Central, I can verify just how terrifying and unsettling that time was.
Director Gregg T. Daniel shares, "My goal in the casting process was to build an ensemble of excellent local actors who could bring the people, stories, and cultures represented in the play to vivid life, using both their lived experience and artistic skill." To that end, the brilliant ensemble cast includes Hugo Armstrong, Lovensky Jean-Baptiste, Lisa Reneé Pitts, Jeanne Sakata, and Sabina Zúñiga Varela, with each sharing the personal recollections of witnesses of all genders, ages, abilities, perspectives, and cultures. And when all five are seated around an imaginary dinner table where the banter reveals some of the deepest fears and regrets of their characters, I guarantee your eyes will be opened to many behind-the-scenes struggles and triumphs thanks to Anna Deavere Smith expertly blending the personal stories from all sides and walks of life into a spellbinding two hours.
Kudos to the Southern California-based creatives, including Efren Delgadillo Jr. (scenic design), Samantha C. Jones (costume design), Brandon Baruch (lighting design), Jeff Gardner (sound design), Tru (original music), Yee Eun Nam (projection design), Stephen Buescher (movement), and Erin Nicole Washington (dialect coach) whose artistic endeavors added to the remarkable retelling of some very dark days in our city's history.
Tickets for Twilight: Los Angeles, 1992 start at $35, available through CenterTheatreGroup.org, Audience Services at (213) 628-2772 or in person at the Center Theatre Group Box Offices (at the Ahmanson Theatre) at The Music Center, 135 N. Grand Ave. in Downtown L.A. 90012. Performances run through April 9 on Tuesday through Friday at 8 p.m., Saturday at 2:30 p.m. and 8 p.m., and Sunday at 1 p.m. and 6:30 p.m. Masks are not required but highly recommended indoors.