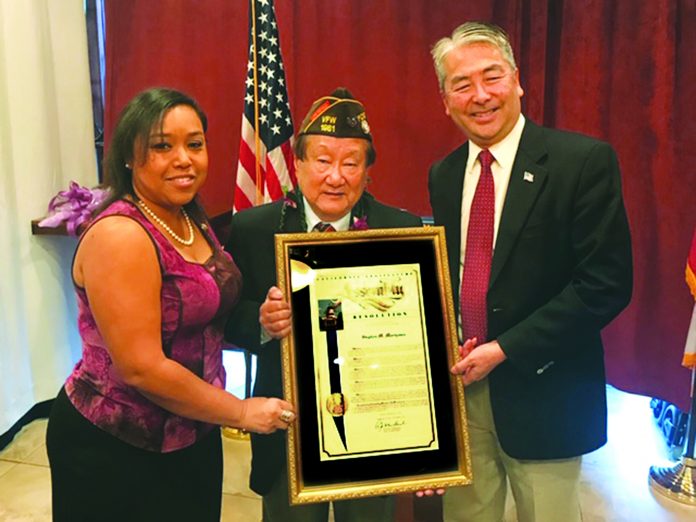 By Gary Kohatsu
American military heroes don't often perform amazing feats on the battlefields. They are heroes by the simple act of serving (or having served) this country through one of the military branches.
Steve Moriyama is a leader by example. He will tell you a quiet story of his journey in the military, through life and the experiences beyond.
For the record, he is the commander of Veterans of Foreign Wars, Nisei Post 1961, a position he has assumed since 2010. Going back further, Moriyama said he has been an active member of Post 1961, which meets at the Gardena Valley Japanese Cultural Institute, since the '70s.
Today, he is also involved with the Dept. of California 4thDistrict VFW, of which Nisei Post 1961 is a member.
"It has been a very rewarding 10 years since I was elected (post commander)," Moriyama told the GVN in an email interview. "It has involved interacting with leaders of our community, and a couple of state and national elected officials. But most important, I've had the honor to interact with veterans from several 'wars,' from all branches of service, and from all walks of life."
The military has been a part of his life one way or another, even before he came into this world.
Born in Honolulu and raised on the island of Oahu, Ha., Moriyama said his parents Masaru and Alice Moriyama managed to avoid being interred during World War II, after the Pearl Harbor bombing by the Japanese.
They were spared incarceration, thanks to a photo, he said.
"I was told the FBI came to our house in Waiahole Valley (Oahu) to talk to my grandparents (in December 1941)," Moriyama said. "Grandpa was a scholar and transcriber for the neighborhood. On the day and evening after the attack on Pearl Harbor, all of my aunts and uncles living in the 'compound' gathered all of grandpa's writings, documents, certificates, memorabilia (and) took them out to the field in back of the house and buried them. They remain there till today. Somewhere in the rain forest of Hawaii."
Moriyama continued, "While the FBI agents were talking with grandpa and trying to decide whether to arrest the whole family, they noticed a photograph of Uncle Ralph, my oldest uncle in his army uniform.  That photograph helped the family from being picked up and interred."
Growing up in Waiahole Valley (Oahu), Moriyama said he was exposed to a lot of Japanese culture, as his grandparents, aunts and uncles were consistently interacting with their island neighbors.
"Moving to Kaimuki (also on Oahu island) changed the demographics as we lived among Japanese, Chinese, Portuguese, Hawaiian, and several white families," Moriyama said.
He said that when a hapa couple (Caucasian and Japanese) moved in as neighbors, they had a profound impact on his life.
"They 'adopted' me and through (the husband) Sgt. Smith, "Smitty," I became acquainted with the military way of life as I used to go swimming in the enlisted pool, went to the post movie theater helping him run the projectors and learned a lot about electronics from him," he said.
As with most boys in Hawaii, Moriyama enjoyed fishing and flying balsa wood planes. In junior high, he learned to play the trumpet and became proficient enough to perform with the school's intermediate and advanced bands. Competition was stiff, he noted.
Though his neighbor Smitty, Moriyama developed an interest in electronics and went on to get a general amateur radio operator license. The amateur radio operation was the 1950s version of the internet.
"(Operating a radio) enabled me to interact with teenagers from around Hawaii, as well and as holding conversations with others around the world," he said with a smile. "We were asked to join the Civil Defense organization through the radio club and so became involved whenever a drill was called."
Moriyama said the fascinating aspect to the Civil Defense drill was going into the Diamond Head crater, inside a WWII tunnel that would become the hub of communications throughout Hawaii and the world.  He said the tunnel was "stocked with food, water, first-aid supplies, as well as high-end radio equipment. It was a huge privilege to serve in that way. We were also taught first aid just in case."
At Kalani High, Moriyama and a friend developed a reputation as the audio-visual go-to-guys. They were called to action whenever the school's PA system was employed.
"We had a sort of get out-of-class card," he said. "It also allowed us front row seats on the field at the Honolulu Stadium with the (football) teams, as we would be setting the PA system for the cheer squad before the game. It was great."
His PA skills also got Moriyama and his friend a get out-of-dance pass, so they could handle the spotlights at their Senior Prom.
"Instead of dancing on the floor with the rest of the students, we were in the control room, running the PA system and the flood lights," he said. "Till today, I don't know how we got there since I would think one would need a license to operate that type of equipment in the Hilton Hawaiian Dome, as it was called then."
His military career began in 1962, while a freshman at the University of Hawaii. Moriyama joined the USAF ROTC program, in which he had to assemble on the field at 6 a.m., twice a week for drill training. He also studied military theory twice a week, along with officer training.
"It turns out I was too short to be an officer," Moriyama said. "Therefore, was not able to take the advanced ROTC program, which would have culminated in being a 2ndlieutenant in the USAF upon graduation."
In 1966, Moriyama enlisted in the U.S. Air Force and went through basic training at Lackland Air Force Base in San Antonio, Texas. He said he received further training in aerial reconnaissance equipment at Lowry AFB in Denver, Colo.
"My dad did have a very strong Sansei belief system and his family meant everything to him," Moriyama said. "I remember when I was getting ready to board the C141 to Travis AFB and Lackland, he pulled me aside and told me to be as wild as I wanted, 'but do not ever bring disgrace to our family.' Wow. What an admonition!"
His first duty station was Bergstrom AFB, in Austin, Texas. There he received on-the-job training on the sensors mounted in the RF-4C.  He said he learned how to troubleshoot and repair the infrared system.
Moriyama said that after a year of training, his squadron of RF-4Cs, pilots, maintenance personnel and support equipment deployed from Bergstrom AFB to Udorn Royal Thai AFB in Udorn Thailand.
"Our mission was to provide reconnaissance of all enemy activity in North Vietnam and especially their movement on the Ho Chi Minn trail from North Vietnam into South Vietnam," Moriyama explained.  "After a year at Udorn RTAFB, I returned to Bergstrom to help train the incoming troops on the infrared and optical systems before they left for the Southeast Asia Theater of operation.
In 1970, he separated from the Air Force and was honorably discharged in 1972. Moriyama majored at UoH in business administration, before joining the Air Force in 1966. He later earned a bachelor of science degree in Business Administration, Accounting from Cal State University of Long Beach.
He worked full-time at H.W. Hull & Sons, Inc., which started as a wood furniture parts manufacturer, before evolving into a manufacturer of entire pieces of furniture, Moriyama said.
Steve worked for the furniture company until 2008, when he gained employment with the Los Angeles Opera Co., until his retirement in 2013.
Moriyama's primary support system over the years has come from wife Linda. The two met at a social event in 1964, while they were students at the University of Hawaii. They married in January 1969 and after Steve's military duties were done, the couple settled in Torrance, where they continue to live today.
The couple has two children, son Stephen and daughter Shaun, and 4 grandchildren.
Moriyama said his wife has regularly been involved with Nisei VFW activities.
"For two years, we've had an annual huli huli chicken fundraiser at the GVJCI," he said. "The irreplaceable volunteer staff behind the fundraiser are all members of (Linda's) family and her extended family. In fact it has become a "family" project where everyone is having a good time while helping the Nisei VFW Post stay financially sound."
In 2018, Moriyama received the Veteran of the Year honors from Assemblyman Al Muratsuchi. That same year, he assisted in bringing the "Wall That Heals," a replica of the Vietnam Memorial Wall, to the city of Gardena. The latter event was sponsored by Rep Maxine Waters and organized by her special projects director, Hamilton Cloud.
Steve continues to lead the Nisei VFW, but says that while Post 1961 has absorbed three other Nisei posts, membership is dwindling due to attrition. Today, the post is down to 500-plus members, from 700-plus a few years ago, he said.
"My reason for continuing to serve in this capacity and whatever capacity comes in the future is to pay back to my brothers and sisters who did not make it home from the battlefield, and, others who made it back and are still struggling with their experiences of war," Moriyama said.
"My experiences, though traumatic, at the time, pales to what others have suffered through," he added. "Hopefully, I will be able to continue to hold the Nisei Post 1961 together into the future and will be of help to other VFW posts in our district."