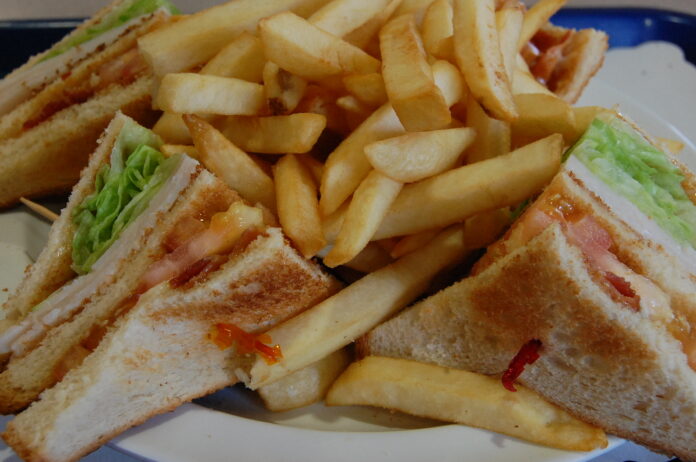 By Brett Callwood
Yorgo's Burgers is the sort of place that you find all over this region and indeed the country. A diner that serves breakfast fresh from the griddle, burgers, fries, dogs, chicken strips and, thanks to the Greek connection, gyros. It's an American classic. But that said, the quality in these places can vary dramatically.
The exterior is very basic and unassuming. Their Facebook bio is similar, stating "Yorgos Burgers serves great food done fast. We've got delicious diner food and serve breakfast." Yup, that just about nails it.
So what separates Yorgo's Burgers from the extensive pack? Well, it's not entirely unique but it's notable that the kitchen is open, so the customers can see the action happening. When the food is being served fast, that might be reassuring to some. 
The menu is extensive and impressive. Nine flavors of milkshake, including pineapple, caramel, and Oreo is tempting and the $4.39 price isn't quite up there at Pulp Fiction "$5 shake" levels.
There are ten burgers on the menu, from the Jr. Burger (for kids though plenty of online reviews suggest that it's enough for grown ups too), through the basic ¼ lb Burger, up to the premium Colossal Burger and Jimmy's Stuffed Burger. There's a Garden Burger for vegetarians, which is a pleasant option. Alternatively, you can get a patty on a Patty Melt sandwich. And yes, there are a ton of sandwich choices too. The menu can take some time to fully soak in.
We had a hankering for some post-holiday bacon, so we opted for the Club Sandwich and upgraded to a meal. Because we were dining in during the week, fountain drinks could be refilled which is nice.
The sandwich itself was a perfect club sandwich. The bread was toasted to a crisp but not overly browned. The lettuce and tomato, so often soggy at diners, was fresh and crisp. The lettuce in particular still had its bounce – it wasn't flat and wet. The deli turkey tasted like it had just been carved, and the super-important bacon was perfectly crisped. It had that "snap" that you need when biting into bacon.
The combo meal comes with a drink and fries, and the fries are just on the right side of greasy. They might in fact be a touch too greasy for some, but that's subjective and this is a diner. They're crispy and delicious, and that's all we could ask for.
Overall, Yorgo's Burgers is one of the better diners that we went to over the past 12 months.
Yorgo's Burgers is located at 17325 S. Western Ave., Gardena 90247. Call 310-324-7200.