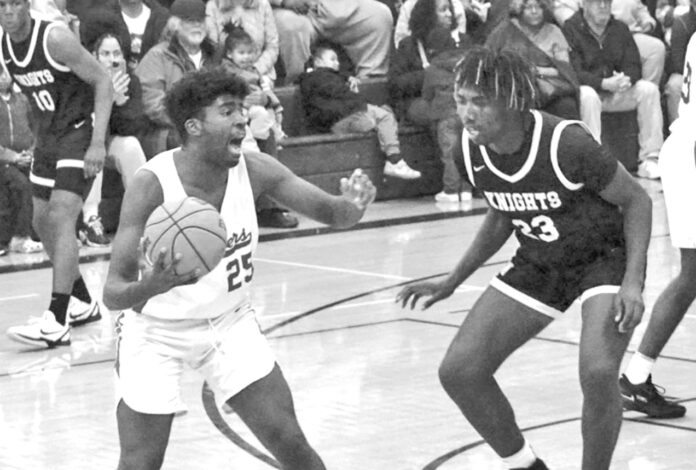 By Joe Snyder
Serra High's boys' basketball team is still winless in the Del Rey League at 0-5 after an 80- 50 home loss to powerful Bishop Montgomery High from Torrance last Friday.
The Cavaliers, though, played hard as they trailed by just eight points (35-27) at halftime. The Knights, who are 23-1 overall and 5-0 in Del Rey action, proved overwhelming through most of the second half that included outscoring Serra 24-4 in the third quarter to balloon their lead to 59-31. In the fourth period, Bishop Montgomery led by as many as 39 points (72-33 midway in the quarter) before clearing the bench.
Serra managed to outscore the Knights 17-8 against their reserves.
"We haven't had our full team all year," Serra head coach Bernard McCrumby said. "There were injuries and other issues. We're playing hard. Their (Bishop Montgomery) physicalness wore us down. We're young but we're working hard to improve."
Despite the lopsided loss, the Cavaliers, who fell to 9-15 overall, had a game-high 28 points by Kayleb Hearst. Hearst had six three-point baskets. He was Serra's only player to score in double figures. Its second leading scorer was Kye Usher with nine points, all in the first half, and Andre Brown with six points, all in the second half.
Leading the Knights was Christian Jones with 25 points, followed by Xavier Edmonds with 20. La Qwon Cole, who transferred to Bishop Montgomery from Serra prior to this season, finished with eight points.
On Jan. 16 at Serra, the Cavaliers fell on its Martin Luther King, Jr. non-league showcase to Oakwood Academy from North Hollywood 75-69.
Bishop Montgomery is currently ranked fifth in the CIF-Southern Section Division I and sixth in California, by Maxpreps.
"We're trying to get better," Bishop Montgomery head coach Doug Mitchell said. "We're trying to make more decisions."
After visiting St. Anthony in Long Beach on Wednesday, the Cavaliers are at home against another top contender, St. Bernard from Playa del Rey, Friday at 7 p.m. before closing league at St. Paul in Santa Fe Springs Monday at the same time.
The Knights host St. Anthony Friday before their league showdown at St. Bernard next Monday. Both Del Rey games start at 7 p.m.
North in first place in Pioneer Play after outlasting Torrance
North Torrance High's boys' basketball team is atop the Pioneer League with a 6-1 record after a thrilling 65-58 overtime win over crosstown rival Torrance last Friday at North.
The Saxons, who improved to 19-4 overall, led 26-21 at half- time but saw the Tartars outscore them 18-8 in the third quarter for a five-point (39-34) lead.
North outscored Torrance 21-16 in the fourth period to knot the game at 55, sending it into the extra four-minute period. The Saxons used a strong defense to outscore the Tartars (11-13, 3-3) 10-3 in overtime.
Earlier last week, North re- corded an impressive 47-40 Mar- tin Luther King, Jr. Day win over Anaheim Servite, then resumed league with a 47-26 win at El Segundo on Jan. 18.
After hosting another crosstown rival South Torrance last Monday and Lawndale on Wednesday, the Saxons are at home against Wiseburn-Da Vinci
from El Segundo next Tuesday before closing Pioneer action at West Torrance next Thursday.
The Warriors (4-2 in league) are currently in second place behind North. Both league games begin at 7 p.m.
Gardena split its two Marine League games last week. On Jan. 18 at San Pedro, the Pirates downed the Panthers 62-46. Last Friday at Banning High in Wilmington, Gardena rolled over thePilots 77-41.
The Panthers hosted Rancho Dominguez Prep from Long Beach in seek of a revenge from an earlier 56-46 loss to the host Lobos on Wednesday.
GHS is at Carson on Friday and will look for another revenge as it visits league leading Narbonne in Harbor City next Wednesday. The Panthers lost their home game to the Gauchos 53-45. All Marine games start at 4:30 p.m.
Lady Saxons keep pace with wins over El Seg., Torrance
North Torrance High's girls' basketball team is currently in second place (one game behind cross town rival West Torrance) after wins over El Segundo and Torrance last week.
On Jan. 18 at El Segundo, the Lady Saxons crushed the Eagles 57-16. Last Thursday at North, the Saxons defeated the Tartars 51-41.
Against Torrance, Reese Noa led North with 13 points and 13 rebounds. Kate Eguchi added 10 points and 12 rebounds.
The Lady Saxons are 11-6 overall and 5-1 in the Pioneer League. After hosting Lawndale on Wednesday, North is at home against El Segundo Wiseburn-Da Vinci on Tuesday before closing league with a showdown at West next Thursday. Both league games begin at 5:30 p.m.
Serra's young team continued to struggle in the Del Rey League after a 71-24 home loss to Torrance Bishop Montgomery on Jan. 17.
The Lady Cavaliers fell to 0-4 in league and 2-18 overall entering last Tuesday's contest at home against Long Beach St. Anthony.
Serra visits St. Paul in Santa Fe Springs today before coming home to take on Pasadena La Salle next Tuesday. The Cavaliers close their season at BishopMontgomery next Thursday. All league games start at 7 p.m.
Gardena High's girls' basketball team fell to 1-5 in the Marine League after losing at home against league leading San Pedro 63-34 on Jan. 18 and against Wilmington Banning 31-27 last Friday.
The Lady Panthers, who are 3-11 overall, visited Rancho Dominguez Prep in Long Beach Wednesday and come home to face Carson Friday at 4:30 p.m. Gardena, then, is at home against Narbonne next Wednesday at 3:30 p.m. before closing Marine action at San Pedro on Feb. 3 at 4:30 p.m.