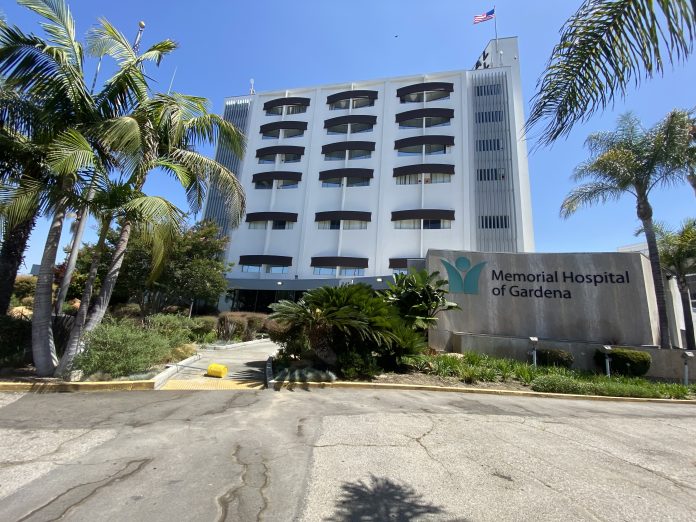 Seven COVID-19 patients within 18-40 age group treated at the MHG emergency room
By Ronald Penh
LA County has witnessed a spike in COVID-19 cases, in which almost 50 percent of new cases are among younger people with the most significant increase shown in the group of 18-40 year olds, according to the LA County Public Health Department.
In light of these recent statistics, seven patients within the 18-40 year old age group were treated at the Memorial Hospital of Gardena emergency room for COVID-19 from Thursday, July 2 to Sunday, July 5.
Each patient was treated, tested, and released the same day they went to the emergency room. They showed symptoms such as fever, shortness of breath, and minor body aches.  They were given protocol advice to self-quarantine as they awaited testing results. Within two days of each patient's visit, they were all confirmed to have COVID-19.
The youngest patient was a 25 year old female from Los Angeles, while the oldest one was a 38 year old female from Hawthorne, according to information from infection control director at the Memorial Hospital of Gardena Ravi Pallipamu. The other patients were a 26 year old male from Torrance, a 26 year old female from Los Angeles, a 30 year old male from Carson, a 31 year old female from Los Angeles, and a 32 year old male from Gardena.
"Social distancing is not just for older people with medical problems," Pallipamu said. "Everybody can get sick from COVID-19. The majority of younger people will get better without treatment. It's your grandparents that are the ones that are going to suffer and maybe end up in the ICU and possibly die."
Although younger people exhibit higher recovery rates, the ramifications are seen in the scenario that the virus is passed onto populations that are more vulnerable to the disease such as those that are 65 years or older or have underlying medical conditions.
The overall spike in COVID-19 cases aligns with the reopening of non-essential businesses such as bars, gyms, and movie theaters on June 19.
The impact of these reopenings were seen almost immediately as a three week ban was set on indoor restaurants, bars, wineries, entertainment centers, movie theaters, zoos, museums, and card rooms just before the July 4th weekend as a result of rising COVID-19 cases.
LA county beaches also closed for the 4th of July weekend in fears of massive crowd gatherings, in which they opened up the following Monday morning.
"Currently, about one and 140 people in Los Angeles county are currently infectious," Pallipamu said.
"Last week, the estimate was one in 400. If we want to decrease the rate of new infections, we all must continue using social distancing, face coverings in public, and quarantining and self-isolation when sick."
Hospitalizations for individuals between 18 and 40 years old have also increased from a little over 10% of hospitalized cases in April to about 25% in July, according to the LA Public Health Department.
"Our ability to follow the most basic infection control and distancing directives reduces serious illness, and even death of the people we love, and the death of those loved by others," LA Public Health director Barbara Ferrer said in a press release. "What we do now determines where we are in three to four weeks. The sooner we all recommit to taking care of each other, the sooner we create a new normal, where we get back to work, school, and our friends and extended family."