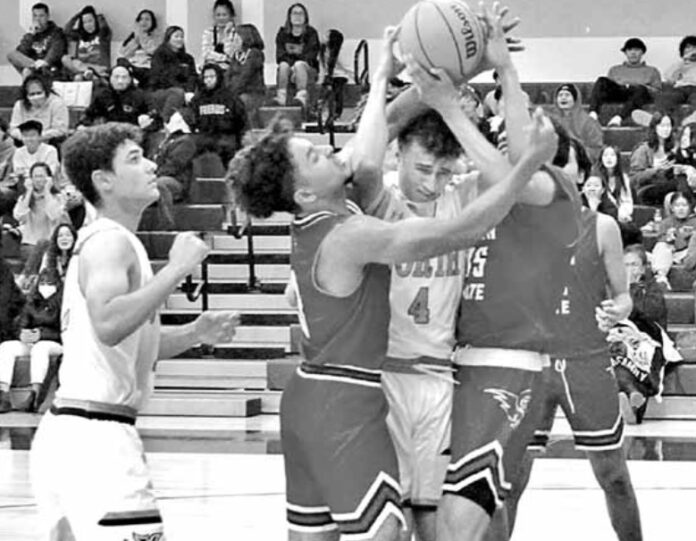 By Joe Snyder
North Torrance High's boys' basketball team began its 2022- 23 season on a good note with a 55-43 non-league home win over South Gate High last Friday.
The Saxons led throughout virtually the entire game. They led 31-25 at halftime and 42-34 after three quarters.
North was led by Elliot Langston with a game-high 18 points, Kai Bradley added 13 points including three three-points baskets and fell about .1 second shy of another one as a half-court basket barely missed the buzzer. Bradley's two fourth- period threes helped the Saxons pull away from the Rams, who brought North's lead to five points on a couple of occasions.
Diego Coba led South Gate with 11 points.
The Saxons are head coached by Wai Sett, who hired former longtime Westchester High head boys' basketball coach Ed Azzam Sr., along with his son and former North head coach and play- er Ed Jr. on his staff.
"Ed is a great mentor to me," Sett said. "I am fortunate to have him. We have a lot of players on our roster and we are looking to contend for the Pioneer League title. Right now, West appears to be the favorite. They have good talent."
Ed Azzam Sr. was head coach at Westchester High for 42 seasons, from 1979 to 2021. He guided the Comets to six CIF- State championships and 15 CIF-Los Angeles City Section championships. He had a few players, including former Los Angeles Laker Trevor Ariza and Dwayne Polee, move on to play in the National Basketball Association. Azzam Sr. graduated from Gardena High in 1972 and Ed, Jr. played basketball for North, where he graduated in 2003.
North is currently playing in the San Gabriel Valley Thanksgiving Classic where it opened against last season's CIF-Southern Section Division VA champion Fontana High last Monday. North played La Puente on Tuesday and will face Rowland on Friday at 7:30 p.m. The final is on Saturday. The Saxons host St. Pius X-St. Matthias Academy in a non-league game next Wednesday at 7 p.m.