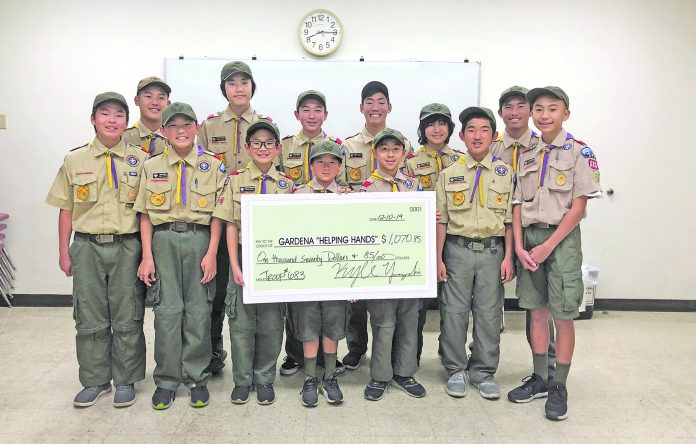 Early deadlines by the GVN last week kept the newspaper from receiving all donations for publication.
One donation we are posting for the week is $1,070.85 by the Boy Scout Troop No. 683. The Scouts also donated more than 880 pounds of food to the Helping Hands holiday drive for the needy.
The unofficial total for the season is $8,945.85.
"Helping Hands allows individuals and families who experience financial hardships to access food vouchers and toys for the holiday season," a city official said. "The holiday food and toy drive brings the gift of giving and unity — along with a bundle of holiday gifts — to families in Gardena."
Since 1981, Helping Hands has brightened the holidays for any families in Gardena.
Groups and individuals can assist with food, new unwrapped toys or monetary donations by dropping them off or mailing them to the Human Services Division.
"Become a holiday hero and contribute to Helping Hands now through December, with new unwrapped toys or monetary donations."
Checks should be made to "Helping Hands" and can be sent to or dropped off at:
City of Gardena
Human Services Division
c/o Helping Hands
1651 W. 162nd St., Gardena, CA 90247
_____________
City Hall
1700 W. 162nd St., Gardena, CA 90247
__________
Nakaoka Community Center
1670 W. 162nd St., Gardena, CA 90247
For a great cause
Now in its 38th year, Gardena's holiday food drive will benefit more than 400 needy families in the community and will serve more than 1,700 people with grocery vouchers and gifts for the kids.
Sponsored by the city of Gardena in cooperation with the Gardena Valley News, the holiday food drive began in 1981 as a food basket giveaway to Gardena's less fortunate.
In recent years, food vouchers to area grocery stores have replaced food baskets, which provides families with a greater selection of food items, including dietary and ethnic items.
Last year, Helping Hands received palettes of canned foods from various groups for the holiday.
The city of Gardena provides all staffing in the Hands drive and all monetary contributions go toward the holiday fund-raiser and the year-round food pantry. No money is used for administrative costs.
As in the past, the Gardena Valley News will publish a list of contributors, with a weekly update of new donors. For more information about Helping Hands, call 310-217-9574.
Contact
To learn more about the event, please contact:
Human Services Division
1651 West 162nd St.,
Gardena, CA 90247
Phone: 310-217-9574
E-mail: helpinghands@cityofgardena.org
Season's Total (Unofficial)             $8,945.85
WEEKLY DONATIONS
Dec. 19
Boy Scout Troop No. 683      $1,075.85
Dec. 12
Elks Lodge 1919          $4,000 in Ralphs/ Food 4 Less Gift Cards
Tommy Murakoshi       $200
Denny Ward                 $200 (and 46 toys)
Anonymous         $100
Gardena Valley Friends of the Library     $100
Anonymous         $100
Hisahi Nakada    $25
Monthly Total      $4,625
Dec. 5
First Southern Baptist Church        $500
Italian Catholic Federation–St. Anthony of Padua Branch No. 237       $500
Dolores Doll-Sales       $100
Doreen Wananbe         $100
Harold T. Kobata $50
Total          $1,250 
Nov. 28
June Eicker         $150
Evelyn B. Nall, In Memory of Norma Nall $150
Gardena Valley Affiliated Committee on Aging $100
LaVerne Knight   $100
Total          $500
Nov. 21
Community of Christ             $1,000
Anonymous         $300
Brain and Joyce Gohata "In Memory of Tom and Jan Gohata"    $200
Total          $1,500
Toys  
Kushigemachi Family
Food
Multiple Food-Drive Donations
Harbor Distribution Co. 1,281 lbs. 15oz.
156thStreet Elementary School and GPD Officer Luis Villanueva      959 lbs. 2oz
Impresa Aerospace  193 lbs 4oz.
Boy Scout Troop 683 883 lbs 3oz.
St. Anthony of Padua 136 lbs. 5oz.
Ducommon Aerostructures 139 lbs 7oz
Gardena Youth Commission 58 lbs 7oz
2023 Royal Blue Amigos Unidos Picture donated 253 lbs, 11oz
Gardena Buddhist Church- Pack 1230 donated 301 lbs, 8oz.