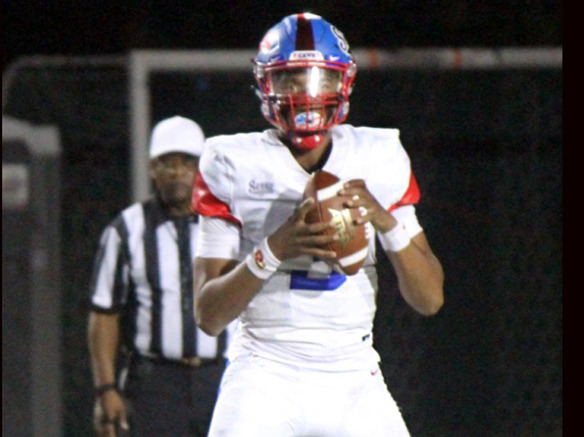 Junior quarterback Doug Brumfield attempted 48 passes with his first one being a large mistake but the final two looming big as Serra High's football team rallied for a 29-25 win over Long Beach Poly last Friday at Long Beach Veterans Memorial Stadium.
Things started jittery for Brumfield. His first pass ended up in the hands of Jackrabbit cornerback Kenyon Reed, who returned 30 yards for the touchdown giving Poly an early 6-0 lead.
However, with Poly leading 25-20 and the Cavaliers being faced with a fourth down and 15 at the Jackrabbit 44-yard line, Brumfield found wide receiver Ronald Gilliam for a 33-yard pass giving the Cavaliers the ball at the Poly 11. Two plays later, Brumfield hit a wide open Melquan Stovall in the end zone for the winning TD with 2:22 left in the game.
The Jackrabbits, who fell to 2-2, went on to lead 19-0 early in the second quarter behind two TDs by DeAngelo Chester, one on a 3-yard run and the other on a 1-yarder and things looked bleed for Serra, which split its first two away games defeating San Mateo Serra at Mountain View St. Francis (located near San Francisco) and falling to Cathedral Catholic in San Diego. Poly, behind its large offensive line, was able to use an effective ground game.
From there, Brumfield and Company went to work. It started when he found wide receiver Justin Lockhart in the end zone from 20 yards out cutting Poly's lead to 19-7.
Serra drove, again, making it to the Jackrabbit 5 where kicker Jalen Mathis connected on a 22-yard field goal.
The Cavalier defense, then, did its job when defensive back Justin Pinkney picked off a pass from Poly quarterback C.J. Montes and returned the ball 30 yards for the touchdown and Serra was within two points with 3:59 remaining in the second period.
Toward halftime, Serra took its first lead at 20-19 on a 24-yard field goal from Mathis.
Both teams played a scoreless third quarter but a fumbled punt by the Cavaliers' Macen Williams gave Poly the ball at the Serra 5. The Jackrabbits lost a yard but Anthony Parker gave Poly the lead on his 6-yard scoring run. A two-point conversion run fell short.
The Cavaliers, then, attempted to regain the lead driving to the Poly 2 with a fourth down. Brumfield's quarterback keeper, however, fell short and the Jackrabbits got the ball back.
Serra's defense, though, stiffened in holding Poly as it was forced to punt from its own end zone. The Jackrabbits' punter, however, opted to go down for a safety as their lead was cut to 25-22.
That's when the Cavaliers took the free kick to their 48-yard line starting the game-winning 52-yard drive that was capped by Brumfield's 11-yard scoring pass to Stovall.
Serra, which improved to 2-1, will finally come home for its annual South Bay showdown against Narbonne High Friday at 7 p.m. The Gauchos are off to a slow start at 1-3 in its rigid preseason schedule after falling to a powerful Centennial High team from Corona 42-23 last Friday at Narbonne in Harbor City. Narbonne is the defending CIF-Los Angeles City Section Open Division and CIF-State Division IA champion. The Gauchos won City crowns in six of the past seven seasons and their second California State championship in three seasons. Narbonne, however, has five transfer players having to face a 3