By Shari Barrett
Debbie Allen has brought her brilliant directing style to the Kirk Douglas Theatre in downtown Culver City with Will Power's FETCH CLAY, MAKE MAN centering on the unlikely friendship between heavyweight champion Muhammad Ali (formerly Cassius Clay) and Stepin Fetchit (born Lincoln Perry), the controversial Vaudevillian/comedian considered the first Black actor to have a successful career in old Hollywood. Taking place in the days leading up to one of Ali's most anticipated fights with Sonny Liston, the story explores the improbable bond that forms between two drastically different and immensely influential cultural icons – one a vibrant and audacious youth; the other a resentful and widely resented relic – with each fighting to form their public personas and shape their legacies amidst the struggle of the Civil Rights Movement of the mid-1960s.
How did such unlikely men ever become friends? Ali was always looking for ways to be better in the ring, even though he was the self-proclaimed GOAT. Learning that Step had been a prizefighting fan with ringside seats years ago, Ali sets up a meeting with him to specifically ask about Jack Johnson, who, at the height of the Jim Crow era, became the first black world heavyweight boxing champion. As they get to know each other, their conversations offer lessons about sexism, racism, religion, and our ever-changing political climate. 
With the glorious body-builder physique of a prizefighter, handsome Ray Fisher absolutely transforms into Ali onstage in appearance, including his smart-ass attitude, continuously floating like a butterfly as light as a feather. And his sizzling shower scene will leave you breathless! But it is Edwin Lee Gibson as throwback actor Step who steals the show, whether taking on his 1930s screen persona for white studio executives or straightening his stance and speaking with clarity as his true self, Lincoln Perry. Gibson brings to life a man who did what he had to do to become one of the first Black entertainers to get top billing, write his own studio contract, and earn a million dollars. Now Step sees Ali as his way to become an important part of the Civil Rights struggle following the deaths of Martin Luther King, Jr. and Malcolm X. I cannot imagine a better acting duo to play these two parts, and I hope when Debbie Allen makes a movie of this story, which it so richly deserves, she will bring these two fabulous actors to a screen near you.  
Returning to the Kirk Douglas Theatre after appearing there in Recorded in Hollywood and Spamilton, Wilkie Ferguson III appears as Brother Rashid, Ali's personal bodyguard and fellow follower of Islam. Ferguson is spot on as a man trying to always follow the righteous path and protect Ali to the best of his ability. But when his temper explodes, it's a very different man we see. His universal struggle of balancing the person you want others to think you are, as opposed to being who you really are, speaks directly to the characters finding commonality in contradiction as they examine the true meaning of strength, resilience, and pride.
Rounding out the talented cast are Alexis Floyd as Ali's wife, Sonji Clay, who insists on calling him "Cassius" while reminding him how they met at a club during their partying days. First appearing in traditional Muslim dress, after speaking privately with Step. who acknowledges he sees the "hot" woman residing underneath her body-covering clothes, Sonji returns in sexy, short dresses that make her feel like herself again. Of course, Ali loves the look in private but fears what others might say if she decides to appear that way in public. I give you two guesses who wins – and it isn't Ali. Step's former employer at Fox Films, William Fox, is played by Culver City resident Bruce Nozick as a cigar smoking, self-centered mover and shaker wanting to keep Step in his on-screen persona in public. Their personal tête-à-têtes in Fox's office when their true selves are revealed lets us see just who these two men really are and how each is manipulating the other for their own financial gain. 
Outstanding technical credits include scenic design by Sibyl Wickersheimer, costume design by Sara Ryung Clement, attention-grabbing lighting design by Tom Ontiveros, magnificent projection design by Pablo N. Molina, and Lindsay Jones' sound design which effectively puts the audience in the center of Ali's press conference.
Center Theatre Group in association with The SpringHill Company is presenting Fetch Clay, Make Man at the Kirk Douglas Theatre in downtown Culver City through July 16 on Tuesday through Friday at 8 p.m., Saturday at 2 p.m. and 8 p.m., and Sunday at 1 p.m. and 6:30 p.m. Tickets start at $30, available at CenterTheatreGroup.org, Audience Services at (213) 628-2772 or in person at the Center Theatre Group Box Offices (at the Ahmanson Theatre) at The Music Center, 135 N. Grand Avenue in Downtown L.A. 90012, or at the Kirk Douglas Theatre (open 2 hours prior to curtain) at 9820 Washington Blvd. in Culver City 90232. I encourage everyone to get tickets and go!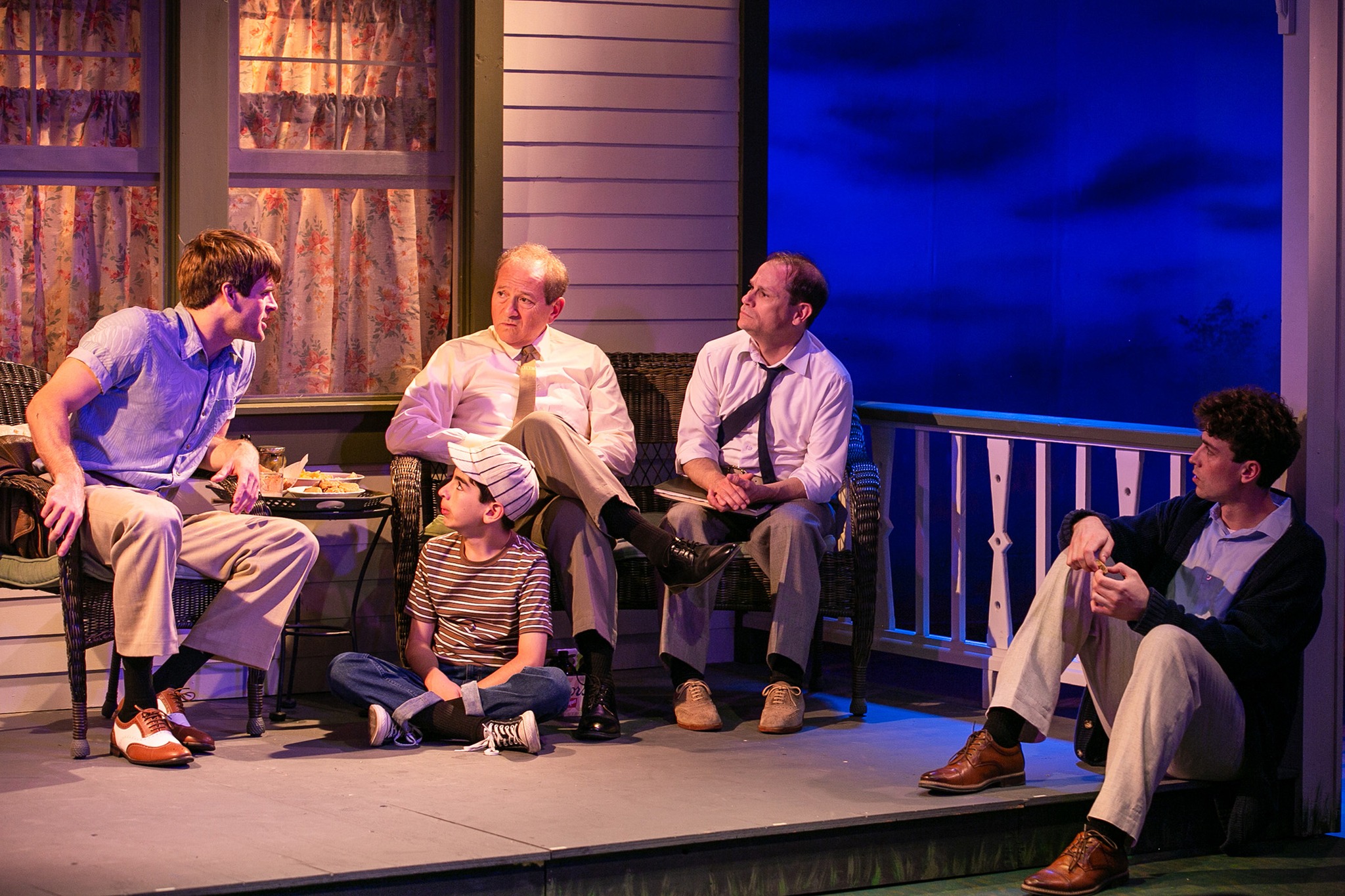 Bluestem Productions presents the world premiere of BACK PORCH, written by Eric Anderson and directed by Kelie McIver through July 9 at The Victory Theatre Center in Burbank. In it, life imitates art when Hollywood descends upon a small Kansas town in 1955 to shoot scenes for the classic film, Picnic. Sparks fly in more ways than one in Anderson's homage to both movie making and the play that inspired the Columbia film. 
Kansas residents include Barney Opat (Karl Maschek), the widowed father of two boys: 18-year-old Gary (Isaac W. Jay), who yearns to escape small-town Kansas life, and overly energetic 13-year-old Del Wayne (Cody Lemmon, who unfortunately mumbles all his lines). But the family's life is upended when a good-looking stranger working as William Holden's stunt double (handsome Jordan Morgan) blows into town alongside the all-star movie cast. Once he and Gary acknowledge their feelings for each other, very awkwardly at first, their lives in Kansas will never be the same. Other characters include the Opats' bachelor boarder and singing teacher Myron Uhrig (Eric Zak) who is the first to recognize what is going on between the young men, and their neighbor, Millard Goff (Jonathan Fishman).
"When I was four years old, portions of the film Picnic were filmed one county away from my home," shares the Kansas born-and-bred playwright Anderson. "My family drove to the location one evening to take part in the "Neewollah" (that's Halloween backwards) scene on the river. I've been crazy about movies and theater ever since. With this play, I wanted to pay tribute to a significant American playwright who was also significantly closeted. I hoped to write the kind of play he might have written had he lived in another time and place." 
Despite the current hot-topic LBGQT theme, Anderson's overly-wordy play would certainly benefit from being edited down to a quick-paced 90-minutes, rather than its long and drawn out 2 ½ hours sluggishly directed by McIver. Performances of Back Porch take place on Fridays at 8 p.m., Saturdays at 8 p.m., and Sundays at 4 p.m. from June 2 through July 9. All tickets are $25. The Victory Theatre Center is located at 3324 W. Victory Blvd in Burbank 91505. For information and to purchase tickets, call (818) 533-1611 or go to onstage411.com/BackPorch.