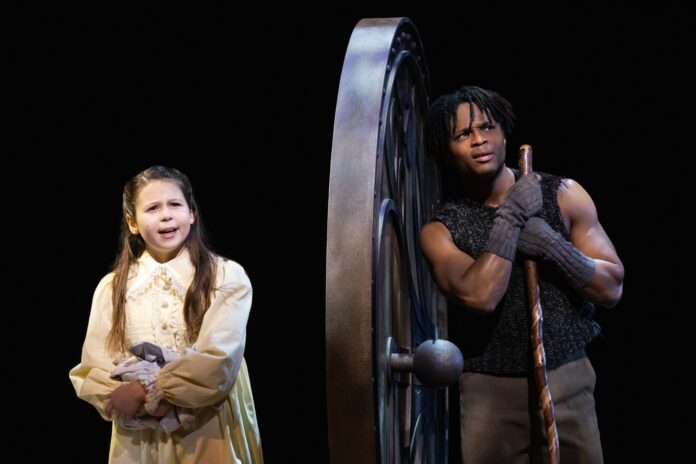 By Shari Barrett
The new and revised production of The Secret Garden based on the novel by Frances Hodgson Burnett, is now at the Ahmanson Theatre, directed and choregraphed by Tony Award winner Warren Carlyle. With book and lyrics by its original creators, Tony Award and Pulitzer Prize winner Marsha Norman and Grammy Award-winning composer Lucy Simon, the musical follows the young, orphaned Mary Lennox as she is sent from her home in India to live with her reclusive uncle on his haunted English country estate. Guided by an exceptionally beautiful score, Mary's unapologetic curiosity to know everything about the curiosities hidden around her come to light when she is helped by some unlikely companions who transport her on a thrilling quest to untangle the pieces of her family's past and, even more importantly, to discover herself.
It's a wonderful premise and the fantasy elements, along with the incredibly intricate and eye-popping scenic design by Jason Sherwood featuring a twisting "tree" at its center that morphs from nature to household settings (assisted by Ken Billington and Brian Monahan's exquisite lighting design) and time-appropriate and flowing ghostly costumes designed by Anna Hould-Ward, will no doubt delight those who want to believe everything always turns out for the best, and not just in fairy tales.
Music supervision by Rob Berman, with a 14-member orchestra conducted by Dan Redfeld, effectively adds to the wonder inherent in the story. The operatic-style production with 27 numbers is blessed with a cast who can sing beautifully, especially Sierra Boggess as the ghostly Lily Craven whose very presence will mesmerize audience members each time she appears. Other standouts in the cast (and there are many) include young Emily Jewel Hoder (straight from playing Amaryllis in The Music Man on Broadway) as Mary Lennox around whom the musical revolves. Her enthusiasm for the role is evident and her stage presence undeniable while performing the creative choreography during "Wick" about bringing the long-dead secret garden back to life, performed as a duet with the effervescent and energetic John-Michael Lyles as Dickon (the son of Martha, Mary's dedicated Cockney housekeeper played to perfection by Julia Lester who shines in each of her solos). 
Other choreography of note is performed by Kelley Dorney who literally kills as Cholera as she swirls around the dinner table, claiming each diner except Mary by wrapping her flowing red scarf around them. Thus, Mary becomes an orphan which sets the story in motion. Warren Carlyle's choreography performed to perfection by Dorney certainly makes their deaths more artistic than the gruesome way in which the diners had previously been discussing how the disease was ravaging India.
After being taken to England, Mary's new caretaker (and singer extraordinaire) is her uncle Archibald Craven (Derrick Davis) whose former wife Lily (Sierra Boggess) is haunting their home and her secret garden after succumbing following the birth of Colin (Reese Levin), their only child who is now bedridden thanks to his conniving uncle, Dr. Neville Craven (Aason Lazar) who fancies inheriting the estate if Colin dies. But thanks to Mary's positive attitude about life, Colin is healed and the secret garden again blooms thanks to the assistance of Dickon and the garden's long-time caretaker, Ben (Mark Capri).
The entire 24-member ensemble is to be congratulated for their hard work and dedication to making this production an artistic success. The Secret Garden tickets start at $40, available through Audience Services at (213) 972-4400, online at CenterTheatreGroup.org, or in person at the Center Theatre Group Box Offices (at the Ahmanson Theatre) at The Music Center, 135 N. Grand Avenue in Downtown L.A. 90012. Performances run Tuesday through Friday at 8 p.m., Saturday at 2 p.m. and 8 p.m., and Sunday at 1 p.m. and 6:30 p.m. Masks are optional but highly recommended inside the Ahmanson Theatre.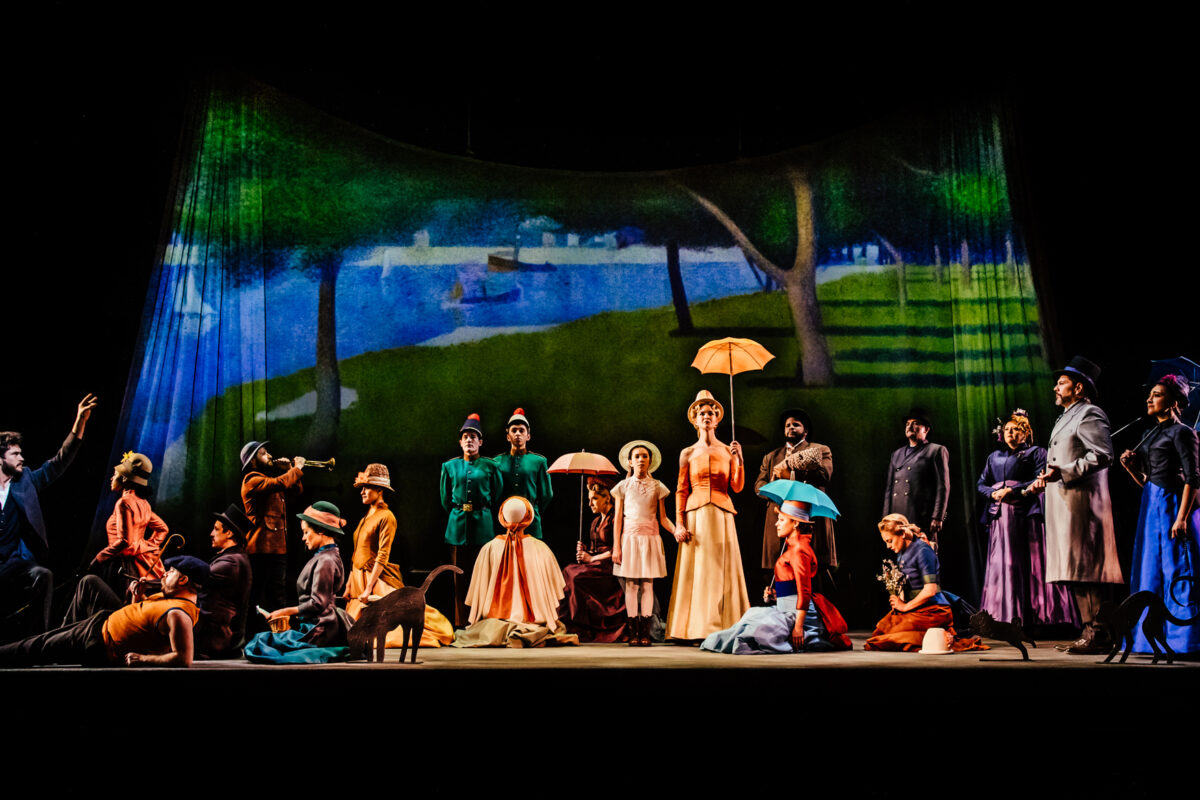 Pasadena Playhouse is presenting a new production of the multi-award-winning musical Sunday in the Park with George with Music and Lyrics by Stephen Sondheim and Book by James Lapine, directed by Sarna Lapine (who also directed the critically-acclaimed Broadway revival starring Jake Gyllenhaal and Annaleigh Ashford), choreographed by Alison Solomon, with music directed by Andy Einhorn. Inspired by the life of French pointillist, George Seurat, the story revolves around the creation of his masterpiece, "A Sunday Afternoon on the Island of La Grande Jatte." 
George (Graham Phillips who shines in the role), an intense and passionate artist, struggles to not only create his painting but also to maintain a relationship with his long-time mistress, Dot (gloriously expressive Krystina Alabado). To find inspiration to create his masterpiece, George observes a gathering of people on La Grande Jatte, and as the piece comes together, the people in it share who they really are and how they are feeling about the experience, including his mother, his friends, his critics, as well as the woman he loves. Stroke by stroke, dot by Dot, the musical tells the story of how George created something new that has become ever-lasting. Yet during his lifetime, he never sold a painting. 
The second act takes place 100 years later, connecting to the first with each actor taking on a different role, while focusing on another George, Seurat and Dot's great grandson, also struggling to find meaning in art and the need to connect to the past, present and future. Seeing the world as Seurat did as "a white canvas with so many possibilities" opens Geroge's imagination to create artistic expression through a light installation he calls a chromolume.
There are many standouts in the cast, but the song "Children and Art" performed by Alabado in Act 2 as Marie, Seurat and Dot's now wheelchair-bound 98-year-old daughter, the grandmother of light artist George) really sums up the need for art in the world to inspire the best in all of us from as early an age as possible. On the other side of the coin, Emily Tyra as Yvonne, an emotionally-challenged wife, and mother of spoiled child extraordinaire Louise (Erica Gonzalez), shares how a well-heeled appearance can hide the unhappiness underneath. And the poor Nurse (Jennie Greenberry) begrudgingly learns to accept frustration while dealing with Seurat's demanding mother (Liz Larsen) in Act 1, as well as being the only person in Seurat's painting facing backwards, forever remaining unseen. Adding to the unfolding revelation of Seurat's painting is the evolving scenic design by Beowulf Boritt, enhanced by projection design by Tal Yarden.  
Performances continue through March 19 on Tuesday – Saturday at 8 p.m., Sat/Sun matinees at 2 p.m., and Sundays at 7 p.m. with tickets starting at $39, available at https://www.pasadenaplayhouse.org/event/sunday-in-the-park-with-george/ or calling Patron Services at 626-356-PLAY, or via email to boxoffice@pasadenaplayhouse.org The Pasadena Playhouse is located at 39 S. El Molino Ave. Pasadena 91101. Masks are highly recommended inside the theater.
Both productions in this column are taking part in LA Theatre Week, a new annual event to promote affordable access to over 75 productions in the Los Angeles, Orange County, and Inland Empire areas with tickets as low as $20. The two-week-long celebration of the performing arts runs from March 13 to 26 to assist in bringing audiences back into live theatre. For the full list of productions and to purchase tickets, visit https://www.theatreweek.com/los-angeles/