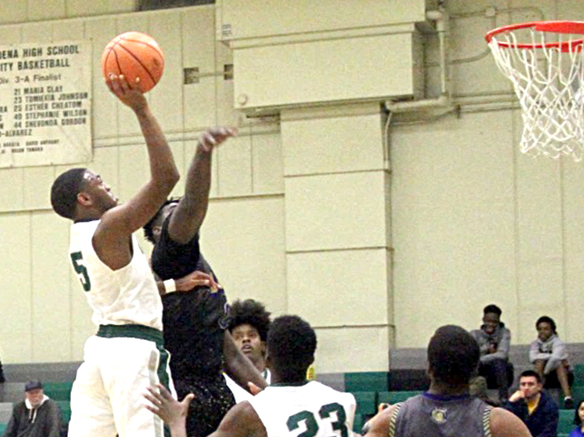 Gardena High's boys' basketball started the CIF-Los Angeles City Section Division I playoffs on a good note with a 67-52 home win over Los Angeles Center of Enriched Studies in the first round last Thursday.
The win put the Panthers into the quarterfinals at Washington High on Wednesday. If Gardena wins, it will vie in the semifinals on Friday or Saturday at the Roybal Learning Center in Downtown L.A. The championship is on March 3 at 4 p.m. at Cal State Dominguez Hills.
Against the Unicorns, Gardena, which improved to 22-10 overall, started fast with an 18-7 first quarter lead. The Panthers went on to lead by as many as 22 points before coasting to victory.
"It was our defense that won the game," Gardena head coach Ernie Carr said. "We held LACES to just 33 points entering the fourth quarter. We clamped down on them."
The Panthers had a 53-33 lead after three periods.
Gardena, which tied for third place with Carson in the Marine League, had balanced scoring with four players scoring in double figures. Kameron Wheeler sparked the Panthers with 17 points. Ramon Sanford added 14 points. David Heard chipped in 11 points and Michael Franking contributed 10.
Luis Morales led the Unicorns with a game-high 20 points.
The Generals, who routed Sun Valley Poly 100-58 in the first round last Thursday at third seeded Washington, defeated Gardena twice in the Marine League and has a very quick and athletic squad. Washington defeated the Panthers by 67-57 and 63-61 scores in league. Gardena will seek to avenge those two defeats to the Generals and duplicate that from when it topped Marine rival Carson for the L.A. City Division II title after losing both league games to the Colts last season.
Carson also got through the first round after rolling over South Gate 68-45 in the first round of the L.A. City Division I playoffs last Thursday.