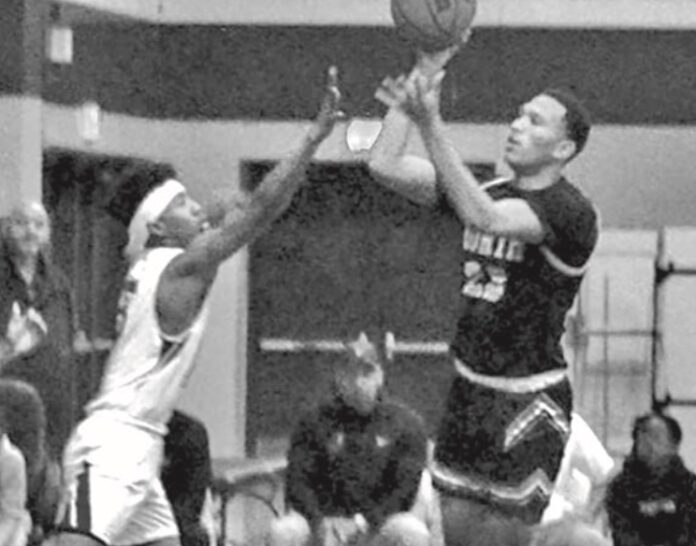 By Joe Snyder
When the seedings came out for the CIF-Southern Section Division VAA playoffs last month, Lynwood entered as the top seed, while North Torrance was second as the two teams were expected to play for the championship on Feb. 25 at Edison High in Huntington Beach.
Then, along came third seed Rosemead Bosco Tech, which posted back-to-back upsets over the host Saxons on Feb. 21 and the Knights for the championship.
Both teams made the Southern California Regional Division V playoffs as Lynwood entered as the No. 1 seed, while North was eighth. On Feb. 28, both hosts Saxons and Knights blew out their first round opponents as North rolled over Imperial High 83-55, while Lynwood crushed Taft High from the CIF-Central Section 112-49.
That put the two teams clashing in the quarterfinals last Thursday at Lynwood. The Knights, though, had a way better end of the game as they routed the Saxons 85-59.
North came into the game with a stingy defense that allowed its opponents an average of 45 points per game, while the Knights were known for their outstanding offense
that scored 100-plus points six times this season. Lynwood, however, quickly jumped on the Saxons for leads of 20-12 after the first quarter and 38- 22 at halftime before North was able to get unraveled.
The Saxons had a good third period as they went on a 16-5 run to cut the Knights' lead to five points (43-38). Lynwood, however, crept back up for a 56-46 lead at the end of the quarter. In the final period, the Knights finished off North by outscoring the Saxons 29-13.
Lynwood has one of the premiere freshman players in the United States in Jason Crowe, Jr. who led the Knights with 44 points in its blowout win over Taft. North's defense attempted to slow him down but he still managed to be the Lynwood's second leading scorer with 22 points. Senior Sylon Jennings sparked the Knights with a game-high 34 points, including seven three-point baskets.
The Saxons were led by Kai Bradley with 23 points, followed by Kobe Cari with 15.
Against Imperial from the CIF-San Diego Section, Bradley sparked the Saxons with 23 points and Matteo Gerney and Cari each added 12 points.
North had little trouble with Imperial racing to a 45-20 halftime lead and continued to have command from there.
The Saxons ended their season at 26-7, while the Knights improved to 28-10.
Lynwood went on to host South Gate from the CIF-Los Angeles City Section last Tues-
day in quest of advancing to the CIF-State Division V championship on Friday at the Golden One Arena in Sacramento.
Sierra Canyon gets revenge on Bishop
Bishop Montgomery High's boys' basketball team saw its 2022-23 season end as it lost in the CIF-Southern California Regional semifinals to Chatsworth Sierra Canyon 64-47 last Thursday at Bishop Montgomery in Torrance.
In a CIF-Southern Section Open Division playoff game, the Knights defeated the Trailblazers 51-49 on a buzzer-beating three-point basket from Christian Jones.
In the regionals, though, Sierra Canyon took control of the game from the second quarter- on and Jones or another Bishop Montgomery player had no chance to be a hero at the end.
In a defensive first quarter, both teams were tied at eight before the Trailblazers ignited the start of the second period with a 14-2 run for a 22-10 bulge. Sierra Canyon led 33-23 at halftime.
From there, the Knights, who ended their season at 28-4, never got closer than 10 points. The Trailblazers led by 13 (43-30) after three quarters and led by as many as 18 points in the final period.
Sierra Canyon's defense held down Bishop Montgomery's standout player, Xavier Edmonds, to just two points, both on free throws. Edmonds fouled out in the fourth quarter. The Knights were led by former Serra High player La Qwon Cole with 13 points. Cole transferred to Bishop Montgomery from Serra over last summer.
The Trailblazers, who took on Notre Dame in Sherman Oaks for the Southern California Division I championship on Tuesday, were led by Bronny James with 16 points. Noah Williams added 15 points and Osiris Walls chipped in 14.
In the first round on Feb. 28 at Bishop Montgomery, the Knights rolled to an 81-53 win over Torrey Pines from the San Diego-Del Mar District. Edmonds led Bishop Montgomery with 19 points. Christian Jones and Will Smith contributed 18 and 15 points, in order.
Bishop Montgomery High's girls' basketball team entered the CIF-Southern California Regional Division I playoffs as the sixth seed but its season came to an early end with a 59-57 home loss to Granada Hills Charter High on Feb. 28. Shortly after the Lady Knights tied the game at 57 on a three-pointer from Sophia Dignadice with 21 seconds left in the game, they fouled the Highlanders' Krystal Pineda who made both free throws to give the 11th seeded squad the upset win. Granada Hills was the CIF-L.A. City Section Open Division runner-up to Westchester.
Bishop Montgomery swept the Del Rey League in boys' and girls' basketball this season.
Serra, North High baseball teams off to slow start
Entering this season with a large majority of its players returned from last season's Del Rey League championship team, Serra High's baseball team had high hopes to contend for another league crown, as well as the CIF- Southern Section Division III title and a possible Southern California Regional championship.
Through its first eight games, those hopes already appear very bleak with a 2-6 start.
Last week, the Cavaliers suffered losses in their league opener at home against Pasadena La Salle 11-4 on Friday, then fell in eight innings at home against South Torrance 10-3 on Saturday.
Big innings proved to be the difference in both of those games. Against the Spartans, the two teams were tied at three through the regular seven innings before seeing South let loose for seven runs in the top of the eighth. On Friday, the Lancers scored eight runs in the top of the fourth for an 11-2 lead. Serra scored one run each in the bottom of the fourth and fifth but it was far too short. The Cavaliers grabbed a 2-0 lead in the bottom of the first innings but La Salle took the lead for good with three runs in the top of the third. Serra currently has a five-game losing streak.
Serra resumed Del Rey action and it was not any easier as the Cavaliers traveled to league power Bishop Amat High in La Puente last Tuesday. On Wednesday, the Cavaliers visited Mira Costa High in Manhattan Beach for a non-league game. The Cavaliers continue Del Rey at home against Santa Fe Springs St. Paul on Saturday at 11 a.m. Serra, then, visits Paraclete, a newcomer in the Del Rey for baseball, in Lancaster next Wednesday at 4 p.m. The Cavaliers host the Spirits on St. Patrick's Day (March 17) at 3:15 p.m.
North Torrance is also struggling with a 1-7 start after a 4-3 loss to Pioneer League foe El Segundo in El Segundo Tournament play last Saturday at Stevenson Field on the grounds of El Segundo Recreation Park.
The Saxons, again, visited the Eagles on Wednesday and are at home against El Segundo Friday at 3:30 p.m. North will visit Banning High in Wilmington for a non-league game next Tuesday at 6:30 p.m.
Gardena played its first game on Feb. 17 when it outlasted host Santee High 11-10 in Downtown L.A. but has not played any games since, due to a large series of storms that hit Southern California. The Panthers hope to finally get things going as they hosted Hamilton High from the L.A.-Palms District last Tuesday. Gardena visits Marquez High in Huntington Park next Tuesday at 2:15 p.m.