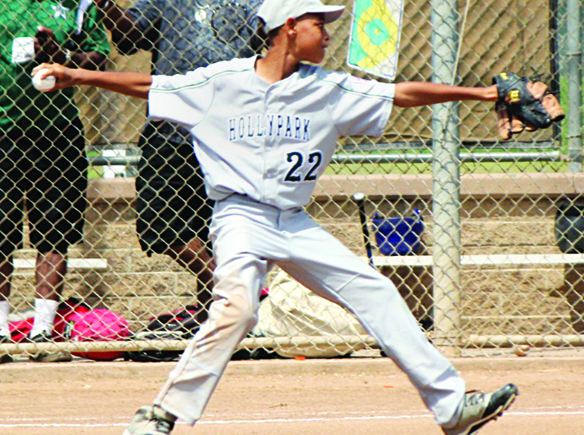 The Holly Park Major Little League All-Star baseball team began the District 37 Tournament by rolling over Wiseburn, 18-6, last Saturday at Westchester.
A day later, though, Holly Park fell to host Westchester. Score was unavailable.
Against Wiseburn, Holly Park scored in each of the last five innings. Holly Park used four home runs in the rout.
Holly Park built an 11-1 lead entering the bottom of the fourth inning with three runs apiece in the top of the second and third innings and five in the fourth.
The Holly Park Major Little League All-Star baseball team began the District 37 Tournament by rolling over Wiseburn, 18-6, last Saturday at Westchester.
A day later, though, Holly Park fell to host Westchester. Score was unavailable.
Against Wiseburn, Holly Park scored in each of the last five innings. Holly Park used four home runs in the rout.
Holly Park built an 11-1 lead entering the bottom of the fourth inning with three runs apiece in the top of the second and third innings and five in the fourth.
Among those were solo homers by Miles Jenkins in the second and Bryan Moran in the third, and a two-run shot by Darian Echols in the fourth. Aetu Wright added a two-run double in the fourth and Marcellus Henry had a run-scoring single.
Wiseburn, however, prevented the four-inning mercy rule with five runs in the bottom of the fourth that included a two-run single by Jorge Martin and an RBI (run batted in) double from Julian Garcia. That cut Holly Park's lead to 11-6.
Holly Park, though, shut the door on Wiseburn with a two-run homer by Henry and five runs in the top of the sixth. A two-run single from Henry, who went 3-for-3 with five RBI's, highlighted the sixth. Henry scored twice.
Relaja McClain also led Holly Park by going 5-for-5 with one RBI and four runs scored.
"The key to the whole game is pitching and not walking people," Holly Park coach Joe Jones said. "We had good pitching. With the defense behind, we'll be competitive."
Holly Park, with players from North Gardena, northeast Hawthorne, southeast Inglewood and L.A. Athens District, played in the loser's bracket against Aviation from Del Aire (a Los Angeles County strip community between El Segundo and Hawthorne) last Monday.
Holly Park also won first round games in the Minor (age 9-10) and Intermediate (age 10-11) Divisions. Tri Park Intermediates also got past the first round in the winner's bracket on Sunday.
In the 50-70 Division, Tri Park, located in El Camino Village but has players from Gardena, Lawndale and Hawthorne, remained alive. After losing in the first round to Compton last Saturday at Jim Thorpe Park in Hawthorne, Tri Park topped Lawndale on Sunday.
______
Wilson lands on all-CIF baseball; Cavs make all-area track
By Joe Snyder
GVN Correspondent
Recent Serra High baseball standout Marcus Wilson made the all-CIF Southern Section Division III baseball team, which was announced last Monday.
Wilson was drafted in the second round and was the 69th overall pick in the Major League Baseball Amateur draft by the Arizona Diamondbacks and is currently playing in Peoria, a suburb of Phoenix.
Over this past season, Wilson batted .361 with five home runs to key the Cavaliers to their second consecutive league title, although they tied with eventual Division III champion La Puente Bishop Amat.
Wilson was the only Serra player on the team.
In the Division IV, champion Torrance had senior pitcher Kyle Smith as the Most Valuable Player and head coach Ollie Turner as Coach of the Year.
The Tartars won their first CIF title in the school's 97-year history by routing Pioneer League and cross town rival South Torrance, 11-0, on June 7 at UC Riverside.
Smith had an outstanding record of 13-1 and an earned run average of 0.46. He resumes his baseball career at Cal Poly San Luis Obispo next year.
Manny Olloque, who was drafted and signed with the Kansas City Royals, was also on the team.
South had pitchers in senior Matt Mogollon and junior Drake Pringel, on the 20-player squad.
There were several Serra High athletes on the Daily Breeze all-South Bay team.
For the boys, there was one first-teamer in long jumper-sprinter Adoree Jackson. Jackson's season was ravaged by his stunning disqualification in the Southern Section Division IV Prelims for violating a National Prep Sports Federation rule of receiving an illegal electronic communication but he had the United States' second best jump at 25 feet, 5 ¼ inches he did in March at an invitational in Chandler, Ariz. He won the event there and in the highly prestigious Arcadia Invitational on April 12.
Jackson continued to have the nation's best long jump of this season until it was broken in the California State Track and Field Championships by Castro Valley's Nathan Moore at 25-8 ¾ on June 7 at Buchanan High's Memorial Stadium in Clovis.
Jackson also helped Serra's 4×400-meter relay team to the Division IV crown on May 24 at Cerritos College, but it failed to the state meet due to a dropped baton at the Southern Section Masters Championships on May 30 at the same place.
He also keyed the Cavaliers' sprint medley relay team to a win at the Arcadia Invitational.
Second teamers for Serra included Division IV 200- and 400-meter champion Ronny Hall and Division IV shot put and discus champion Jeremy Franklin, who was also eighth in the state in the discus.
Serra's boys placed second, behind champion Westlake Village Oaks Christian, in the Southern Section Division IV Finals but it ended its string of six consecutive section titles. The Cavaliers captured the state crown in 2013.
The Lady Cavaliers, who were third behind champion Oaks Christian and runner-up Inglewood St. Mary's Academy in Division IV, had sophomore Jeanette Paul land on second team. Paul was the Division IV 100- and 300-meter hurdles champion. She took second in the 100 and fourth in the 300 at the Masters Meet.
Carson swept top honors for the boys and girls after sweeping the CIF-Los Angeles City Section championships on May 28 at Birmingham High in Lake Balboa.
Carson's girls were led by Most Valuable Athlete Ashley Anderson who won the state triple jump title with a personal best mark 41-3 on June 7 at Buchanan High.
Junior Justin Collins was named the top boys' athlete. He was City 110-meter high hurdles and 300 intermediate champion and helped the Colts finish fourth in the 4×100 relay with a time of 41.51.
Carson also won the Coach of the Year Award from head mentor Amrit Lal.
The Colts had a first teamer from junior Brandon Hasson who won the L.A. City 100 title at 11.82 and taking second in the 200 clocking 21.67.
Clifford Scott, also a junior, made second team. He and Hasson were both part of Carson's City champion 400 relay squad.
For the girls, the Colts had junior Mylia Gray make second team. She won the 100 hurdles and finished fourth in the 300 hurdles.
North Torrance had a first-team in Southern Section Division II and Masters triple jump champion Jasmine Bass. She has a personal best mark of 40-7 ¾ in winning the Masters on May 30.
South Torrance junior distance running standout Kimberly Coscia made second team. She was second in the 3,200 meters in the District II finals but recorded her personal best time of 10:18.57 in finishing fifth in the event at the Masters Meet.
___________
Sports Scoop
A lot of activities highlight this month in sports world
By Joe Snyder
GVN Correspondent
The Los Angeles Kings celebration of their second Stanley Cup championship, the World Cup Soccer and the Los Angeles Dodgers Major League Baseball team's Clayton Kershaw pitching his first no-hitter of his career against the Colorado Rockies were the big highlights from last week.
The United States' men's soccer team came within just about 15 seconds of already advancing to the second (knockout) round of the World Cup before settling for a 2-2 tie against Portugal last Sunday in Mananus, Brazil.
It was Varela who scored on a diving head-in off a cross assist from star Cristiano Ronaldo that pulled off a tie for Portugal with about 15 seconds left in the extra approximately four-minute injury time.
The U.S. was still ahead 2-1 after the regulation but injury timeouts forced four more minutes.
The Americans were down 1-0 early but rallied to tie the match at one on Jermaine Jones' goal in the 68th minute and another by Clint Dempsey to give the U.S. a 2-1 lead in the 86th minute.
Taking the lead late almost insured the Americans of winning the important match but they let it get away in what was just about the final play of the match.
What the U.S. will have to do is either defeat or tie a very good Germany team this morning, beginning at 9 a.m. Pacific time. Even if the Americans lose, they will still get in if Ghana, which the Yankees topped 2-1 on June 16, and Portugal tie or Ghana tops Portugal. If the Americans lose and Portugal wins, it will be determined by an overall goal difference. If that is even in records and goals, the two could have a play-in match, probably on Friday or Saturday.
Let's hope USA will defeat Germany and win its pool.
Meanwhile, the United States' top soccer rival, Mexico, advanced with a 3-1 win over Croatia on Monday.
After capturing their second National Hockey League Stanley Cup crown with a 3-2 double overtime victory over the New York Rangers on June 13 at the Staples Center, the L.A. Kings had a pair of parades with the bigger one from Downtown L.A. to the Staples Center on June 16, then another one from Redondo Beach to Manhattan Beach, since a majority of its players live in either Hermosa or Manhattan, and about one or two of those also living in Redondo, two days later.
On June 17, the Kings were at Dodger Stadium where they were honored with their Stanley Cup. They played their rival Anaheim Ducks on Jan. 25 there and lost, 3-0.
It was a day later and just hours after their South Bay parade that Clayton Kershaw delivered his first no-hitter of his career as the Dodgers blanked the Rockies, 8-0, at Dodger Stadium. Kershaw had an incredible performance by striking out 15 batters and came within just one throwing error (by shortstop Hanley Ramirez) of a perfect game. That was the only baserunner he allowed.
AYSO Nationals Begin on Sunday: It was 50 years ago (in 1964) that the American Youth Soccer Organization began in Torrance in hope of bringing and popularizing the world's No. 1 sports in the United States.
It ended up not only the fastest growing youth sport but has the highest number of participants of any sport, including the long time popular Little League and other youth baseball and softball leagues, combined, along with other traditional popular sports American football and basketball. Soccer, in fact, is known as football throughout a large majority of other nations, including our next door neighbor Mexico (Futbol in Spanish) and Great Britain. Overall, it's World Football.
Beginning on Sunday, Torrance and Riverside, along with its surrounding cities, will host the prestigious anniversary classic. The event will last through July 7.
Included will be teams from Torrance, including the North Torrance AYSO that has a few players living in Gardena. Their field at Columbia Park and School will host the Under 19 years old boys and girls.
Other Torrance fields hosting the event include the Toyota Center Complex (Under 10 boys and girls) and West Torrance High (Under 16 girls).
Wilson Park will have the VIP.
Other local hosts include Ladera Linda Park in Rancho Palos Verdes (Under 12 boys and girls), Field of Dreams in San Pedro (Under 14 boys and girls), Redondo Union High School (Under 16 boys) and Parras Middle School in Redondo Beach (Under 16 boys).
For further information and location of fields, you can call at 1-800-872-2976 or log on at ayso.org.
U.S. Soccer Support Grows: Remembering from shortly before the United States hosted the World Cup Soccer from 20 years ago, there was a pre-cup match between the U.S. and Mexico at the Rose Bowl.
About 90,000 fans showed up with almost all of those rooting for Mexico, making it feel like it was in that nation. Of course, most of California belonged to Mexico from its independence in 1810 to the 1840's.
The Americans, though, were able to fight through the predominantly pro-Mexican crowd with a 1-0 victory.
That World Cup resulted into a quick founding of the current Major League Soccer, which now includes the L.A. Galaxy and Chivas USA that both play at the StubHub Center in Carson.
Today, there were thousands in hand at various spots all over the nation, including the L.A. area, pulling for the U.S. About 1,200 (which may have been more than the number of U.S. fans at the Rose Bowl in 1994) crowded a large screen that showed the U.S.-Ghana game in Hermosa Beach on June 16. Last Sunday, there was no screen but hundreds gathered in and around various bars and restaurants to witness the Americans against Portugal last Sunday.
We're hoping the support can get the U.S. into the next round with its pool final against Germany today.