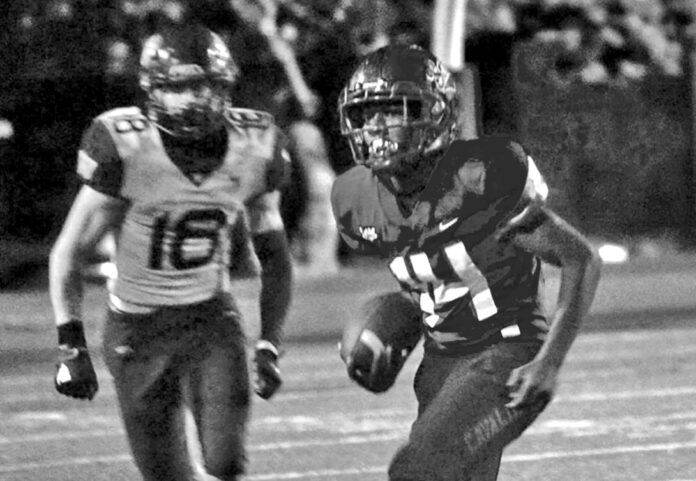 By Joe Snyder
Serra High's football team knew it had to go up against a five-star quarterback who is already bound for University of Tennessee after he graduates from Downey Warren High in June 2023 with the Bears having to go up against probably the fastest prep football player in the United States in senior Roderick Pleasant in last Friday's non-league football game.
Warren quarterback Nico Iamalleava gave his team a 13-7 lead with 27 seconds left in the first quarter on a short 1-yard keeper. With senior kicker Moises Amezeua out with an injury, lesser experience sophomore Judith Luna had the job to kick off to the Cavaliers, with Pleasant, who has a 10.14-second 100-meter dash that he did at the CIF- Southern Section Masters Track and Field Championships on May 21, in the deep backfield. Luna made the mistake of kicking the ball to Pleasant and he sprinted 88 yards to the end zone for the tying touchdown. Kicker Kai Honda kicked the eventual winning point-after touchdown to give Serra a 14-13 lead.
From there in the light-to- heavy tropical rain caused by the remnants of tropical storm Kay, the remainder of the game included just a third-quarter safety when Warren recovered its own fumble in its own end zone and Serra was able to hang on for a 16-13 victory.
Serra, which improved to 2-2, continued to use sophomore quarterback Jimmy Butler who gave the Cavaliers a 7-6 lead with about three minutes remaining in the first period on a 60-yard TD pass to wide receiver Zacharyus Williams.
"I'm happy that we got the win," Serra head coach Scott Altenberg said. "Pleasant is a great competitor. That kickoff return was the difference in the game."
The Cavalier defense did the rest in shutting down Iamalleava and the rest of the Bears.
"We covered him (Iamalleava) well." Altenberg said. "We never let him scramble. For us, we got to win those games."
The win was Serra's second straight after losing its first two games on the road to Orange Lutheran and Long Beach Poly. The Jackrabbits, meanwhile, improved to 4-0 with a key 35-30 win over host and Southern Section Division I power Mission Viejo on Sept. 2 and a victory Lawndale Leuzinger 34-24 last Friday at El Camino College.
Warren (2-1) scored first on a 27-yard interception return from Jordan Jones. The PAT was missed.
Serra continues its highly competitive schedule with a non-league game at Oaks Christian High in Westlake Village Friday at 7 p.m. Several years ago, these two teams were CIF- Southern Section playoff rivals that included the Cavaliers' thrilling 2009 CIF-Southern Section Division IX champion- ship 42-41 double overtime win. That squad was led by former Los Angeles Rams and now Tennessee Titans wide receiver Robert Woods, another current NFL player Marquis Lee and George Farmer, III, son of former San Francisco 49'ers star George Farmer Sr.