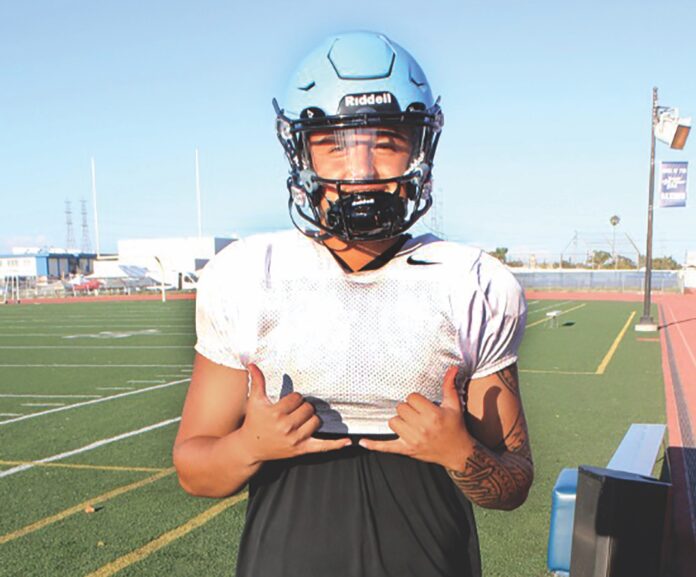 By Joe Snyder
North High quarterback Trevor Lagarde has enjoyed his last three seasons but went through a variety of good and bad happenings.
Three years ago, Lagarde was the starting quarterback on the Saxons' football team as a freshman. He was young but he had some very good talent to work with, including star running back Stephen Bradford, who stood out as a running back at El Camino College last fall.
North went on to advance to the CIF-Southern Section Division IX championship game where it fell to Palmdale Highland High 24-12 in a game played in very cold rain that followed a rare snowstorm, from a day earlier, at Antelope Valley College in Lancaster.
Lagarde had a rough sophomore season due to the Great COVID-19 Pandemic that delayed and shortened the 2020 season to spring 2021 which saw the Saxons play only four games, finishing at 3-1. All playoffs were canceled.
Last year, the full football season returned. Lagarde would key North to a second- place finish, behind powerful Lawndale, in the Pioneer League. Unfortunately, the Saxons traveled some 90 away to Temecula Valley, coming home with a season-ending 43- 20 loss in the first round of the CIF-Southern Section Division VII playoffs.
Lagarde is poised to return for his final season and will seek to attract some Major NCAA Division I college scouts as well as seeking to bring North its first ever CIF-Southern Section football title after four earlier attempts of reaching the finals with losses in 1983 (Newhall Hart), 2001 (Santa Monica), 2012 (Ojai Nordhoff) and 2019. And if successful, also the Saxons' first CIF-Southern California and State Championships in whatever division they are put in.
In 29 games over the three seasons, Lagarde completed nearly 60 percent of his passes that produced 68 touchdowns and 4,923 yards. There is a very good chance that he will surpass his 5,000-yard career yardage in North's first game at Santa Barbara High on Aug. 19.
Last fall, Lagarde threw for 2,219 yards and 29 TD's, completing 58.4 percent of his passes.
"My goal is consistency," Lagarde said. "I want to move the ball down the field."
Lagarde played football since he was five years old, starting with the Snoop Youth League in Long Beach. He also played for the Los Angeles Hurricanes but moved to Pukaloai on Maui Island, Hawaii where he played for the Kuklamala Cowboys in his middle school years. He moved to Torrance in 2019 beginning at North and was the starting quarterback as a freshman.
Lagarde is the youngest of three quarterback brothers. His oldest brother, Dylan Lagarde, played for Los Alamitos High, where he graduated in 2012. His middle brother played for El Segundo, graduating in 2017. "I'm carrying on our legacy," Trevor Lagarde said.
Not many Major Division I college scouts have seen Lagarde. "Only a few schools seen him," North head coach Todd Croce said.
"Most colleges that saw me are from the Big Sky Conference," Lagarde said.
Among those who recruited him were University of Montana, Sacramento State and Bryant University of Rhode Island. All are sub-Division I colleges for football.
Living and playing football in Hawaii during the time he was in middle school, Lagarde is seeking to return to Hawaii and play at University of Hawaii. "That is my dream college," Lagarde said about Hawaii.
First, Lagarde and the rest of the Saxons want to prepare for their first game at Santa Barbara High, about 105 miles from Torrance. "That is why we scheduled this game," Lagarde said. "Last year, we went way out to Temecula and lost. We want to get that experience of traveling long distance. Santa Barbara (8-4 and CIF-Southern Section Division VI quarterfinalist last season) is well coached. It will be a matter of us playing together."
North's game at Santa Barbara from the Channel League is on Aug. 19 starting at 7 p.m.