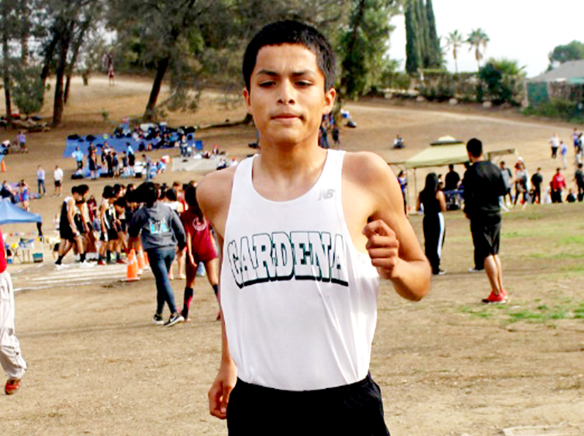 Gardena High junior Cristhian Macias finished in third place with a personal best time of 16 minutes and 8.3 seconds and the Panthers, as a team, ended up in sixth place in last Saturday's CIF-Los Angeles City Section Division II Boys' Cross Country Championships at Pierce College in Woodland Hills.
Gardena High junior Cristhian Macias finished in third place with a personal best time of 16 minutes and 8.3 seconds and the Panthers, as a team, ended up in sixth place in last Saturday's CIF-Los Angeles City Section Division II Boys' Cross Country Championships at Pierce College in Woodland Hills.
Macias and the Gardena squad won their heat at the Division II Prelims on Nov. 13, but managed just a sixth place finish as Manual Arts, which tied with the Panthers in the prelims with 72 place points each but Gardena won with its sixth runner finishing better than the Toilers' sixth finisher, ended up winning the title with 60 place points to 83 for second place Panorama.
Placing third was Sotomayor (100), followed by fourth place Valley Academy of Arts and Science (127), fifth place Fulton Prep (139) and Gardena (149).
Macias finished behind individual winner Even Negaoa of Los Angeles High (15:25.71) and second place (first in scoring) Veejay Jones from Verdugo Hills (15:36.6).
He was second in scoring with the L.A. High team failing to qualify for the finals. All three advance to Saturday's California State Championships at Woodward Park in Fresno, beginning at 8 a.m.
Other scoring Panthers included Gustavo Vital (35th overall, 27th scoring, 18:00.07), Martin Zambrano (36th overall, 28th scoring, 18:00.07), Cristian Guevara (49th overall, 40th scoring, 18:29.02) and Frankie Rangel (61st overall, 52nd scoring, 18:45.44).
The Pierce College Course was three miles long.
______________________________________
Rebuilding Serra looks to improve as season goes on
By Joe Snyder
Sports Editor
Serra High head boys' basketball coach Dwan Hurt, who is in his 26th season as head mentor and 28th overall, has enjoyed success with several CIF-Southern Section and two California state championships.
Last season, the Cavaliers tied with eventual State Division II champion Torrance Bishop Montgomery for the Del Rey League crown.
Serra could be hard press with a mostly young and inexperienced squad this year, but Hurt feels that it can improve to become a strong contender again.
The Cavaliers return just two players but one was all-CIF Southern Section in 6-foot-2 senior guard-forward Jason Richardson. The other is 6-foot-7 junior forward Ian Carter.
Serra has some other talented athletes including senior Nigel Usher, who was Most Valuable Player on the Cavaliers' junior varsity squad last season. Other top players include 6-foot-3 sophomore guard Terrance Mitchell, six foot junior guard Micah Syles and 6-foot-3 freshman guard Kobe Smith, who recently played on Serra's junior varsity football team.
"We're mostly young," Hurt said. "We'll jell and do whatever we have to do to have a great season. There will be a lot of teaching and it will be very receptive."
The Cavaliers will be tested in playing in the always prestigious Redondo Pacific Shores Tournament, which began last Monday when Serra took on Santa Monica, which will be one of the favorites to win the Ocean League.
The classic could be one of the most competitive it has ever been that is reportedly including nationally ranked teams Chatsworth Sierra Canyon (fourth in the United States by Maxpreps) and Chino Hills (17th by Maxpreps). Other top teams are last year's Southern California Regional Open Division finalist Westchester, CIF-Southern Section Division IAA champion Long Beach Poly, CIF-Los Angeles City Division I champion Woodland Hills El Camino Real, another top Ocean League favorite Lawndale (two-time Pioneer League champion), Lakewood Mayfair along with top Bay League teams Inglewood, Rolling Hills Estates Peninsula and host Redondo. Last season, the Sea Hawks were semifinalists in the Southern Section and Southern California Open Division playoffs and return most of their top players.
Serra will also play in two other highly regarded classics in San Luis Obispo Mission Prep (Dec. 19-23) and Maxpreps Holiday Classic in Palm Springs (Dec. 26-30).
The Cavaliers begin the Del Rey at home against Playa del Rey St. Bernard on Jan. 21. Bishop Montgomery, led by Stephen Thompson, Jr., appears to be the league favorite. Serra hosts the Knights on Jan. 28 and visits Bishop Montgomery in their league finale on Feb. 11.
The competitive league also includes last season's California state Division IV playoff qualifier Montebello Cantwell-Sacred Heart and L.A. Cathedral.
___________________
Sports Roundup
No. 3 Seed ECC loses Southern
California soccer playoff opener
By Joe Snyder
Sports Editor
El Camino College's men's soccer team entered last Saturday's Southern California Regional playoffs seeded No. 3 but failed to live up to its expectations in a 2-1 loss to Chula Vista Southwestern College last Saturday at ECC.
The loss ended the Warriors' season at 10-2-10.
El Camino fell behind early, 2-0, before Edgar Esquivel scored on a cross from Branddon Cando shortly before the end of the first half.
Unfortunately, the Warriors were unable to get any further scoring as they were eliminated from the playoffs after enjoying one of their best regular seasons in recent years. ECC won the South Coast Conference.
Jose Sanchez recorded five saves for El Camino.
Harbor College's men's soccer team was also ousted in the first round of the Southern California playoffs to host Chaffey College 4-1 last Saturday in Rancho Cucamonga.
The Seahawks ended their season at 6-7-9.
Gardena begins basketball season: Gardena High's boys' basketball season started its season last Tuesday at home with a non-league game against Middle College.
The Panthers will play in the Mira Costa Pacific Shores Tournament against Brentwood next Wednesday at 4:30 p.m. That classic runs through Dec. 6.
Gardena begins the Marine League at Banning in Wilmington on Dec. 15 at 4 p.m.
West advances to semis: West Torrance High's football team advanced to the CIF-Southern Section Western Division semifinals after topping Calabasas 52-41 in the quarterfinals last Friday at West.
Against the usually high scoring Coyotes, the Warriors (12-0 and top seed in the division) fell behind 21-7 in the second quarter before turning things around, especially in the second half despite playing without standout running back Brett Ojiyi who was injured.
West had a strong game by Michael Timmerman who rushed for 95 yards and one touchdown on 15 carries.
Quarterback Trevor Mallett had a 52-yard keeper for a TD. Dale Rouse caught three passes for 84 yards and one touchdown, and had two scoring runs.
The Warriors stepped up on defense. Nathan Lima had a partial blocked punt and two quarterback sacks. Benton Shortridge recovered a fumble to stop a Calabasas drive in the third quarter that helped West shut out the Coyotes in that period.
The Warriors will face Palos Verdes at a site to be determined on Friday at 7:30 p.m. The Sea Kings are the home team. The winner will play for the championship on Dec. 5 or 6 at the same time.
Carson defeats Crenshaw: Carson High's football team passed a key CIF-Los Angeles City Section Division I quarterfinal with a 23-7 home victory over Crenshaw last Friday.
The Colt defense was able to shut down the Cougars, who were the defending City Division I champions, with three interceptions, one of those a key one from Manuopuava Tui-Enesi that led to Carson putting the game away on a 30-yard touchdown run by Devonte King with 1:21 left in the game.
He also ran in the two-point conversion.
Keying Carson's offense was Minix who rushed for 73 yards and one touchdown, and added three pass receptions for 74 yards.
The win put the Colts into the semifinals at top seed San Pedro Friday at 7 p.m. At San Pedro last Friday, the Pirates rolled over Arleta 42-13.
Narbonne moves to semis: Number-three seeded Narbonne High's football team moved into the CIF-L.A. City Section semifinals with a 22-6 quarterfinal victory over Dorsey in the quarterfinals last Friday at Narbonne.
The Dons scored first but the Gauchos dominated the rest of the game scoring the final 22 points.
Quarterback Roman Ale sparked Narbonne with two big runs and scored the Gauchos' first touchdown on a 1-yard run that gave Narbonne (8-4) a 7-6 lead with 8:49 left in the second quarter.
Ale also added another TD in the third period and Narbonne put the game away in the fourth quarter.
Damion Gatlin ran for 160 yards for the Gauchos.
The Gauchos visit second seed Garfield in the East L.A. area Friday at 7 p.m.