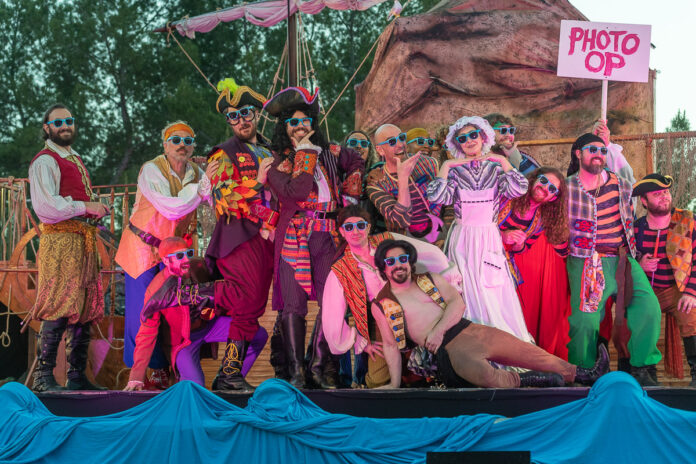 By Shari Barrett
Founded in 2011, Pacific Opera Project (POP) is dedicated to providing quality opera that is accessible, affordable, and entertaining in order to build a broader audience for the art form. Each of their productions combines classic opera with tongue-in-cheek humor, clever staging, colorful costumes and audience participation. For two weekends this month, POP returns to one of its most beloved outdoor venues to present W.S. Gilbert & Arthur Sullivan's The Pirates of Penzance, performed on a scenic hilltop spot overlooking Los Angeles and the San Gabriel Mountains, beginning at sunset and ending as the twinkling city lights illuminate the magic of the setting.
Founding Artistic Director, Josh Shaw, brilliantly directs the production, with clever and crafty choreography by Amy Lawrence, colorful costumes by Salette Corpuz, with Caleb Yanez-Glickman making his POP debut as conductor of the talented 14-piece orchestra. POP invites audiences to play their part by dressing in pirate costumes and interacting with cast members when called upon to do so during the show.
Pirates is a hilarious and hopeful comedic farce concerning Frederic (tenor Brian Wallin), who, having completed his 21st year, is released from his apprenticeship to a band of tender-hearted pirates led by the hot-shot Pirate King (baritone extraordinaire Jake Stamatis). As Frederic prepares to leave the ship, the pirate's loyal maid Ruth (contralto Emily Geller who lights up the stage with her effervescent charm), reveals she is hopelessly in love with the young and innocent Frederic. But given her advanced age of 47, Ruth knows once he leaves the ship and meets more beautiful and younger women, Frederic will forget all about her. And of course, during his first visit to Cornwall, Frederic meets Mabel (soprano Chloe Sundet), the captivating daughter of Major-General Stanley (bass-baritone E. Scott Levin), and the two young people fall instantly in love. Perfectly cast with gloriously skillful singers, the entire production is a joy to behold.
But there's a problem when Frederic finds out that he was born on February 29, so technically, he only has a birthday every four years. And since this means he has had just 5 ¼ birthdays, and his apprenticeship indenture states that he must remain with the pirates until his 21st birthday, he must serve for another 63 years until 1940 in POP's updated production. Bound by his own sense of duty, Frederic's only solace is that Mabel agrees to wait for him faithfully. But will she with the Pirates of Penzance around?
Pirates was the fifth Gilbert and Sullivan collaboration and introduced the much-parodied Major-General's Song which was handled with great creativity and much hilarity by E. Scott Levin. When the Pirate King discovers General Stanley has lied about being an orphan to keep the pirates from stealing all his worldly belongings and carrying off his beautiful bevy of daughters, an "ingenious paradox" is created by Frederic, Ruth, and the Pirate King, calling upon a crowd-pleasing band of foot-stomping cops, led by bass Phil Meyer as the Police Sergeant, to assist in setting things right.  
The raucous journey to get there includes wonderfully rhyming lyrics within each song, all beautifully performed by the entire cast, including the 22-member ensemble chorus, so the meaning of the quick and free-flowing story told completely through song is never lost. This standout production is Gilbert and Sullivan done at its very best. Performances continue this weekend only on Friday, May 26, Saturday, May 27, and Sunday, May 28 at 7:30 p.m. (doors open at 6:30 p.m. for picnicking) at Forest Lawn, 1712 S. Glendale Ave. in Glendale 91205. Tickets: $30 general admission (with reserved tables for 2 or 4 available) at https://www.pacificoperaproject.com/pirates Order in advance as shows sell out. Free onsite parking.
The Harlem Renaissance comes to life in the three-time Tony Award winning musical revue Ain't Misbehavin' presented by Ebony Repertory Theatre at the Nate Holden Performing Arts Center through May 28. Featuring the hit songs by Thomas "Fats" Waller including This Joint Is Jumpin', Honeysuckle Rose, the comical Your Feet's Too Big, soulful ballad Black and Blue, I'm Gonna Sit Right Down and Write Myself a Letter, and the title song, Ain't Misbehavin' among many others, played to perfection by a fabulous five-piece band, conducted by Music Director William Foster McDaniel on piano. The two-hour performance is a joyful experience for all your senses, filled with humor, sexy banter, and great songs.
Featured in the cast are Yvette Cason as Nell, Wilkie Ferguson III as Andre, Connie Jackson as Armelia, Marty Austin Lamar as Ken, and Natalie Wachen as Charlayne, each of whom exuberantly fills the stage with sass, humor and heartfelt sentiment while energetically singing the timeless songs of Thomas "Fats" Waller. Alternating between solos, duets and ensemble numbers, this talented cast brings Broadway-quality performances close-to-home.   
Directed by Wren T. Brown and choreographed by Dominique Kelley, with fabulously sparkling cocktail party costumes by Wendell Carmichael and a beautiful set designed by the recently departed and much respected John Iaccovelli, be ready to sing along when called upon by the cast. And of course, I guarantee you will feel like dancing in your seat more often than not!
Ain't Misbehavin' runs through May 28 on Thursday, Friday and Saturday at 8 p.m.; and Sunday at 3 p.m. at the Nate Holden Performing Arts Center, 4718 West Washington Blvd. in Los Angeles 90016. Complimentary valet parking available. Tickets range from $35 – $55, available online at https://www.ebonyrep.org or by phone at 323-964-9766. Groups of 10 or more are available via email at groups@ebonyrep.org or 323-964-9766.