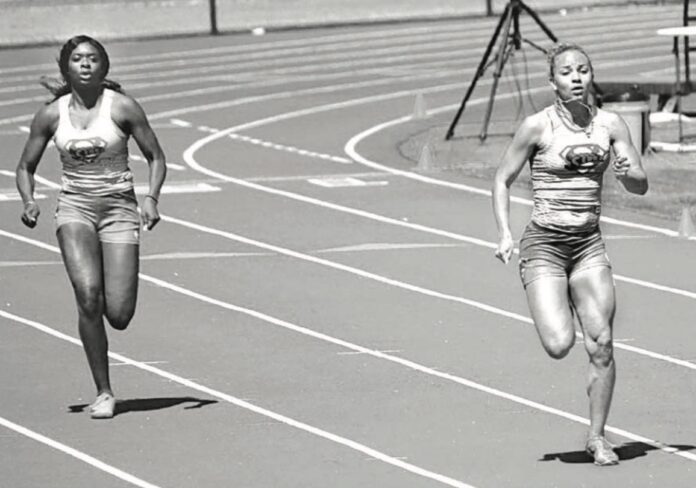 By Joe Snyder
Senior Roderick Pleasant tied his own California State record in the 100-meter dash by winning the event at 10.14 seconds in the CIF-Southern Section Masters Championships Saturday at Moorpark High.
Pleasant won a very fast race that included two of his prime challengers in second place junior Jordan Washington of Long Beach Jordan (10.24) and third place senior Anthony Flowers from South Torrance (10.33). All three qualified for Friday and Saturday's CIF-State Championships at Buchanan High in Clovis.
Pleasant also won the 200 clocking 20.71. In that event, Washington and Flowers were second and third in 20.81 and 20.92, in order.
Pleasant ran as fast as 10.14 in the 100 and 20.4 in the 200 last year.
Serra's girls team still is seeking its second consecutive state title, behind senior Brazil Neal and their other sprinters. Neal won the 200 with a blazing time of 23.36; by .05 of a second over runner-up Adonijah Currie from Palmdale Quartz Hill (23.41). Culver City sophomore Joelle Trepagnier was third timing 23.55. Neal finished second in the 100 in 11.63. Winning the race was junior Niya Claytonfrom Westlake Village Oaks Christian clocking 11.46. Clayton defeated Neal in the Southern Section Division IV finals a week earlier at Moor- park High.
Neal anchored Serra's 4×100-meter relay team to a second-place finish at 46.58. Other runners, in order, included Jaiya Fletcher, Mia Flowers and Zakiyah Wilson. Winning the race was Long Beach Wilson clocking 46.28.
Flowers also qualified for state in the 100 with a sixth-place finish in 11.91 as did Sadia Green in the 400 by placing sixth timing 55.51.
South Torrance junior Chole Esponda advanced to state in the 800 after a seventh-place finish with a qualifying time of two minutes and 12.68 seconds.
North Torrance senior Spencer Ciccarelli made the state meet in the pole vault after a fifth-place finish with his personal best mark of 15 feet. Redondo's Dylan Curtis won the event at 16-6, also his personal best, followed by second place Leo Davis (Newport Harbor) and Jaden McGee (Riverside Martin Luther King), each at 16 feet.
In the CIF-Los Angeles City Section Championships last Thursday at El Camino College, Carson High's girls recorded another runaway title with 166 points, behind senior sprinter Reign Redmond.
Redmond may have not been at her best, due to lesser competition, but she won the 100 (11.75) and 200 (24.43). Redmond also anchored the Lady Colts' 4×100 relay to victory at 46.16. Other runners were Christina Gray, Ta Ahjah Fana and Kaitlyn Williams. Carson currently has the state's best time of 45.28 it did at the Arcadia Invitational on April 8. The Colts' time is second in the United States. Redmond also ran in the girls' 4×400 relay, which also included Hyatt, Westby and Samira Stevenson, that won in 4:00.82.
Carson also swept the long jump won by Gray (17-10.25). Mia Jemerson (17-4.25) and Kylak Hyatt (16-8.75) were second and third, respectively.
Gray also won the triple jump at 41-1, followed by Jamerson (39-8.75) and Jazzmine Cannon (36-1.75).
Carson's boys also had a strong showing that included winning the 4×100 relay timing 42.24. Runners were Kamryn Hurst, Jarald Martin Evanglista, Jayden Renden and Craig Walker.
Renden also took second in the 300-meter intermediate hurdles (39.62) and third in the 110 high hurdles (15.57).
Carson rallies to capture City Open Div. title
Through five and a half innings, it appeared that Carson High's softball team was headed to a mercy rule win over top seeded Granada Hills in last Saturday's Open Division championship game at Cal State Dominguez Hills.
With the Colts needing just three outs with a 10-0 lead entering the bottom of the sixth inning, the Highlanders erupted for 10 runs (three earned) to tie the game at 10.
The game went into the eighth inning and Carson took the lead back at 12-10 when first baseman Alana Langford hit a two-run home run. In the bottom of the eighth, the Colts were able to withstand another potential Granada Hills rally for a 12-11 victory.
In the bottom of the eighth, the Highlanders' Malia Plorde hit a solo homer to cut Carson's lead to one run but relief pitcher Giselle Pantoja got the final out after shortstop Ashannallue Titiala made a diving catch on a line drive as the Colts' won their first City crown since 2014.
The Colts are expected to play in the Southern California Regional Tournament which is next week.
Carson's baseball team advanced to the L.A. City Section Open Division semifinals after outlasting Woodland Hills El Camino Real 2-1 in eight innings last Friday at Carson.
The Colts won the game on a successful squeeze bunt by Johnathon "Jojo" OIleque to score Dylan Mares in the bottom of the eighth.
Aiden Brasher pitched all eight innings to get the win.
Carson played top seed Granada Hills on Wednesday at University of Southern California's Dedeaux Field. If it defeats the Highlanders, the Colts will take on the winner of the other semifinal between No. 2 Palisades and No. 3 Lake Balboa Birmingham for the championship Saturday at 1 p.m. at Dodger Stadium. Carson (17-10-1) was seeded fourth.
Top-seeded Bishop Montgomery High's baseball team lost in the CIF-Southern Section Division V semifinals to host Apple Valley 11-8 on May 16.
The Knights were led by Cole Blumenthal who went 3-for-5 with four runs batted in and one run scored, and Daniel Craig who was 2-for-5 with three RBIs and one run. Each hit a home run and Craig added a run-scoring double.
Rolling Hills Estates Peninsula won Division V by shut- ting out Apple Valley 3-0 Saturday at Blair Field in Long Beach.
Legends end Regular season by holding off Las Vegas Stars
Many people probably do not know that Los Angeles has a women's professional football team or if there is even one.
The L.A. Legends are currently in their second season being in the Women's National Football Conference. It finished this regular season at 2-4 after holding off the Las Vegas Silver Stars 8-6 last Saturday night at Serra High. As of last Monday afternoon, the Legends were waiting to see if they will make their first ever playoffs, which start on Saturday. There are 16 teams in the WNFC. Entering
Saturday's game against the Silver Stars, the Legends were ranked 12th in the conference, while Las Vegas, 3-3, was eighth. L.A., however, could move to as high as eighth seed and make the playoffs.
The Legends are head coached by Serra High head girls' flag football coach Monique Adams. Four months ago, Adams guided the Lady Cavaliers, who were fielding their first girls' flag football team to the League of Champions championship with a 20- 18 win over Long Beach Poly at Redondo High.
"Our team had great challenges this season," Adams said. "This is our second year. We're a new team. We have a lot of rookies this season. Football is growing fast among women."
The game was dominated by defenses but it was Legend defensive back Annsleigh Anderson that sparked the victory. Anderson had two key interceptions, both in the fourth quarter, as Las Vegas was getting ready to score go-ahead touchdowns.
"She has been a big part of our team," L.A. assistant coach Timothy Holmes said of Anderson.
The game was scoreless through the first quarter but the Legends broke ice with nine seconds into the second period when quarterback Tina Frisby threw a short pass to tight end Olivia Morgan as she completed the 35-yard touchdown play. Frisby kept the ball herself as she ran into the end zone for a two-point conversion giving L.A. an 8-0 lead, a lead the Legends continued to lead at halftime.
The Stars got on to the scoreboard when quarterback Jennifer Ingargiola threw a 6-yard TD pass to wide receiver Sam Caruth with 3:25 left in the third quarter. L.A.'s defense was able to stop Caruth short of the end zone to hold on to its lead. The touchdown was set up by a critical pass interference penalty by the Legends.
L.A., in fact, was plagued by several defensive penalties that led to a few of Vegas threats in the fourth quarter. Anderson, however, made the two key picks to help the Legends hang on for the win.
The Legends' win avenged their season opening loss at Las Vegas on April 15, when the Stars topped L.A. 13-8.
The Legends' other win came on April 8 at Serra High where they downed Seattle 42- 25. Their losses came to Utah 26-8, the Oregon Ravens 7-0 and on May 13 to host San Diego 42-6.
The WNFC is currently in its third season.
For more than 50 years, there have been attempts for women's professional football. In the 1970's, there was the Women's National Football League that included the L.A. Dandelions, who played their home games at Long Beach City College's Veterans Stadium. They started in 1973, lasted a few seasons before folding, along with the rest of the league.
Adams has been involved in women's football since 2011, where she played for the Los Angeles Warriors. She spent three seasons (2017-19) with the Long Beach Bobcats.
Adams graduated from Washington High in South L.A. in 2001. She went to Westwood University in Torrance where she majored in construction management. She received her bachelor's degree there and her master's at Keller Graduate School. Adams is currently a construction contractor and was a big influence in building the Microsoft Theatre, formerly the Kodak Theatre, in Hollywood that hosts the Oscars each year.
This fall, girls' flag football will officially be a CIF sport. Adams will be working with the Lady Cavaliers with their summer camp and leagues that start on June 10. Like in the traditional boys' tackle football, the fall program starts in August.
According to Adams, Serra is expected to be in a league to be named that already includes Long Beach Poly, Long Beach Wilson and St. Joseph High, an all-girls Catholic school based in Lake- wood which is the sister school to the renowned Bellflower St. John Bosco, the 2022 CIF- State Open Division and national champion. Sources are that two other Long Beach high schools, Millikan and Jordan are looking to field teams.
Both the CIF-Southern and Los Angeles City Sections are expected to have girls' flag football and Carson, Narbonne and San Pedro, reportedly are expected to have squads. Gardena is considering; depending on how many girls it can get and who coaches the squad. All four Torrance high schools are expected to field teams this fall. There is also expected to be a full Bay League, led by 2021 League of Champions champion Redondo, which took third this past season.