By Shari Barrett
One of the most successful groups in popular music history, The Temptations achieved fame recording for Motown Records in Detroit during the 1960s and 1970s. The group had dozens of hits over the years while delighting fans with their flashy choreography, distinct harmonies, and innovative costumes. In 2018, I was in the opening night audience at the Ahmanson for AIN'T TOO PROUD – The Life and Times of The Temptations before it went on to its 2019 Broadway run where it was nominated for 12 Tony Awards including Best Musical. 
I am happy to tell you the current touring production at the Ahmanson is even more thrilling with fast-moving, triple-threat performers, expertly directed by Des McAnuff, performing the Tony Award-winning choreography by Sergio Trujillo to the music and lyrics of 31 hits from the legendary Motown catalog, including The Temptations' iconic hit songs "I Can't Get Next to You," "My Girl," "Just My Imagination," "Papa Was a Rollin' Stone," "What Becomes of the Brokenhearted," and so many more.  
Along with their many hits, AIN'T TOO PROUD shares a tremendous amount of background history on the group from its formation through its many reincarnations. And what a story, beginning when Otis Williams decided to create a singing group which became the greatest R&B group of all time (Billboard magazine 2017), beginning when they were just five young guys on the streets of Detroit. After getting discovered by Berry Gordy and signed to his brand-new label, Motown Records, it took them 24 tries before they finally had a #1 hit song. The rest is history – how they rose, the groundbreaking heights they hit, and how personal and political conflicts threatened to tear the group apart as the United States fell into civil unrest during the Vietnam War.
The entire production is brought to the stage with amazing precision, led by the continuously-onstage Marcus Paul James as Otis Williams who acts as the narrator, James T. Lane as Paul Williams, Harrell Holmes, Jr. as the group's incredibly talented bass singer Melvin Franklin, Jalen Harris as Eddie Kendricks, and Elijah Ahmad Lewis as the group's original lead singer David Ruffin. Featured friends and family members, other entertainers and legends include Motown's Barry Gordy (Michael Andreaus), The Supremes, Tammi Terrell, Smokey Robinson, and the group's manager Shelly Berger (Reed Campbell), all expertly portrayed by the talented and super energetic ensemble.
The inspired creative team includes several Tony Award nominees/winners: Robert Brill (scenic design), Paul Tazewell (costume design), Howell Binkley (lighting design), Steve Canyon Kennedy (sound design), Peter Nigrini (projection design), Edgar Godineaux (associate choreographer), Charles G. LaPointe (hair and wig design), Steve Rankin (fight direction), and Harold Wheeler's orchestrations impeccably performed by 17 extraordinary musicians led by Jonathan "Smitti" Smith. 
The combined skills of the entire cast and production team make AIN'T TOO PROUD a multimedia extravaganza filled with great performances and historical authenticity about the explosive era in which The Temptations perfected their artistic style. It's such a fabulous production that I enjoyed seeing even more this time than in 2018, especially since the original Temptations founder and member Otis Williams and manager Shelly Berger, who were in the audience, were included in the opening night curtain call.
Performances at the Ahmanson Theatre continue through Jan. 1, 2023 on Tuesday through Friday at 8 p.m., Saturday at 2:30 p.m. and 8 p.m., Sunday at 1 p.m. and 6:30 p.m. Tickets range from $40 – $155, available online at CenterTheatreGroup.org, by calling (213) 972-4400 or in person at the Center Theatre Group Box Office at the Ahmanson Theatre at The Music Center, 135 N. Grand Ave. in Downtown L.A., 90012. Facial masks are not required but highly recommended.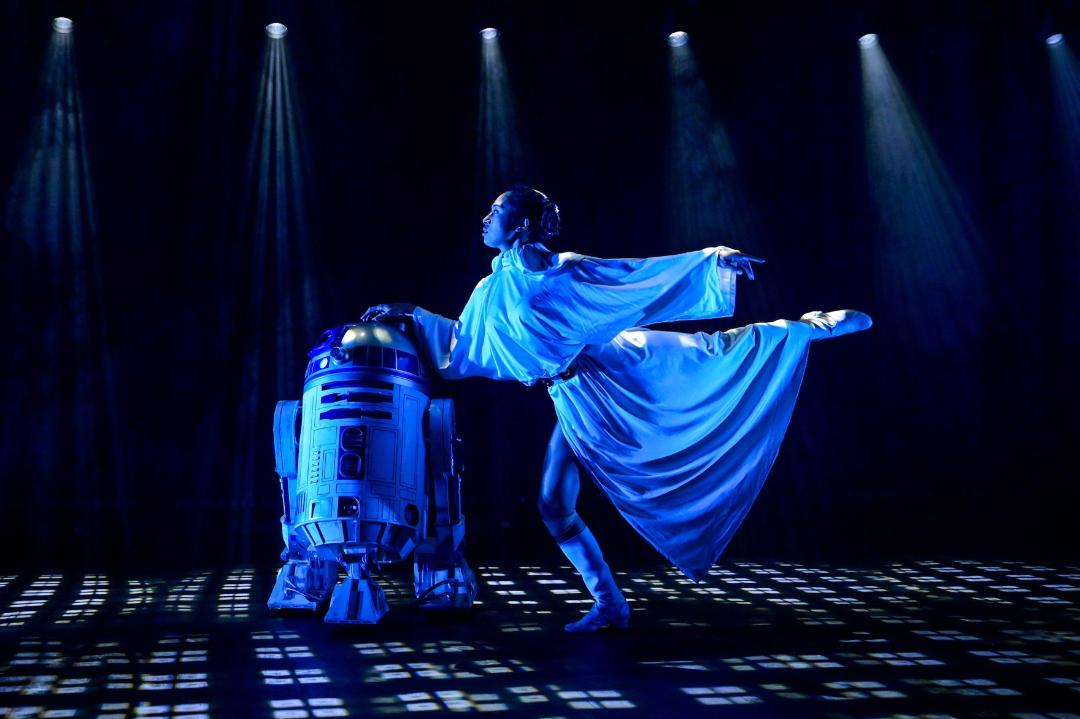 Fans of Star Wars are in for a rollicking good time at the internationally acclaimed THE EMPIRE STRIPS BACK – the Unauthorized Star Wars Burlesque Parody at the Montalbán Theatre where it has become the hottest ticket in Hollywood. Featuring all of the classic characters including Princess Leia, super sexy Hans Solo, Chewbacca, Jabba the Hutt, R2D2 and C3PO, Australian creator Russall S. Beattie combines striptease, song and dance, troupe routines, and plenty of humor to transport audiences into the world of burlesque to witness a menacing troop of seriously sexy Stormtroopers, a dangerously seductive Boba Fett, tantalizing Twi'leks, a delightfully lukewarm Taun Taun, a lady-like Skywalker, and of course, scantily clad and daring Droids. Even Darth Vader explores her feminine side! 
THE EMPIRE STRIPS BACK celebrates the resurgence of burlesque, while delivering a powerful experience for fans of the art form as well as the classic film series. The production's fantastical lighting, costumes and choreography, along with sexy lingerie and modern tunes, fuel the party atmosphere under the guidance of a caped Master of Ceremonies. Grab your favorite libation on the way in and be ready to hoot and holler!
The tour's Los Angeles engagement follows the hit San Francisco run at Chinatown's Great Star Theater, where it rattled the walls of the 97-year-old venue. And now the same thing is happening at the Montalbán Theatre, 1615 Vine St. in Hollywood 90028, through January 28, 2023 on Wednesdays, Thursdays and Fridays at 8 p.m.; Saturdays at 7 p.m. and 9:30 p.m.; and Sundays at 7 p.m. Produced by Foster Entertainment and Neil Gooding Productions, THE EMPIRE STRIPS BACK is presented with Fever and Secret Los Angeles. Run time is 2 hours including a 15-minute intermission. Tickets start at $44 at https://empirestripsback.com. Masks are optional – and be sure to leave the kids at home as this is definitely an adults-only show! Next stop is San Diego beginning Feb. 7.