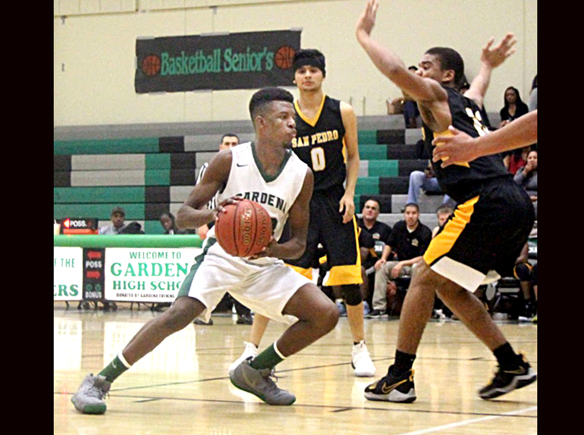 Gardena High's boys' basketball team won its 20th game of the season with a 68-51 Marine League win over San Pedro last Friday at Gardena.
The Panthers, who improved their overall record to 20-8 and league mark to 5-4, led virtually the entire game with leads of 17-7 after the first quarter and 25-18 at halftime.
After opening up a 12-point (19-7) lead early in the second period, the Pirates, who fell to 0-9 in Marine play and 6-18 overall, used an effective 2-3 zone defense that forced Gardena into several poor percentage shots and got as close as two points. Key baskets from David Heard and Kameron Wheeler, however, helped bring the Panthers' lead up to seven by halftime.
The third quarter saw Gardena break the game wide open leading by 24 points (53-29) and continued to have the comfortable advantage the rest of the way.
"It was Senior Night and we started all of the seniors," Gardena head coach Ernie Carr said. "In the third quarter, we had a good segment. That was the game."
The Panthers were led by Heard with a game-high 14 points. Gardena, in fact, had balanced scoring with three other players scoring in double figures. Keondre Brown added 12 points and Ramon Sanford and Michael Frankling each chipped in 11. All of Frankling's points were in the second half, including nine in the third period.
San Pedro was led by Jesse March with 12 points.
On Jan. 31`at Narbonne, the league leading Gauchos stifled the Panthers 58-34.
Gardena has a busy last week with three games. The Panthers began last Monday at home against Banning and played Wednesday at Washington. Gardena closes league at Carson Friday at 7 p.m.
The Panthers are expected to play in the CIF-Los Angeles City Section Division I playoffs beginning next week. According to Carr, chances of them advancing to the prestigious Open Division appear to be very slim. Gardena is only 5-4 in league and has three very tough Marine games in the final week. Earlier this season, the Panthers topped Banning 62-52 but on Jan. 31 at Banning, the Pilots upset Carson and Carr and his team know last Monday's contest would not be easy. Gardena topped the Colts in triple overtime on Jan. 24 at Gardena and lost at home against Washington on Jan. 19.
Last season, the Panthers won the City Section Division II championship over Marine rival Carson.