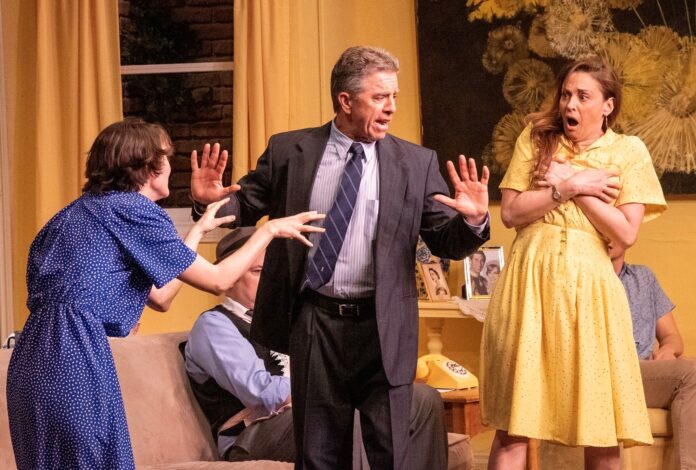 By Shari Barrett
Theatre Palisades is presenting the brilliantly staged farce Run For Your Wife by Ray Cooney through May 6. This British farce thrilled audiences during its 1983 debut, and is bound to do the same for Theatre Palisades audiences given the non-stop action and hilarity throughout, performed by a talented ensemble of actors who work incredibly well together, have never-ending energy, and the ability to never miss a cue!
Sherman Wayne, who has expertly directed this most outrageous farce, shares, "Farce is a type of comedy that places exaggerated characters in improbable situations where they face a number of outrageous obstacles." Sounds like the perfect description of John Smith's life at the center of Run For Your Wife! You see, John is a London cabbie, just an ordinary man really, who has been juggling two wives in two different homes by sticking to an hour-by-hour, day-by-day schedule so neither wife has ever suspected her husband is a bigamist. 
But that all changes one day when John (Christopher Aruffo in a tour-de-force performance) gallantly intervenes in a mugging, causing him to sustain a mild concussion requiring a visit to the hospital. Of course, this unexpected event throws John's air-tight schedule out the window, with each of his two wives worried what happened to her husband, causing him to miss getting home as planned – at different times of course. And as John and his well-meaning but often clueless neighbor Stanley (Justin Dew), who lives upstairs from wife Mary (Jill Tenney), attempt to unwind the mess, we are treated to impeccably staged slapstick antics along with unbridled hilarity as a succession of well-meaning but prying policemen (Richard Conolly and Randy Oppenheimer), the press (Adriana Bodner), and wife Barbara's (Wendy Taubin) outrageously flamboyant upstairs neighbor Bobby (Michael Anthony Nozzi whose every entrance regaled the audience into fits of laughter) get involved and even more confused as John and Stanley continually make up the most outrageous lies to cover the truth. Kudos to each cast member for their flawless performances amid all the ruckus!
Of course, John finally must confess when all the players show up at Barbara's flat, with each of the four doors on Sherman Wayne's finely designed dual-home set conveniently offering a place to escape or be locked behind when the action seems too over-the-top or too close to the truth. And I guarantee as each situation unfolds, the outrageous nature of John and Stanley's lies just dig the hole into which they are falling deeper and deeper! And hilarity ensues thanks to the brilliance of the entire production team!
Ray Cooney's outrageous farce, Run For Your Wife, directed by Sherman Wayne and produced by Martha Hunter and Laura Goldstein for Theatre Palisades, continues through May 6 on Friday and Saturday at 8 p.m. and Sundays at 2 p.m. General admission tickets are $22, Seniors and Students $20, available by calling the box office at (310) 454-1970 or online at theatrepalisades.org. Performances take place in the Pierson Playhouse at Theatre Palisades, 941 Temescal Canyon Rd, Pacific Palisades 90272. Free on-site parking. Masks are no longer required inside the theater.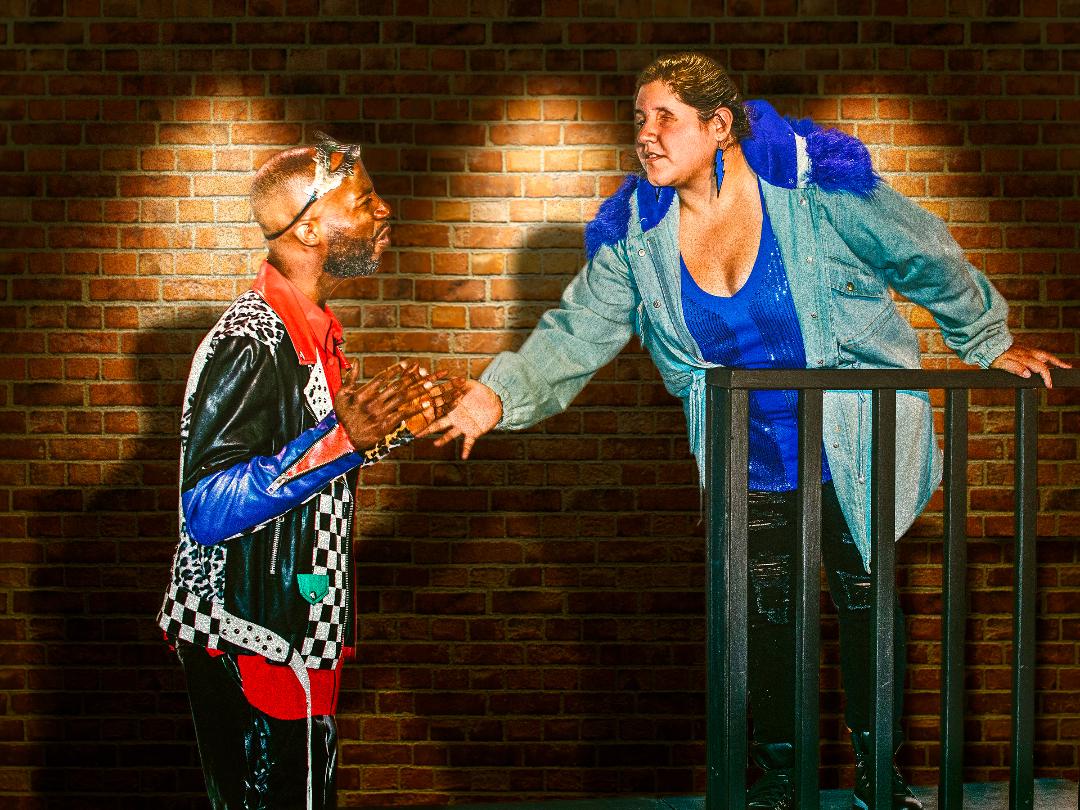 The new jukebox musical Romeo Rocks the 80's [sic] arriving at the Blue Door in Culver City, presented by ArtsUP! LA, a nonprofit theater and arts program serving people with disabilities, military veterans, and opportunity youth. Presented in association with Theatre by the Blind and Rex & Friends, Romeo Rocks the 80's is based on Shakespeare's Romeo and Juliet, and features an all-blind cast and extraordinary musicians with different disabilities. The production centers around Romeo's ability to cross over the thresholds of political demands and fight to the death to find his true love.
I have attended several productions featuring actors from Theatre by the Blind, the country's only theatre troupe composed entirely of blind actors, and Rex & Friends, a program that provides support and training in musical abilities and performance opportunities for individuals with disabilities. I guarantee you will be amazed at the caliber of these two groups' performances, especially when performing together.
Romeo Rocks the 80's is directed by Greg Shane with musical direction by Laurie Grant. Performances run April 21 – May 6 on Fridays and Saturdays at 8 p.m., Sundays at 3 p.m. at The Blue Door, located at 9617 Venice Blvd. Culver City 90232. Tickets are $25, available at https://www.bluedoorculver.com or at the box office prior to each performance.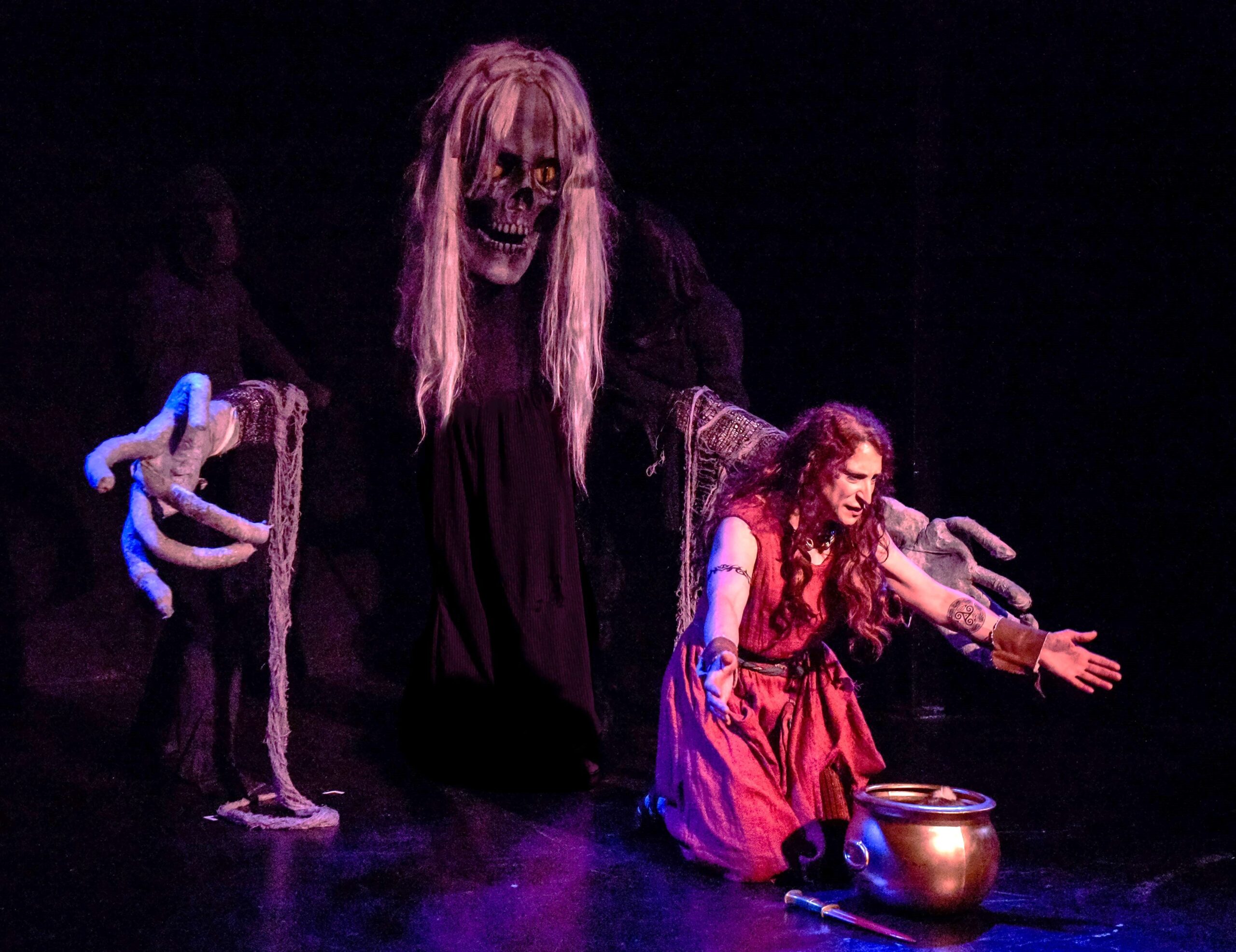 And for fans of puppetry, dance, and epic stage violence, head over to the Hudson Theatre at 6539 Santa Monica Blvd., L.A. 90038 from April 9-30 on Friday/Saturday at 8 p.m., Sunday at 3 p.m., for Battlesong of Boudica, a fast-paced action-packed historical drama filled with visceral onstage battles, raw and savage fight and dance choreography, innovative stagecraft, and a haunting musical score complete with an on-stage percussionist. It tells the timely and relevant story of a significant historical figure of the ancient world, a fierce woman and devoted mother who was wronged and sought an epic and history-altering revenge, taken from the history and legend of the Iceni Warrior Queen Boudica, famous for her bloody uprising against the invading Romans in 61 A.D. Presented by School of Night, written and directed by Christopher William Johnson, Battlesong of Boudica stars award-winning Fight Choreographer Jen Albert. Tickets and info at https://schoolofnight.org/