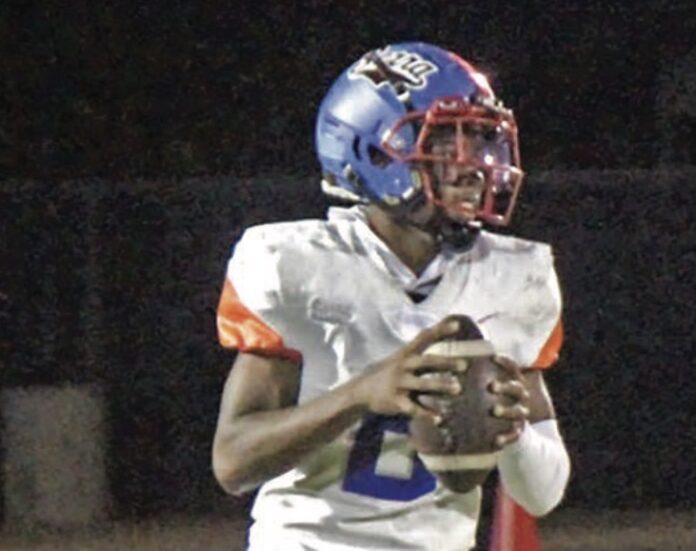 By Joe Snyder
Serra High's football team made a big turnaround from its lopsided loss against Orange Lutheran in rolling over host Warren High 27-0 in a non-league game last Friday in Downey.
The Cavaliers dominated the Bears on both ends of the ball and thoroughly held them down as Warren mustered just 86 total yards on offense.
"We did what we had to do," Serra head coach Scott Altenberg said. "Warren has a lot of good players. We were not used to giving up 47 points (to Orange Lutheran in the Cavaliers' season opener on Aug. 18 at Orange Coast College in Costa Mesa). To give up zero (to Warren), we did a lot of great things."
Serra, which improved to 1-1, took a 7-0 lead late in the first quarter on a 58-yard touchdown run by senior running back Cincere Rhaney.
The Cavaliers made it 14-0 with 6:42 left in the first quarter when quarterback Jimmy Butler completed a 32-yard TD pass to wide receiver C.J. McBean.
Just a couple of plays later on the Bears' possession, defensive back Tanu Sosa intercepted a pass by Warren quarterback Brady Jamieson, substituting for the injured regular starter Madden Iamaleava, and returned it 10 yards for a pick-six as Serra entered halftime with a 20-0 lead.
Serra completed its scoring with 1:10 remaining in the third quarter on Rhaney's 5-yard scoring run.
Sophomore kicker Nate Al- tenberg, son of Scott, made three of four points after touchdown.
Despite the win, the Cavaliers made a few mistakes including two nullified touchdowns on holding penalties.
"We're making a lot of errors," Altenberg said. "We need to clean them up." Serra's next game is at Cathedral High, located just past Chinatown in Los Angeles, Friday at 7 p.m.
Anetema continues hot passing as North beats St. Genevieve
Freshman quarterback Boo- gie Anetema continued to follow his North Torrance High predecessor Trevor Lagarde in his first two games.
Anetema completed 17 of 23 passes for 203 yards and three touchdowns to lift the Saxons to a 28-7 win over host St. Genevieve in a non-league football game last Friday at Los Angeles Valley College in Van Nuys.
Two of his three TD passes went to his twin brother, Kingston, who had five receptions for 65 yards. His other was of 34 yards to Carl Bono.
Boogie Anetema accumulated 217 total yards; 203 passing and 14 rushing.
He had 205 yards passing with three touchdowns in North's 59-24 loss to host Long Beach Jordan on Aug. 18.
Defensively, returning Daily Breeze all-South Bay linebacker Tristan Henry sparked North with 11 tackles. Brandin Smith added seven tackles.
North will have its third consecutive away game at Carson High tonight at 7:30 p.m. Last year, the Saxons routed the Colts 49-0 but this year's Carson's squad could be a lot different with a 2-0 record that includes lopsided wins of 54-0 over host Hawthorne on Aug. 18 and 49-7 over Highland Park Franklin last Friday at Rancho Dominguez Prep in Long Beach. North's first home game is against Encino Crespi on Sept. 8.
After a disappointing 10-7 loss to host Torrance on Aug. 18, Narbonne High's football team bounced back by blowing out Paramount 41-6 last Friday in Harbor City.
The Gauchos visit Venice High tonight at 7:30 p.m.
West Torrance High's football team fell to 0-2 with a 62-29 home loss to Long Beach St. Anthony last Friday.
The Warriors host an improved Santa Monica team Friday at 7 p.m. The Vikings, who had a few rough seasons in the tough Bay League, are 2-0 after wins over Calabasas (28-21 at home on Aug. 18) and El Segundo (36-30 at El Segundo last Friday).
Bishop Montgomery lost on the road to South El Monte 23-13 last Friday night.
The Knights (0-2) host View Park Prep tonight at 7 p.m.
GHS gets late heroics to top Crenshaw
Late in the game, Gardena High's football team seemed to be doomed after junior quarterback Isaiah Kim was sacked at the Panther 45-yard line on a fourth-down-and-10 yards to go play with just 44 seconds left in the game and host Crenshaw clinging on to a 13-12 lead.
On the play, the Cougars were called for roughing the kicker penalty giving the Panthers new life at the Crenshaw 40-yard line. Two plays later at the Cougar 29, Kim found wide receiver D'Maj Longley for the winning touchdown and Gardena pulled off an 18-13 win for a 2-0 start to the 2023 season.
"It was a hard-fought win over a very tough Crenshaw team," Gardena head coach Monty Gilbreath said. "We were able to match their intensity and make the play to win the game."
Kim completed eight of 14 passes for 116 yards and one TD.
Also highlighting Gardena was Keyshawn Hood's 23- yard touchdown run and an 88-yard kickoff return for a score by Johann Wallace.
Running back Xavier Grant sparked the Panthers' rushing attack with 58 yards on nine carries.
Defensively, senior Zakye Marcus recorded nine tackles. Seniors Rhyon Taylor and Hood had eight and seven tackles, in order.
Gardena will seek a 3-0 start as it hosts Centennial High from Compton tonight at 6 p.m. The Apaches are 0-2 after lopsided losses to cross town rivals Compton and Dominguez.